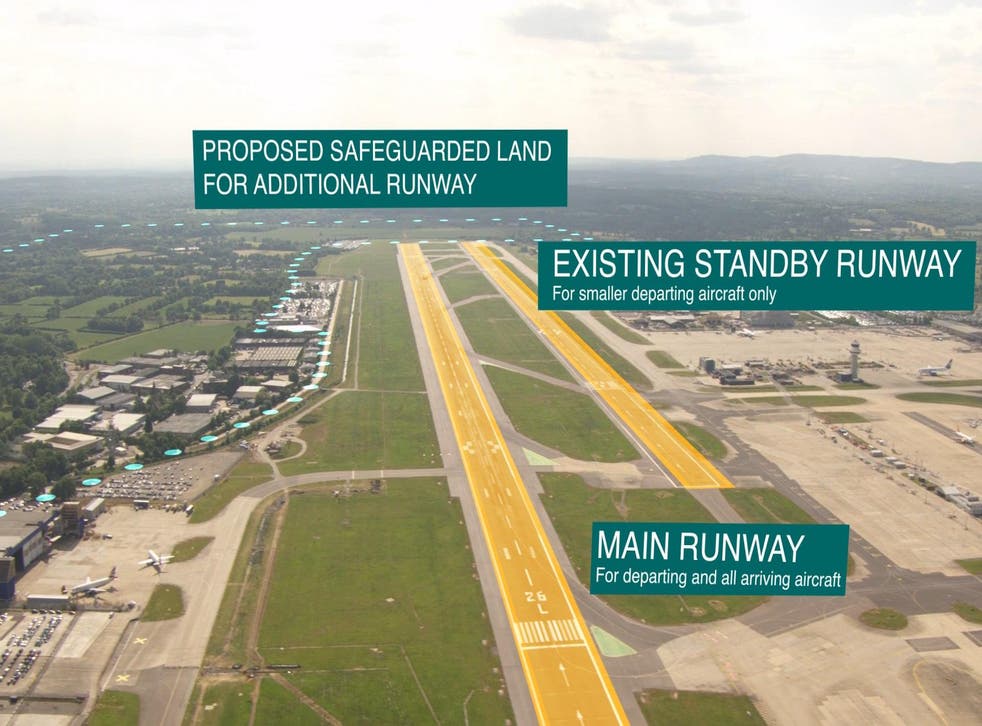 Gatwick Airport could almost match Heathrow passenger numbers with second runway
An agreement signed with West Sussex County Council in 1979 prohibits the simultaneous use of both Gatwick runways until August 2019
Britain's second busiest airport has revealed plans to expand to handle 70 million passengers a year – almost matching the number currently going through Heathrow – by introducing a second runway for routine use.
Gatwick's chief executive, Stewart Wingate, unveiled a draft master plan for the airport at a meeting of local stakeholders.
At the heart of the proposals are plans to boost capacity on what is already the world's busiest runway, and reconfigure the airport's standby runway for routine use by departing aircraft.
Mr Wingate said: "Gatwick's growing global connections are needed more than ever but this must be achieved in the most sustainable way.
"From using new technologies on our main runway, to the innovative proposal to bring our existing standby runway into routine use, our draft master plan offers agile, productive and low-impact ways of unlocking much needed new capacity and increased resilience from within our existing infrastructure."
Gatwick's intention is to extract more capacity from the main runway to boost passenger numbers by one-third, from the current 45.6 million per annum to around 60 million.
But by moving the existing standby runway 12 metres north – and further away from the main runway – it will be possible to use both at the same time. Only departures would use the "new" runway, in order to avoid possible issues with the instrument landing system.
By 2032, the airport could be handling 70 million passengers.
Last year Heathrow – which is the location chosen by the government for a new full-length runway – handled 78 million passengers.
An agreement signed with West Sussex County Council in 1979 prohibits the simultaneous use of both Gatwick runways until August 2019.
With the planning process involved, the target date for using the "new" second runway is the start of the summer season 2025.
The cost is likely to be no more than £500m.
The plans are supported by the local MP, Henry Smith, who said: "Crawley's prosperity depends on the success of Gatwick Airport and the publication of this new draft master plan goes a long way to securing future growth in the town. I have always supported the airport growing within its existing boundaries."
Carolyn Fairbairn, director general of the CBI, said: "London's airports are set to be full in the next decade, so the CBI welcomes Gatwick's highly productive proposals to deliver increased capacity that complements expansion schemes at other airports.
"This will drive trade and investment, create new jobs and help British businesses thrive."
But the move has already triggered widespread opposition.
Support free-thinking journalism and attend Independent events
Peter Barclay, chairman of the Gatwick Area Conservation campaign, said: "We strongly oppose any second runway at Gatwick and will fight this proposal tooth and nail.
"The proposal, which may bring in excess of 80,000 additional flights a year, will simply increase the problems already being experienced by local communities – noise, air pollution and excessive road traffic.
"It would also put even greater pressure on the tottering road and rail infrastructure both locally and further afield."
Sally Pavey, chair of Communities Against Gatwick Noise Emission (CAGNE), said: "This is totally underhand, a stab in the heart for residents that thought they could get on with their lives after the runway debate was won by Heathrow airport.
"This is despicable behaviour by Gatwick management and clearly shows their contempt for the communities of Sussex, Surrey and Kent."
The airport has launched a 12-week consultation on the plan.
Join our new commenting forum
Join thought-provoking conversations, follow other Independent readers and see their replies