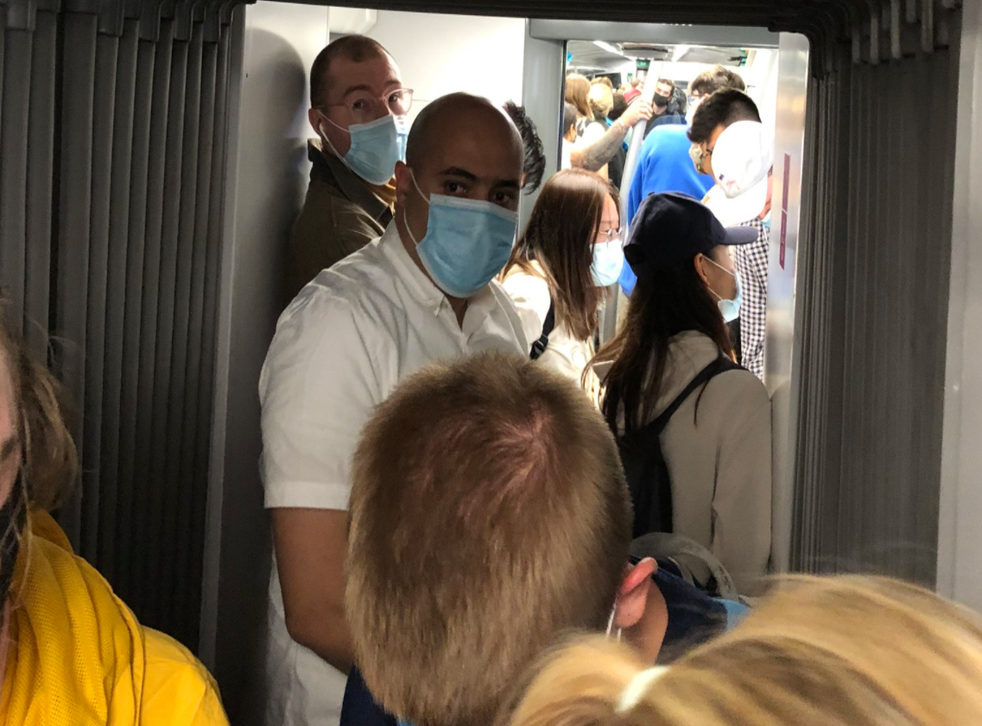 Grand Central Rail passengers told social distancing impossible 'because it's a bank holiday'
Despite pre-booked and reserved seats, many passengers were forced to stand on the packed train for the journey duration
Furious passengers have slammed a train company after being crammed into packed carriages with no social distancing "because it's a bank holiday".
Travellers on the 5.05pm Grand Central Rail service between York and London King's Cross on Monday evening boarded a packed and "uncomfortable" train, with many forced to stand for the journey duration despite pre-booking and reserving seats.
One passenger told Mirror Online that upon arrival at York station, a train worker announced to the packed platform that "they cannot ensure social distancing on this service due to the bank holiday".
The woman, who asked not to be named, spoke of her disbelief at seeing the number of passengers waiting for the service at York.
"The journey was very uncomfortable and we had to stand up for the entire journey. God knows how it must have been for anyone who is old or vulnerable," she said.
"This is the first time we have taken a train journey since March and on the way to York it was fine but coming back it was a complete shambles."
She added that she and her partner had seat reservations, but that this didn't seem to make a difference and that inspectors were not checking tickets
Other passengers on the same service took to social media to express their frustration.
"It's an absolute disgrace how busy this train is! Why are they allowing people to stand on the train?!? No care in the world for social distancing! #shambles".
Another said she had been unable to board the train due to the volume of passengers. "No social distancing at all on the service from York to London. I had a reserved seat and physically couldn't get on the train because it was so over crowded! Got on the next train, only to be told my ticket wasn't valid. Ridiculous!!"
One passenger shared photographs of the packed service prompting a response from the company's Twitter account: "We've let our control team know of the situation on board. At the moment, every passenger requires a reservation so social distancing can be maintained however it looks as though people have decided to board the service without reservations".
The passenger replied: "Please don't put this on others. As I said everyone I have asked around me has a booked, (and presumably like mine) non transferable ticket for this specific service. Perhaps your 'control team' should have prevented people boarding or offered alternative route?"
A spokesperson for Grand Central Rail said: "Like other operators we strictly limit the number of seats we make available for advance reservations on all our services.
"All the seats on our trains are clearly labelled to show which are available for passengers to use in order to comply with the latest social distancing guidelines.
"We publish an indicator of seat availability, three times a week, allowing passengers to plan travel for less busier times.
"On this very busy bank holiday it appears that passengers without reservations for this train boarded despite being advised it was full.
"Our on-board staff did a great job looking after passengers who had booked ahead, even arranging for travel on alternative less busier services.
"This month we will be increasing our seating availability by adding extra services to our North East and West Riding routes.
"We continue to advise passengers to reserve before they travel, plan their journey for less busier times and ensure they use a face covering."
Join our new commenting forum
Join thought-provoking conversations, follow other Independent readers and see their replies