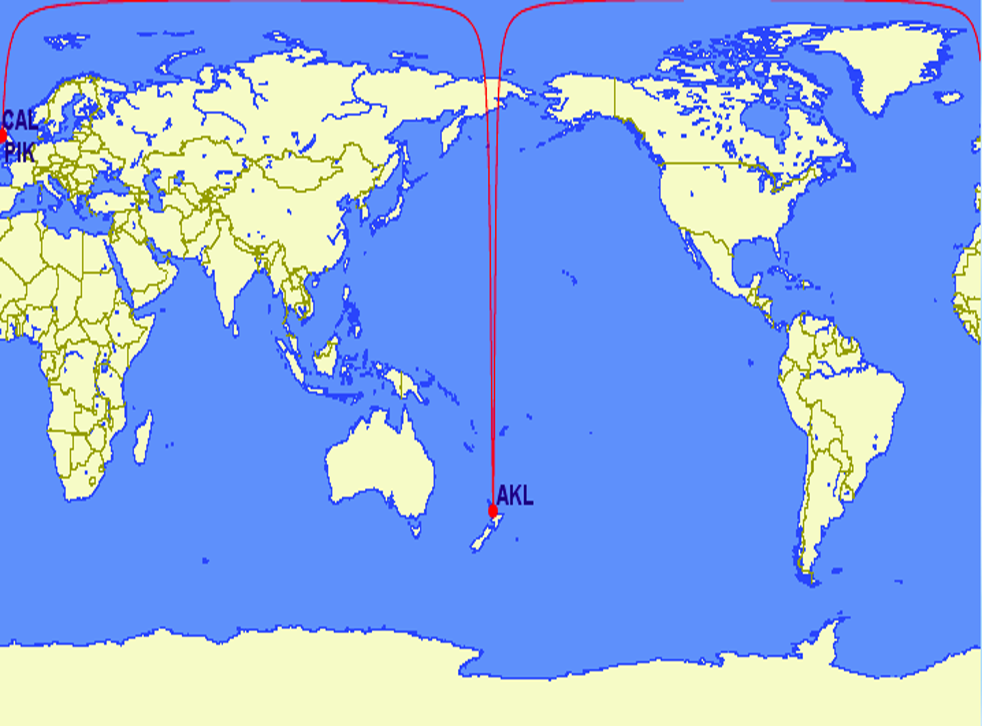 Why Great Circle Mapper is the website every plane spotter needs in their life
Plane Talk: Calculate the shortest route between any two airports on the planet
Travel industry websites do not enthral me; they are mostly utilitarian means to ends. But if you pressed me to name a favourite, it would probably be gcmap.com.
Great Circle Mapper, as it is more grandly known, provides an interesting free service: calculating the shortest route between any two airports on the planet, and drawing the track on a two-dimensional map. It also tells you how far apart the airports are (in kilometres, miles or nautical miles) and the initial heading you would need to adopt in order to fly the trip.
Karl Swartz is the man behind the site that calculates Great Circle routes. It appears to be a labour of geographical love, providing flight enlightenment, rather than a fast track to a fortune.
Try it now, if you like: just make sure you have the three-letter airport codes for each end to hand. Enter them separated with a hyphen, eg MAD-MAN. This reveals that the Madrid to Manchester journey covers a distance of 891 miles, and that to steer a direct course from the Spanish capital to North West England's hub you should aim just three degrees east of due north, overflying Bilbao and Bath.
In the increasingly crowded skies, especially in Europe, the actual route is likely to be much more of a zig-zag, and will cover a good few more miles. But should you have to claim compensation for delay, overbooking or cancellation insurance, the shortest length of the flight is important, because the Great Circle distance defines your entitlement: €250 for up to 1,500km, €400 for the next step up to 3,500km, and €600 thereafter. (On the MAD-MAN trip you're 81km short of the 1,500km threshold.)
As the days lengthen, the appeal of a high-latitude daytime flight increases, and the site shows how far north a transatlantic flight must go to fly the optimum track. Gatwick-Oakland (for San Francisco) crosses the Mull of Kintyre in south-west Scotland then grazes the coast of Northern Ireland on its way to southern Greenland – a country that makes a healthy living from overflight earnings. After traversing this empty land, the most direct route from Sussex to San Francisco Bay starts to turn south and goes over Iqaluit (formerly Frobisher Bay) on Baffin Island.
Even a trip to the tropics, such as the TUI flight from Manchester to Puerto Vallarta on Mexico's Pacific Coast, can go high latitude. It crosses the chilly Labrador shore of Canada, then dives across America from Detroit to Dallas.
Great Circle mapping is also art, as LHR-PER demonstrates: the shortest track for next month's maiden non-stop Qantas flight from Heathrow to Perth is a section from a perfect sine wave, which parallels India's west coast and crosses Sri Lanka before the long curve (about the same distance as Heathrow-New York) over the ocean to Western Australia.
London to Sydney, which is being actively discussed as a possible route, initially starts by running north of Moscow, crosses northern Kazakhstan, bisects China from north-west to south-east, then traverses the Philippines and the city of Darwin on its 10,574-mile journey.
Delving deeper into Australasia, the Great Circle reveals a remarkable phenomenon. Suppose you are the pilot of an ultra-long-range Boeing 787 with no passengers and lots of fuel, and you want to show that it is possible to fly from the UK to Auckland, the biggest city in New Zealand. You could start at Prestwick or Campbeltown, both in south-west Scotland and just 44 miles apart. Each is 11,155 miles from Auckland, give or take a runway's length.
On a globe, the two flight paths would be close. Yet on a two-dimensional screen, the shortest route from each to New Zealand goes over different hemispheres. Both start by heading almost due north. The Prestwick route then arcs east above the Arctic coast of Russia before turning south across eastern Siberia and the Kamchatka Peninsula. Start the same journey from Campbeltown, and the Great Circle takes you west around the north of Greenland, the Canadian Arctic and Alaska. Only on the far side of the Bering Strait do you drop almost due south to Auckland.
Whichever route you choose, the trip would take over 20 hours. Perhaps one day a non-stop, all-day, UK-NZ journey will become a reality. Until then, go to gcmap.com and dream.
Join our new commenting forum
Join thought-provoking conversations, follow other Independent readers and see their replies