The Independent's journalism is supported by our readers. When you purchase through links on our site, we may earn commission.
Harry Potter: The ultimate travel guide for JK Rowling fans
As we celebrate 20 years of the world's favourite bespectacled wizard, here's where to catch some magic around the UK and beyond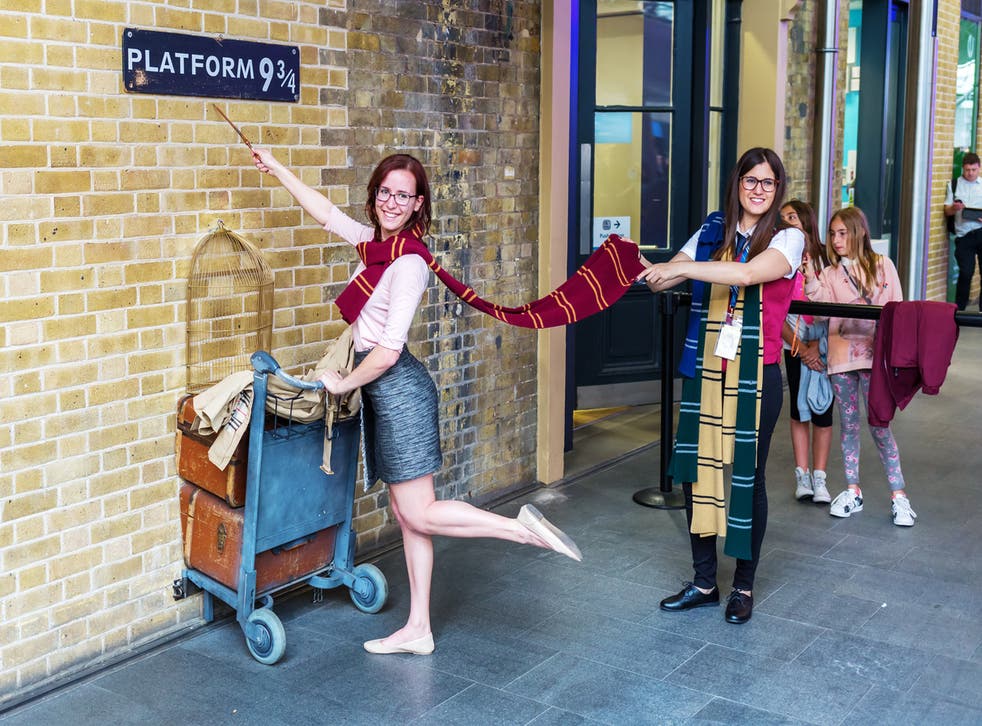 It's hard to believe, but JK Rowling's world-famous creation, Harry Potter, hit shelves for the first time 20 years ago today. While some of us are still awaiting our Hogwarts acceptance letter (it's coming any day now guys), there are still plenty of opportunities for muggles and squibs alike to enjoy a taste of the wizarding world. Here's our ultimate travel guide to celebrate all things Potter.
Warner Bros Studio Tour London, Watford
For the ultimate behind-the-scenes look at the Harry Potter film franchise, look no further than this interactive attraction, complete with hundreds of props, costumes and sets used in the films, plus a chance to "fly" on a broomstick, hop on board the Hogwarts Express and try an approximation of Butterbeer (it's pretty gross to be honest). To celebrate two decades of HP, the attraction is also putting on extra exhibitions throughout 2017. Up next is Wizarding Wardrobes, from 21 July to 4 September, which shows visitors how a whole host of costumes were created from original sketches to the finished product. Tickets cost £39 for adults and £31 for children aged five to 15 (under fives go free). Discounted family tickets are also available.
Platform 9¾, King's Cross
Depart for the Hogwarts Express with a trip to King's Cross station in London. Wait in line for the perfect Potter picture op, where half a trolley and a bird cage are sticking out of the wall to give the impression that you're entering the iconic platform 9¾. Get a friend to take a snap of you for free or, if you want the full experience, get dressed up in a scarf from your chosen house and use the props provided while a professional photographer captures the moment – photos can be purchased for £9.50. The Harry Potter shop next door is also worth exploring, packed with a range of magical merch, from house sweaters and scarves to wands, games and even fluffy toy nifflers. The shop is open and photographers are on hand 8am-10pm Monday to Saturday and 9am-9pm on Sundays.
The Elephant House, Edinburgh
JK Rowling lived and wrote in Edinburgh, and you can see the influence of this Scottish city, with its brooding castle and ethereal sandstone buildings along the Royal Mile, in her creation of Hogwarts. Rumour has it that George Heriot's School, with its many spires and turrets, provided the inspiration for the iconic school of witchcraft and wizardry. Aside from having a wander round the dramatic streets, be sure to pop into The Elephant House, a celebrated coffee shop where the author sat and wrote much of her early work in the back room overlooking Edinburgh Castle.
Exeter, Devon
Another location said to have inspired Rowling is Exeter in Devon, where she went to university. While completing a degree in French and classics, the author had plenty of time to take in the sights of the city, including original Roman walls, the medieval cathedral and Elizabethan buildings, alongside the more modern cityscape. Exeter is allegedly home to the Leaky Cauldron – the Old Firehouse, warm and cosily lit by candles and fairy lights with several floors accessible by creaky stairs – and Diagon Alley – Gandy Street, a little winding alleyway filled with boutique shops.
Harry Potter bus tour, London
Take a spin around the most famous Harry Potter filming locations all across London on this three-hour minibus tour. Find the location used as the entrance to the Ministry of Magic, discover the inspiration for 12 Grimmauld Place, see where the Knight Bus squeezed through oncoming double-decker buses and take a gander at the location used for Gringotts Bank. Tours start from Temple tube station and run from 2pm on Saturdays, Wednesdays, Thursdays and Fridays. Adult tickets cost £28, under 16s cost £21.
britmovietours.com/bookings/harry-potter-london-tour
Harry Potter and the Cursed Child, London
Getting tickets to this outrageously popular two-part play, which features a whole new story involving Harry Potter's son, is far from easy. Whenever new tickets go on sale they get snapped up in moments – but it's worth a try, because this beautifully-staged production, accompanied by Imogen Heap's transporting score, really does live up to the hype. Try the Friday Forty – 40 extra seats go online every Friday from 1pm. Get in there quick and you might just bag a spot for six months down the line. Performances can be booked for Thursday (part one) and Friday (part two), Saturday (part one in the morning, part two in the evening) or Sunday (part one in the morning, part two in the evening). Tickets start from £30 for both parts.
Harry Potter in concert, London
Watch the films like you've never seen them before – with a live orchestra. The Royal Albert Hall screened Harry Potter and the Philosopher's Stone in May, with five performances accompanied by the Royal Philharmonic Concert Orchestra playing the film score. If you missed out, book your tickets now for next year's performances of Harry Potter and the Chamber of Secrets, with live music from the BBC Concert Orchestra. From 27 to 28 April 2018; tickets from £28.
The Georgian House Hotel, London
This hotel in south London created the Wizard Chamber for Harry Potter uber fans. Although it has no official affiliation with the HP brand, the room has been decked out to look like a bedroom straight out of the Gryffindor common room at Hogwarts, complete with faux castle details such as stained glass windows, stone walls, archways, trunks, cauldrons and four-poster beds hung with velvet curtains. The room is even concealed behind a bookcase door. From £309, B&B, for a family room.
Alnwick Castle, Northumberland
Alnwick Castle played the part of Hogwarts in two of the Harry Potter films and the castle now hosts broomstick lessons until 29 October. Join Alnwicks resident wizarding professors on the very spot where Harry had his first quidditch lesson. Anyone can take part and learn the basics of mastering a broomstick in these free 20-minute sessions, from mounting and dismounting to cornering and manoeuvring. Lessons are free with admission. Entry costs £13.95 per adult and £7.20 per child.
British Library, London
From 20 October 2017 to 28 February 2018, the British Library is hosting a new exhibition, Harry Potter: A History of Magic. In partnership with the series' publisher Bloomsbury, the exhibition is set to be the first of its kind to celebrate a single series of books by a living author. Treasures on show will include previously unseen materials from JK Rowling and Bloomsbury, plus rare items from the British Library's own collection of wizarding books, such as the 16th-century Ripley Scroll that explains how to create a Philosopher's Stone. Tickets cost £16 for adults and £8 for those aged five to 17 years old (under fours go free).
Enigma Quests, London
This escape-the-room game with a magical twist offers Hogwarts-inspired challenges that should put even budding Hermione Grangers to the test. The game lasts one hour and can be played in teams of three to five people. Tickets cost from £90 for a team of three.
Harry Potter Grand Tour, UK
This is the ultimate UK Harry Potter experience: a two-day tour led by a specialist in the books and films. The adventure begins in Lacock village in Wiltshire, taking in Professor Slughorn's house and Godric's Hollow. Fans will then see Gloucester Cathedral, where the Gryffindor common room was brought to life, finishing with a peek at the Dursleys' home. Day two starts with a trip to Oxford and ends with a visit to the Warner Bros Studio Tour. The tour costs £1,800 for two people or £1,900 for four people, including professional guide, transport by air-conditioned vehicle and entry to Warner Bros Studio Tour.
britmovietours.com/bookings/harry-potter-england-tour
Livraria Lello, Porto
Porto in Portugal is where JK Rowling wrote the first few chapters of Harry Potter and the Philosopher's Stone. The world-famous bookshop of Livraria Lello, with its tall arched wood bookshelves and twisting grand staircase, is said to have inspired elements of Hogwarts.
Czocha Castle, Poland
For those who don't mind going further afield to get their Potter fix, the 14th-century Czocha Castle in Poland plays host to immersive interactive role-play breaks, becoming the College of Wizardry where students enrol for a unique four-day experience. It's all unofficial, so there's no direct referencing to Harry Potter, but it's as close to actually attending Hogwarts as you're likely to get – join one of the five houses and spend your days in character attending magical classes, dancing at the welcome ball and meeting magical creatures on the grounds, along with 135 other budding witches and wizards. From €620 (£545) for three nights' accommodation, full-board.
Register for free to continue reading
Registration is a free and easy way to support our truly independent journalism
By registering, you will also enjoy limited access to Premium articles, exclusive newsletters, commenting, and virtual events with our leading journalists
Already have an account? sign in
Register for free to continue reading
Registration is a free and easy way to support our truly independent journalism
By registering, you will also enjoy limited access to Premium articles, exclusive newsletters, commenting, and virtual events with our leading journalists
Already have an account? sign in
Join our new commenting forum
Join thought-provoking conversations, follow other Independent readers and see their replies