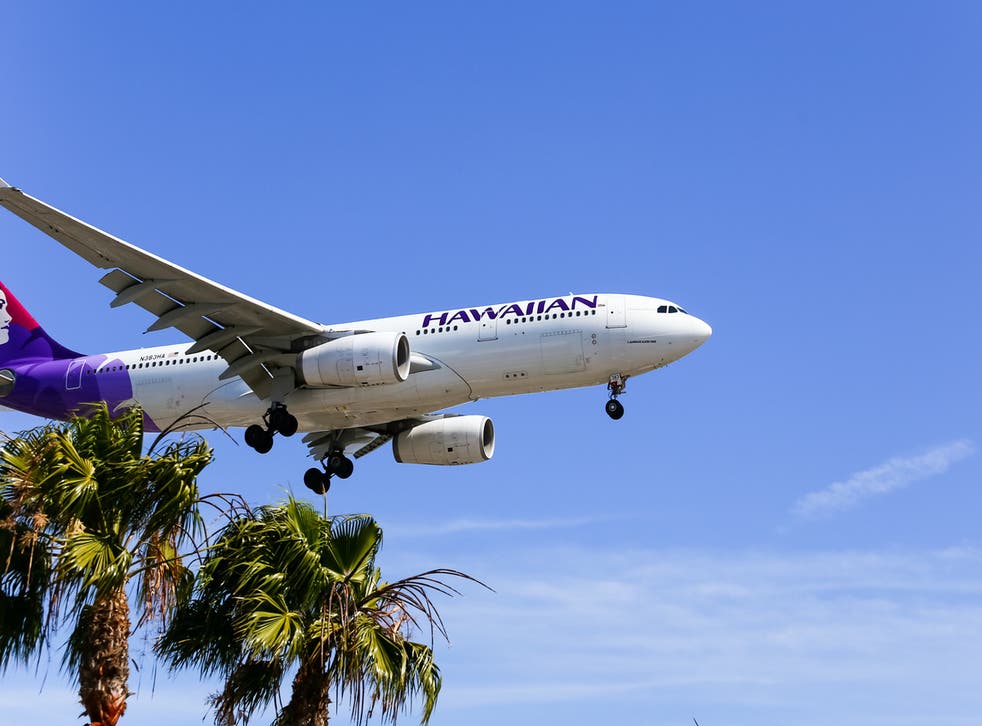 Hawaiian Airlines passenger fined £75,000 for disruptive behaviour that caused flight diversion
The passenger has been charged with interfering with flight crew members and attendants  
A man whose unruly behaviour on a Hawaiian Airlines flight caused the pilot to return to Honolulu must pay the airline $97,817 (£75,600), a federal judge ruled on Monday.
James August of New Jersey pleaded guilty in February to interfering with flight crew members and attendants.
He was sentenced to three months of probation in June, the Honolulu Star-Advertiser reported.
Officials said the man, who had been on holiday in Hawaii with his girlfriend and her children, was causing a disturbance before the flight departed.
August was accused of drunkenly threatening his girlfriend, her children, other passengers, and crew members during the flight, as well as slapping a flight attendant on her shoulder, according to an FBI affidavit.
August said he did not remember what happened but did not dispute accounts that he was threatening and disruptive.
He had been drinking before the flight and tried to order more alcohol on the plane, whilst consuming some of the alcohol he had brought on board.
When the attendant asked him to move, he hit her on the shoulder with the back of his hand and other passengers had to restrain him.
Authorities said August then yelled, swore and threatened to punch his girlfriend in the face.
The judge ordered August to repay the airline the costs it incurred for turning the plane around, including fuel, maintenance, ground crew and costs associated with finding the passengers other flights.
The fee does not include the $46,900 in meal vouchers the carrier handed out to delayed passengers and passengers scheduled to take the same plane from New York to Honolulu.
Interfering with flight crew members and attendants is punishable in US law by up to 20 years in prison and fines of up to $250,000.
Last year Ryanair called for UK airports to impose a two-drink limit before flights as excessive drinking was found to be an increasing cause for concern.
Join our new commenting forum
Join thought-provoking conversations, follow other Independent readers and see their replies