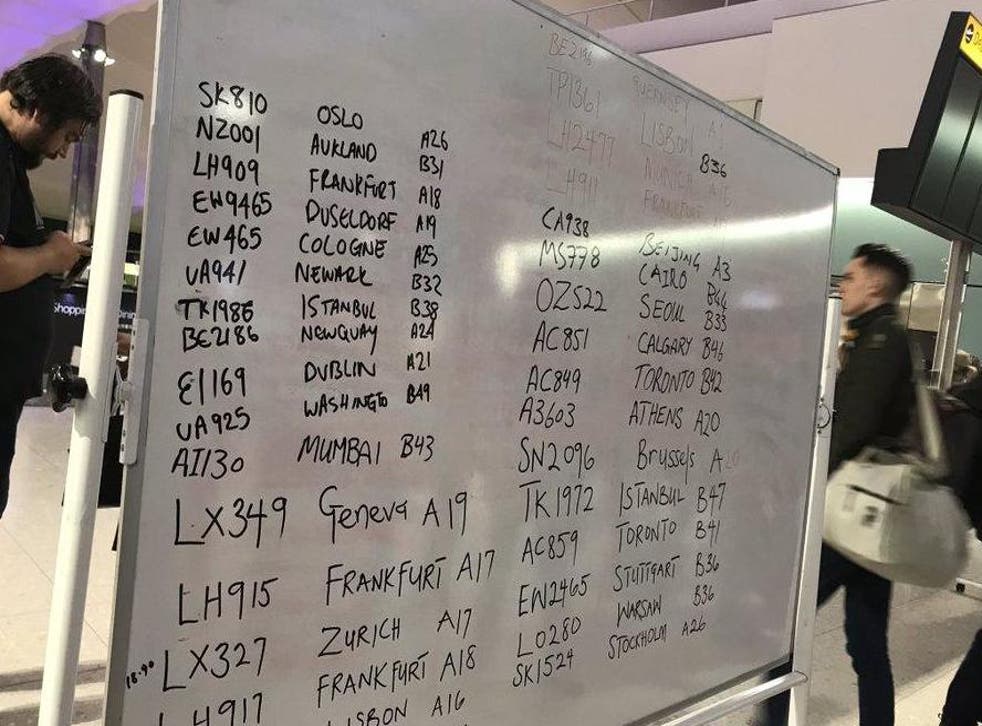 Travel chaos at Heathrow airport after technical failure triggers more than 100 cancellations
'I was running up and down the terminal at one point, as were hundreds of people. I was hearing people in tears saying how they were missing family events or the start of their holidays,' said Tim Barton, passenger to Dusseldorf
Tens of thousands of passengers at Heathrow airport have had their flights cancelled or heavily delayed due to an IT failure involving check-in systems.
At least 10,000 more have had their flights to or from the busiest airport in Europe cancelled on Monday.
The failure began early on Sunday afternoon. Heathrow announced at 10.26pm that the problem had been fixed.
It affected all four passenger terminals, both landside (before the security check) and airside.​ Departure gate information is being handwritten on whiteboards.
More than 100 flights to and from the airport were cancelled during Sunday, the vast majority of them on British Airways – the biggest airline at the airport.
BA had intended to cancel around 20 flights because of the severe weather but has grounded a further 80. Many of these are as a result of what Heathrow calls "technical issues which are currently being resolved".
The world's healthiest and happiest airports

Show all 8
One traveller, Tim Barton, boarded his 4.05pm departure to Dusseldorf from Terminal 5 two hours behind schedule. He told The Independent: "Chaos is an understatement.
"I was running up and down the terminal at one point, as were hundreds of people. First I was told my flight was gate 18, at the far end of T5.
"Then I was told it was gate 6 completely the opposite end, and eventually gate A11 in the middle.
"I was hearing people in tears saying how they were missing family events or the start of their holidays.
"BA kept saying, 'It's not us, it's the airport'. It may have been Heathrow's systems that had the IT issue, but BA have a responsibility to look after their own customers and I saw very little empathy with very distressed travellers."
A British Airways spokesperson said: "Heathrow airport is currently experiencing technical issues that are impacting its IT systems across all terminals and affecting a number of airlines. Heathrow are working to resolve the issues that has caused disruption to our customers.
"We've introduced a flexible booking policy and have brought in extra colleagues to help our customers, providing them with overnight accommodation if needed.​"
Some flights are departing with no checked baggage. The singer-songwriter Andrea Begley was a passenger on the 6.40pm British Airways flight from Heathrow to Belfast City. It finally left nearly three hours late – and with no luggage on board.
Shortly before departure, she said: "The plot thickens. We're still sitting on runway, and have been waiting since 8.20pm for bags to be loaded.
"We now leave no bags."
Conversely, other passengers reported that their flights left with the baggage of travellers who could not find the right gate.
Becky Hunt, a passenger to Munich, tweeted: "BA got special dispensation to fly with the luggage on board of those passengers who couldn't find the gate due to the LHR technical issues.
"We still departed two hours late, though. Reckon about 15-20 weren't onboard."
Heathrow tweeted: "Today's technical issue has now been resolved and Heathrow's systems are returning to normal. We apologise for the inconvenience caused.
"Our teams will continue to monitor our systems and be on hand to provide assistance to passengers as we work to resume our regular operations."
Besides the cancellations, passengers are experiencing long delays.
The evening Qantas departure to Sydney via Singapore is being held overnight, and is now planned to take off nearly 13 hours late.
One Emirates flight to Dubai was almost three hours late, causing many passengers to miss connections in the UAE.
Further problems are expected at the start of the working week, especially for transfer passengers.
British Airways has already cancelled at least 79 arrivals and departures at Heathrow on Monday because aircraft and crew are out of position. At least 12,000 passengers will be affected.
Some flights that are planned to operate on Monday are already showing long delays, with BA's 7am flight from Heathrow to Munich currently expected to leave at 12.38pm.
Heathrow airport staff interrupted a live BBC News Channel interview about the delay with a Berlin-bound passenger, Hayley Williams.
A male voice can be heard off-camera, telling her: "You're in a secure controlled area. You cannot do this."
Join our new commenting forum
Join thought-provoking conversations, follow other Independent readers and see their replies