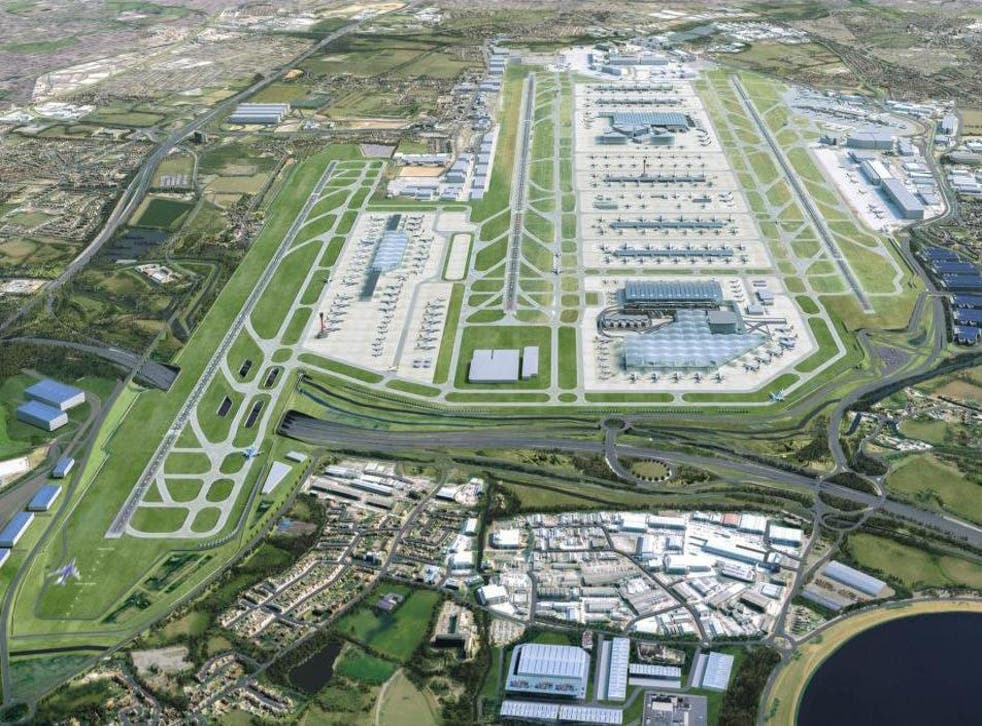 Heathrow's third runway delayed by up to three years
Expansion was originally promised in 2026, but could now be completed in 'late 2029'
Heathrow's owners have blamed the Civil Aviation Authority (CAA) for delaying the opening of the planned third runway at Britain's busiest airport.
Expansion was originally promised for 2026.
But Heathrow Airport Limited says that, after a ruling by the CAA on development costs, the additional runway will not be ready until some time between early 2028 and late 2029.
In order to deliver the controversial third runway by 2026, Heathrow wanted to spend £2.9bn (at 2014 prices) in advance of planning permission being granted.
But a CAA paper on the early costs associated with expansion describes the 2026 target as an "aggressive schedule". Were planning permission not to be granted, it says, airport charges and passenger fares might rise because of the "sunk costs".
Heathrow expansion plans revealed: In pictures

Show all 6
Paul Smith, group director of consumers and markets for the CAA, said: "We believe that more runway capacity at Heathrow will benefit air passengers and cargo owners. Its timely delivery is required to prevent future consumers experiencing higher airfares, reduced choice and lower service quality.
"The sooner a new runway comes into operation, the sooner these benefits can be realised.
"However, we have also been clear that timeliness is not the only factor that is important to consumers. Passengers cannot be expected to bear the risk of Heathrow Airport Limited spending too much in the early phases of development, should planning permission not be granted."
The airport squarely blamed the authority for the postponement. A Heathrow spokesperson said: "The CAA has delayed the project timetable by at least 12 months.
"We now expect to complete the third runway between early 2028 and late 2029."
That estimate could mean it is three years late.
The Heathrow spokesperson added: "We will now review the detail to ensure it will unlock the initial £1.5-2bn of private investment over the next two years at no cost to the taxpayer."
Willie Walsh, the chief executive of IAG – parent company of British Airways, which has the majority of operations at the airport – said: "We need a fresh look at the environmental viability and total cost of expanding Heathrow.
"The airport has a history of spending recklessly to gold-plate projects and paying guaranteed dividends to shareholders while minimising the environmental significance of expansion."
John Stewart, chair of the anti-Heathrow expansion group, Hacan, said: "This continuing battle between Heathrow and the CAA is in nobody's interest.
"The government needs to step in to sort out this on-going battle about costs"
Growth at Heathrow was not mentioned in the Queen's Speech on Thursday. The prime minister, whose constituency is adjacent to the airport, has long said he opposed a third runway.
When Boris Johnson was first a candidate for Uxbridge and South Ruislip in 2015, he vowed: "I will lie down with you in front of those bulldozers and stop the building, stop the construction of that third runway."
But he was absent in Afghanistan from the parliamentary vote on Heathrow's expansion, which MPs overwhelmingly endorsed.
The Conservative manifesto said of the third runway plan: "It is for Heathrow to demonstrate that it can meet its air quality and noise obligations."
Support free-thinking journalism and attend Independent events
A leading landowner and hotelier at Heathrow, Surinder Arora, has proposed a rival terminal – known as Heathrow West – if and when expansion goes ahead.
He told The Independent: "Expansion moving forward is good news and we welcome any development which takes us closer to it being delivered.
"However, it's also imperative that the CAA looks at our own Heathrow West plans and doesn't assume Heathrow Airport Limited is best placed to deliver the new terminal when expansion progresses.
"We believe that only competition will end Heathrow's current monopoly, which denies passengers the best pricing or customer experience."
A spokesperson for Virgin Atlantic, which competes with BA on long-haul routes from the airport, said: "Heathrow must be expanded in an affordable way that respects both local communities and the environment.
"But half of the airport's current capacity is controlled by one carrier, limiting choice and airline competition. So it's vital that expansion proceeds without unnecessary delay, to enable a second flag carrier to emerge to transform competition and lower fares for consumers on domestic, short and long haul routes."
Join our new commenting forum
Join thought-provoking conversations, follow other Independent readers and see their replies