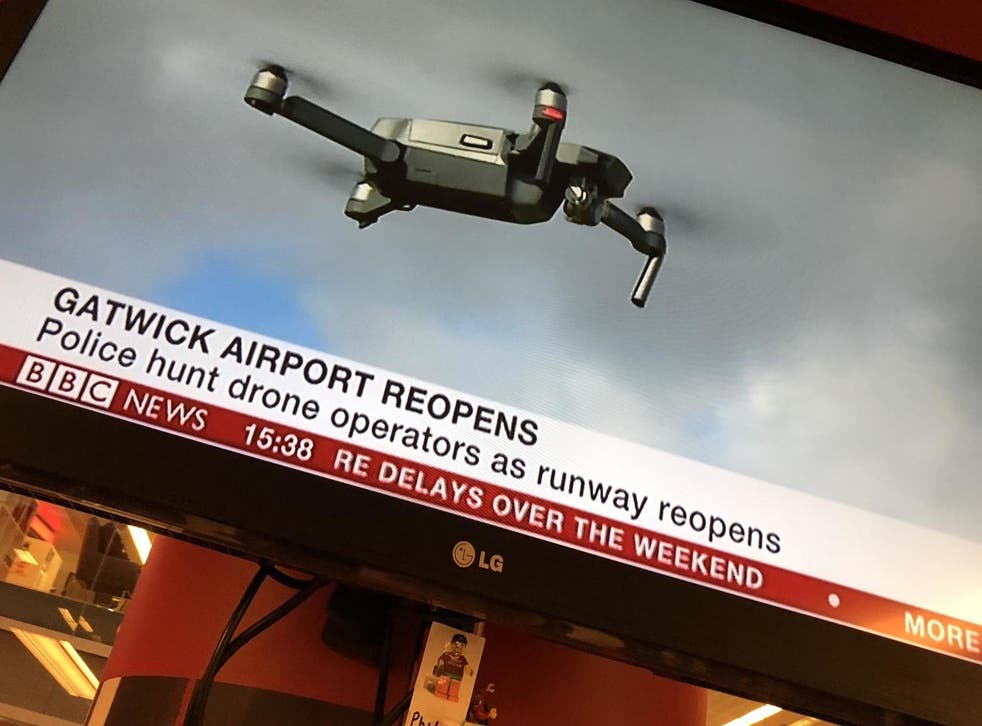 Heathrow drone protest: When are climate change activists going to shut down airport and why?
'Heathrow Pause' group says it will force airport to cancel arrivals and departures
On Friday 13 September, the Heathrow Pause group of climate change activists plans to halt all flying at Europe's busiest airport by flying drones within the Heathrow exclusion zone.
These are the key question and answers.
Who are Heathrow Pause?
A group of climate change activists that is a splinter of the Extinction Rebellion movement.
In the wake of its London-wide shutdown at key junctions and bridges in April 2019, Extinction Rebellion announced plans to close Heathrow airport on 18 June and for 10 days from 1 July using a "swarm" of drones.
After some vocal opposition to the plan, and a warning from Scotland Yard that protesters could face life sentences, Extinction Rebellion abandoned the plan. But some activists chose to continue with the plan, under the banner of Heathrow Pause. They plan to start their action at 3am on Friday 13 September 2019.
Extinction Rebellion protesters block roads in five cities

Show all 22
The environmentalist George Monbiot supports the protesters, saying: "They risk their liberty in the hope of freeing us from the momentous consequences of climate breakdown. History will judge them kindly."
What is the aim, and the means?
The activists are seeking to halt planned expansion at the airport. They say: "Heathrow emits 18 million tons of CO2 a year. Around the world there are 118 countries whose total emissions are less than Heathrow airport's.
"A third runway will produce a further 7.3 million tons, harming us and our children, devastating wildlife, shattering communities, damaging the natural environment probably beyond repair – certainly in our lifetime – and accelerating the already lethal pace of global heating."
They intend to fly drones within the 5km exclusion zone at Heathrow, starting in the early hours of the morning. While the airport is technically open continuously, no flights are scheduled to depart after 11.05pm nor arrive before 4.50am.
The protestors will notify the airport that "unmanned aerial vehicles" are flying, and expect operations to be stopped – which would involve dozens of inbound flights being diverted to other airports, and the first wave of departures to be halted.
How much of a danger do drones pose to aircraft?
No pilot will operate an aircraft where there is any danger of a collision with a drone of any size. They can be ingested into engines, damage crucial elements of the control surfaces or crack the windscreen.
That is why Gatwick airport was closed for 33 hours in the week before Christmas 2018, causing 1,000 flights to be cancelled and wrecking the plans of 150,000 travellers, due to an unauthorised drone.
By increasing the workload of air traffic controllers, and demanding time of police and security staff, the protest will increase broader risks.
Chris Woodroofe, Gatwick's chief operating officer, told The Independent: "Operations will not shut down until a drone is reported. And at that point, it will be an unplanned event. Those drones will generate tens of planes being distributed to other airports around the UK and northern Europe.
"Air-traffic controllers have to land them in an organised and safe way across the south of England and north of Europe.
"Why would anyone want to start a sequence of events that has that outcome?"
What does the law say about flying drones near airports?
Unauthorised drones cannot be flown within the Flight Restriction Zone (FRZ) of each airport. In the case of Heathrow, this is a circle with a radius of 5km (three miles) whose centre point is the middle of the northern runway. In addition, the zone is restricted at the end of each runway.
The Civil Aviation Authority (CAA) says that under the Air Navigation Order 2016: "Drone users who flout the new height and airport boundary restrictions could be charged with recklessly or negligently acting in a manner likely to endanger an aircraft or any person in an aircraft.
"This could result in an unlimited fine, up to five years in prison, or both."
The deputy assistant commissioner of the Metropolitan Police, Laurence Taylor, says: "Drone use in restricted airspace has the capability to not only cause a significant safety risk, but also cause great disruption to the public at the airport being targeted and connecting airports internationally."
Support free-thinking journalism and attend Independent events
What is likely to happen?
Mr Taylor says: "The Met has been preparing for this protest for some weeks now, and we have been working closely with partners to ensure that any potential disruption that could be caused by this activity is averted or kept to a minimum.
"The police's job is to detect and stop criminal activity in a proportionate way, and there is a robust policing plan in place to ensure that we are in a position to deal with any illegal activity as quickly and efficiently as possible.
"We will be deploying extra officers for this operation, and the plan covers the unique challenges that come with a protest targeting the airport and the surrounding areas."
The airport says: "We are working closely with the authorities to ensure Heathrow airport will remain open on 13 September despite the threat of illegal protest activity involving the use of drones.
"We have in place dynamic risk-assessment programmes which are carried out by airfield and security experts and at no time will safety be compromised.
"Alongside drone detection capabilities, we will mitigate the impact of this illegal action and operate in a way that is safe at all times."
The Independent understands that infringement of the drone exclusion zone will not in itself automatically trigger the closure of Heathrow's runways. Detection equipment will focus on areas where flights could be endangered.
One of the participants, Roger Hallam – a founding member of Extinction Rebellion – said: "The Heathrow expansion is the biggest carbon-intensive infrastructure project in Europe. So I'll be flying a drone at head height, some distance from Heathrow.
"It'll be 100 per cent safe and 100 per cent illegal."
How likely are flights to be disrupted – and what happens if they are?
Until the scale and discipline of the protest becomes apparent, it is impossible to say. One fear of the police is that other individuals, or possibly even terrorists, could use the protest as cover for more sinister and dangerous activities.
Heathrow Pause rejects any responsibility from flights being disrupted: "We're not the ones who will be cancelling flights or grounding aircraft. Our action is designed to be completely safe.
"If any planes are grounded, it will be Heathrow airport's decision, probably thanks to pressure from their insurers. Money talks."
The group also says passengers have been given six weeks' notice and should have made "alternative travel arrangements".
If flights are disrupted, the airline must provide alternative transport as soon as possible, and provide meals and, if necessary, accommodation until you can get where you planned to be.
Whatever the eventual outcome, many aircraft that are intended to land at Heathrow on Friday 13 September will carry tons of additional fuel in case they need to hold for long spells and/or divert. Even if everything ends up going smoothly, the extra weight will directly increase the amount of CO2 produced by aviation on the day.
I am booked to fly to/from Heathrow on Friday. Can I change my flights without penalty?
No airline, to the best of my knowledge, is permitting changes to restricted tickets (which almost all cheaper fares are) to avoid possible disruption.
Join our new commenting forum
Join thought-provoking conversations, follow other Independent readers and see their replies