Heathrow expansion: what is the masterplan and what does it mean for passengers?
Simon Calder read the whole report so you don't have to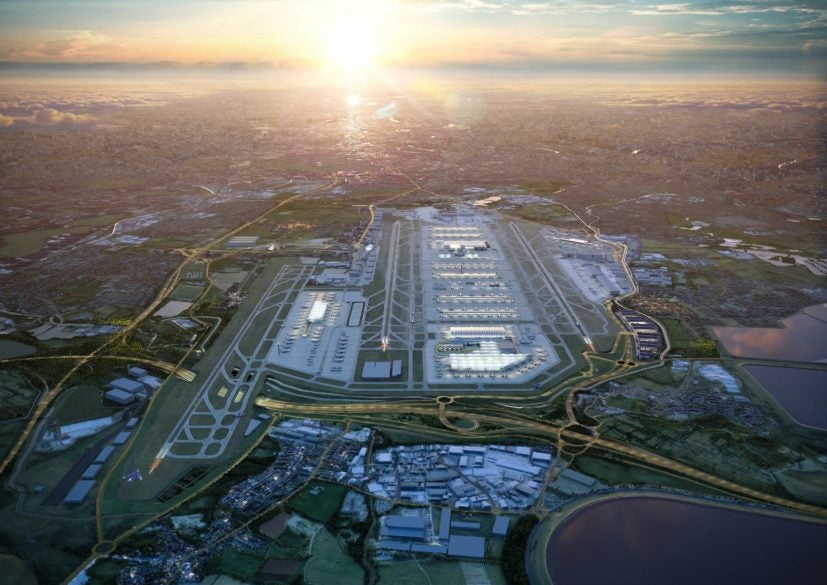 Europe's biggest airport this morning revealed detailed plans for a third runway.
Here are the key points.
What's the big idea?
London is the world capital of aviation, measured by passenger numbers. The city's six airports handle around 170 million passengers a year, way ahead of New York, Dubai and Shanghai.
But the city's two biggest airports, Heathrow and Gatwick, are working at way beyond their design limits, and are respectively the busiest two-runway and single-runway airports in Europe.
Even with Stansted, Luton, London City and Southend having room to grow, southeast England has a chronic lack of capacity compared with any other world city.
Sought-after "slots" for taking off and landing at Europe's busiest airport change hands for tens of millions of pounds, reflecting the premium that passengers are prepared to pay to fly in and out of Heathrow.
Heathrow expansion plans revealed: In pictures
Show all 6
After years of prevarication and a series of investigations, the government has approved plans to build a third runway, northwest of the existing two, to open in 2026.
On 18 June 2019, the airport revealed its masterplan. It includes a vast amount of detail, from changes in air-traffic control procedures to moving allotments. But the headlines are clear.
The number of flights using Heathrow annually is set to increase from the current 476,000 to 756,000 by 2050 – an increase of 59 per cent in take-offs and landings.
The number of passengers would increase from 80 million to 142 million, a rise of 77 per cent.
The airport's "operational footprint" will expand from 4.5 square miles to 7 square miles.
And the growth would begin even before the runway opens.
How can any more flights be squeezed in without an extra runway?
The airport has a cunning plan to harness using new navigation technology to add up to 10 extra take-offs and landings an hour; the current average is around 70.
Under the proposals, use of both runways for arrivals will increase. Air-traffic controllers would use "independent parallel approaches" rather the current requirement to have aircraft separated diagonally.
There would also be reduced separation for arrivals and departures of "compatible" planes – ie those of roughly the same size.
The increase would begin as soon as planning permission is granted, with two tranches: 15,000 from 2022, and the remaining 10,000 by 2025. The airport uses the term "Brexit boost" to estimate annual benefits to be £1.5bn.
The plan assumes a budget airline will base four aircraft at Terminal 2. This is expected to be easyJet.
It would mean that capacity wasn't all "switched on" at the same time, making it easier for airlines – particularly British Airways, which has more than half the operations – to plan their expansion.
When the runway is finished, how will terminals be organised?
There will be no new terminals initially. But by 2050 there will be a total of 10 terminal areas, including satellites, making Heathrow more complex than ever.
The plan at the eastern end is for Terminal 2 A, B, C and D – with the latter roughly where Terminal 3 is now (it is to be demolished). T4D will be close to the existing Terminal 5C, which like T5B is a satellite. Terminal 5 itself gets a twin, Terminal 5X.
To the north, and outside the "toast-rack" pattern, Terminal 5XN will be connected by a shuttle. Like the existing Terminal 4, it will be disconnected from the main terminal system.
The minimum connecting time between the two is likely to be two hours – compared with a maximum of 50 minutes at Amsterdam Schiphol airport.
What does expansion mean for the passengers?
"Passengers will experience a new generation of airport with increased comfort, clarity of organisation and gateway experiences." But they will also get more destinations, higher frequencies and possibly lower fares.
How will passengers and staff reach the expanded Heathrow?
The aim is to achieve a public transport mode share of at least 50 per cent by 2030 for passengers, The airport is promising cheaper tickets on the Heathrow Express – the most expensive rail line in Britain – as well as earlier and later services.
From towns which do not have direct links, Heathrow is promising services from Maidenhead, Aylesbury, Camberley, Bracknell and Cobham.
Staff parking places will be halved by 2040.
For passengers, two new parking areas will be created: the Northern Parkway close to the M4, and the Southern Parkway served from the M25.
But Robert Barnstone, campaign coordinator of Stop Heathrow Expansion, said: "Not only does [Heathrow] want to disrupt people's lives for up to 30 years while building this new runway but now proposes jumbo-size car parks whilst pledging to reduce the number of people using cars at the airport."
What about the effects on the local area?
"The Preferred Masterplan will result in the loss of an estimated 761 homes," says Heathrow.
Most of the village of Harmondsworth will be demolished, with 260 of the 400 existing homes going, together with Harmondsworth Primary School.
The northern part of the village will be retained, including the historic core. The plan envisages this will be turned into a tourist attraction: Harmondsworth Country Park, described as: "A new community facility focused on the Great Barn and St Mary's Church, with additional opportunities for beneficial use of residential historic buildings and the conservation area in Harmondsworth."
The villages of Longford and Sipson will also be hit.
Three areas of community allotments will be displaced as a direct result of the expansion. These are The Vineries allotments in Stanwell Moor, Moor Lane allotments in Harmondsworth and Pinglestone allotments in Sipson.
But in return, "a number of biodiversity ponds will be provided". In addition grassland will become a Carbon Sink Meadow. And a Green Loop will encircle the airport, providing "connectivity between settlements, public rights of way and landscaped areas around the airport."
How much will it cost, and who will pay?
The airport has reduced the stated cost of expansion, from £16.5bn to £14bn, though this figure is challenged by some who say that the actual price-tag will be higher – and is concealed on the pretext that investments would have been made anyway. The figure includes the cost of diverting the M25 and A4.
The local property magnate, Surinder Arora, who believes he can deliver the project for less, says: " We fail to see how they can stay within their £14bn budget or deliver it on time.
"It's too elaborate, almost like they want to build an entire city at the airport rather than focus on the passenger."
Heathrow Hub, which favours an extended northern runway but lost out in the selection process to Heathrow, calls the expansion "the ultimate £30bn unicorn" and saying the costs are "spiralling out of control".
Ultimately the passenger will pay, through charges levied by the airport which in turn are passed on by the airlines. Heathrow and the transport secretary say only that charges will be "as close as possible" to 2016 levels.
Won't it trash the environment?
The key challenges are global – meeting targets on carbon emissions – and local, specifically on air quality and noise. High Court challenges by environmentalists were thrown out earlier this year.
Heathrow airport and the Department for Transport believe that emissions targets can be met with technological advances.
Emma Gilthorpe, Heathrow's executive director for expansion, said: "We have been working with partners at the airport, in local communities and in government to ensure our plans show how we can grow sustainably and responsibly – with environmental considerations at the heart of expansion."
The government: "The scheme is the right choice on economic and strategic grounds regardless of the future regime to deal with emissions from international aviation".
It is promising "a world-class package of compensation and mitigation measures to support those affected by the expansion, with up to £2.6bn for compensation, noise insulation and community amenities".
But many environmental groups say the expansion is unsustainable. John Stewart, the chair of HACAN, the campaign group which opposes a third runway, said: "The impact on local people could be severe for many years to come. Disruption from construction; the demolition of homes; the reality of more than 700 extra planes a day."
Boris Johnson, MP for Uxbridge and South Ruislip – near Heathrow – pledged in 2015 to prevent the third runway going ahead.
He said: "I will lie down with you in front of those bulldozers and stop the building, stop the construction of that third runway."
Are the other candidates for expansion now dead in the water?
The Davies Commission, which sat from 2012 to 2015, shortlisted the Heathrow Hub extended runway concept along with a second runway at Gatwick. The commission unanimously chose a third runway at Heathrow, even though the CO2 emissions from this option are higher than from the other two.
The government backed the plan, and in 2018 MPs voted to approve the Airports National Policy Statement by 415 to 119.
Heathrow Hub is continuing to challenge the decision. Gatwick, which has just reported record passenger numbers of 46.4 million, is planning to bring its standby runway into every day use.
"Boris Island", the Thames Estuary airport proposed by Boris Johnson when he was mayor of London, was flatly rejected by the Davies Commission. But were Mr Johnson to become prime minister he might reopen the concept.
Other voices, notably Ryanair's boss Michael O'Leary, insist new runways are needed at Heathrow, Gatwick and Stansted. Only by such bold expansion, they argue, will competition flourish and passenger demand be adequately met.
Heathrow 3rd runway: defeat for opponents but the struggle continues
What might it mean for travellers in the rest of the UK?
Much has been made of the idea of ring-fencing additional slots for domestic links, restoring connections to airports such as Liverpool, Durham Tees Valley and Prestwick.
But some say that this would be sub-optimal use of scarce resources, and that in time they would be re-allocated to more lucrative flights.
Why not simply expand elsewhere in the UK?
In total, Britain has far more runways than its needs. The problem is that airlines expand where they perceive demand to be, and that is in southeast England.
While Manchester has developed an impressive mix of European and intercontinental operations, attempts to establish long-haul flights from other UK regional airports have foundered.
The Department for Transport says: "The benefits of expanding Heathrow will be felt across the country as there will be more flights around the UK, better connecting Scotland, Northern Ireland, the North and the Southwest to new global markets via London."
Are there other solutions to increasing capacity?
Yes, Heathrow could grow substantially without pouring any more concrete. The quickest fix is to open 24 hours a day, as recommended by Paul Griffiths, chief executive of Dubai Airports. He told The Independent that Heathrow should simply abandon the noise curfew.
Another low-cost but high-impact technique: "mixed mode". This means both existing runways at Heathrow handling departures and arrivals simultaneously. It would increase capacity conservatively by 15 per cent.
Less controversially, incentivising airlines to use bigger aircraft, and to fill them with more passengers, will meet some of the demand between now and 2026.
What happens next?
A further 12 weeks of consultation will continue until 13 September 2019, with dozens of local events organised.
The results will inform the airport's "Development Consent Order" application – planning permission – which is expected to be submitted in 2020.
Join our commenting forum
Join thought-provoking conversations, follow other Independent readers and see their replies