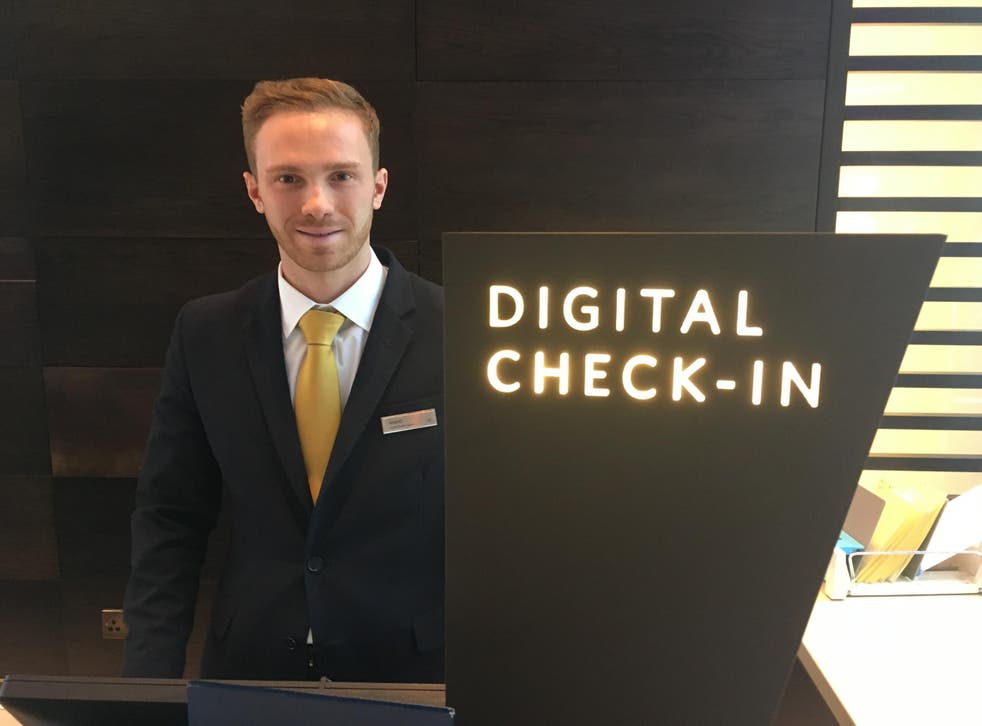 Hotel industry wakes up to the smartphone revolution
'You will not want to stay in a hotel that does not have this,' says Hilton's chief marketing officer
"The jumbo jet first flew in 1969, and it will still be flying in 2039" – so said Tim Harford at a talk in London to launch his new book, Fifty Things that Made the Modern Economy.
While the technical innards of the Boeing 747 have been transformed in the past half-century, the "Undercover Economist" was pointing out that the passenger experience (at least in economy) has not changed much. Neither has the speed of the plane.
British Airways plans still to have 23 jumbo jets in service in 2020, and Boeing is still building the things in Seattle. So it's likely the 747 will be flying three score years and ten after its maiden take-off.
At least parts of the flying experience have become more streamlined. You can book a flight in seconds on your smartphone and download the boarding pass, which will get you as far as the departure gate before you have any encounter with a human airline representative. Even the formality of having your passport and boarding pass checked is likely soon to be automated, perhaps outsourced to a robot.
Yet for hotel guests, the check-in experience has not changed in centuries, never mind decades. There's a front desk, with a person who may greet you with an engaging smile or a faint expression of irritation that you have interrupted their amusement: once upon a time with a crossword puzzle, these days on social media. But the interaction, whether pleasant or joyless, is unavoidable. Which is odd, give the power of the smartphone to transform travel as it has other aspects of life.
From a Japanese bullet train, you can adjust the temperature of the heating at home or order a book to be waiting for your return home. More mundanely, for years you have been able to pay for a coffee at Starbucks with a wave of your smartphone.
Yet before you can go to your hotel room, you must queue to be given a key, or more likely a piece of plastic. Then, in my experience, return a few minutes later to the front desk to get the key re-coded when the magic plastic fails to perform. (Or, worse, as happened at the Hotel Uzbekistan in Tashkent last month, the key to room 504 does work but it is already occupied by a suddenly very surprised couple.)
Starwood, now part of Marriott, began keyless check-in in 2014.
Now rival Hilton is in the game, energetically rolling out the "Digital Key" concept across the UK. Nine properties, from the Hampton by Hilton at Exeter airport to the Hilton Garden Inn in Aberdeen, are already equipped. That number will increase at an average of four a week to reach 100 by the end of the year.
Members of the chain's loyalty scheme, Hilton Honors, will be able to check in a day before arrival, choose a room as you would an airline seat, and then use their phone to unlock the door.
Geraldine Calpin, chief marketing officer for Hilton, calls it "ground-breaking". But why, I wondered impolitely, has it taken so long for the hotel industry to realise this is the age of the phone?
"You've been able to choose your seat and get your boarding pass for quite some time," she says. "Every 777 is the same, and everybody gets off every aircraft every time it lands.
"The hotel industry is different. Every hotel is different, and sometimes every floor is different. So the first thing we have do is to map out every hotel so you can choose your room. And not every room is open if someone else is staying there."
One impediment to the unlocking revolution is that, at present, you still have to call at the front desk to register your arrival. But where government rules on guest registration allow, that hurdle will soon be removed – at least for elite members of the loyalty scheme.
"You will not want to stay in a hotel that does not have this," says Geraldine Calpin.
The future, she says, is even brighter: "We have plans beyond this. We believe that everyone wants to control their life from the palm of their hand. We will enable you to personalise the in-room experience, things like television and temperature, all from your smartphone.
"It will be easier than being an airline passenger." Especially on a 747.
Register for free to continue reading
Registration is a free and easy way to support our truly independent journalism
By registering, you will also enjoy limited access to Premium articles, exclusive newsletters, commenting, and virtual events with our leading journalists
Already have an account? sign in
Register for free to continue reading
Registration is a free and easy way to support our truly independent journalism
By registering, you will also enjoy limited access to Premium articles, exclusive newsletters, commenting, and virtual events with our leading journalists
Already have an account? sign in
Join our new commenting forum
Join thought-provoking conversations, follow other Independent readers and see their replies