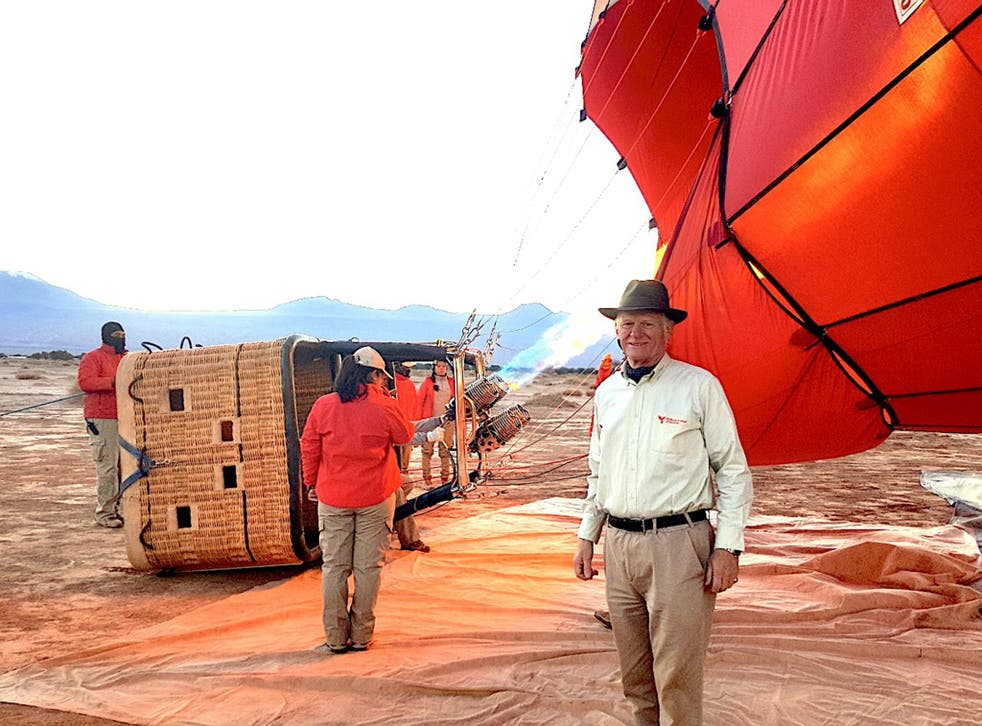 The weird and wonderful adventures of a hot air balloon pilot
Cary Crawley shares the highs and lows of flying a hot air balloon for a living, from toasts to Mother Earth to near-death experiences 
Kashmira Gander
Thursday 18 May 2017 09:29 Comments
Every morning, hot air balloon pilot Cary Crawley gets out of bed three hours before dawn, when the sky is still dark. But it's worth forgoing a lie-in for the spectacular views across the Atacama desert in Chile or the ancient city of Bagan in Burma as the sun rises - depending on where he's flying that day.
Now 59 years old, Crawley, from Mid Essex, first flew in a hot air balloon shortly after his 27th birthday. It was love at first flight. "It changed my life," Crawley tells The Independent. He'd never been one for a conventional job - prior to ballooning he worked in Australia as a safari guide in the Northern Territory, then as a commercial tuna fisherman in the Southern Ocean. But when his ex-girlfriend spotted a vacancy ad in a newspaper for crew members to join the famed hot air balloon pilot Buddy Bombard in the French region of Burgundy, she knew that Crawley would be interested.
"I arrived at Beaune railway station on my 27th birthday and fell in love with ballooning. So I asked [a pilot] I had met in Burgundy who was starting his own company in England to teach me," he says. Since then, Crawley has helped to start the Balloons Over Atacama company and flown commercially in 26 different countries.
After three decades of flying hot air balloons, it's difficult for Crawley to choose his most memorable moment. "I have been blessed with so many wonderful experiences and fantastic memories," he says.
"In 1990 my friend, the late Malcolm Forbes, sponsored me to train the first balloon pilots in Pakistan. It was seven months since the Russian troops had left Afghanistan and over one million refugees were in Northern Pakistan where I was flying. No one in the villages had seen a balloon before, and sometimes we had over 400 people at our landings.
"Two years later I returned to Pakistan to train some more students. During one flight we made a practice landing near three children who were nomadic sheep and goat herders, who spent their winters in lower lands away from the mountain pastures ,near the border of Pakistan and Afghanistan. I suggested to my student that she invite the children for a flight and they got into our basket for a 10-minute ride. I've often wondered what these children said to their parents when they returned at the end of the day."
National Geographic 2016 Traveler Photographer of the Year contest - winners and runners up

Show all 12
He is, however, more certain of his most terrifying memory.
"I was training some young pilots in the western desert of upper Egypt in dangerous, thermic, unstable weather conditions at a time of day when the high temperatures made the air boil," he says. "I was explaining why you should not fly passengers in such conditions.
"I wasn't wearing a restraint harness - which I had insisted was supplied but was yet to be delivered - so while holding on to the control line of the balloon deflation system I was pulled out of the basket. It ran over me and then I was dragged across the rocky ground by the control line. The shirt and the skin on my back were torn off."
Scary as that might sound, Crawley insists that - with the right equipment - hot air ballooning is safe. There's just one caveat - he insists on at least 10 years' experience for pilots working for him, as, he says, it takes a decade to hone an understanding of how to control the aircraft.
Since hot air balloons don't have steering wheels, Crawley's journeys are dictated by the direction of the wind. To check conditions are safe before he takes tourists into the air, he releases a small balloon filled with helium attached to a basket with a candle suspended beneath to assess the wind speed and directional flow. He then sends his flight plan to the nearby airport.
In Chile, the company currently operates three balloons - two with a maximum capacity of 16 passengers and one with eight - which fly 10,000ft above sea level in the surrounding mountains. In Bagan, where the air is warmer, they can ascend 2000ft above sea level with up to 16 passengers in 12 balloons.
"In the Atacama desert - where the visibility is usually for more than 50 miles - the views are spectacular and of distant, snow-capped volcanos, salt flats, lagoons, the pristine protected area of the Valley of the Moon and the small communities joined by irrigation channels around the oasis of San Pedro de Atacama," he says.
"When we land we have a toast to Mother Earth with our right hands and then to the Ancestors with our left hands, spilling a little wine as an offering."
By noon, Crawley is back on the ground and takes care of the land-locked, admin side of the business.
But that's not the downside of his job. "The worst thing is that one day it will stop," he says. "But then, I know I have been blessed. It has given me a life of travel and adventure."
Register for free to continue reading
Registration is a free and easy way to support our truly independent journalism
By registering, you will also enjoy limited access to Premium articles, exclusive newsletters, commenting, and virtual events with our leading journalists
Already have an account? sign in
Join our new commenting forum
Join thought-provoking conversations, follow other Independent readers and see their replies