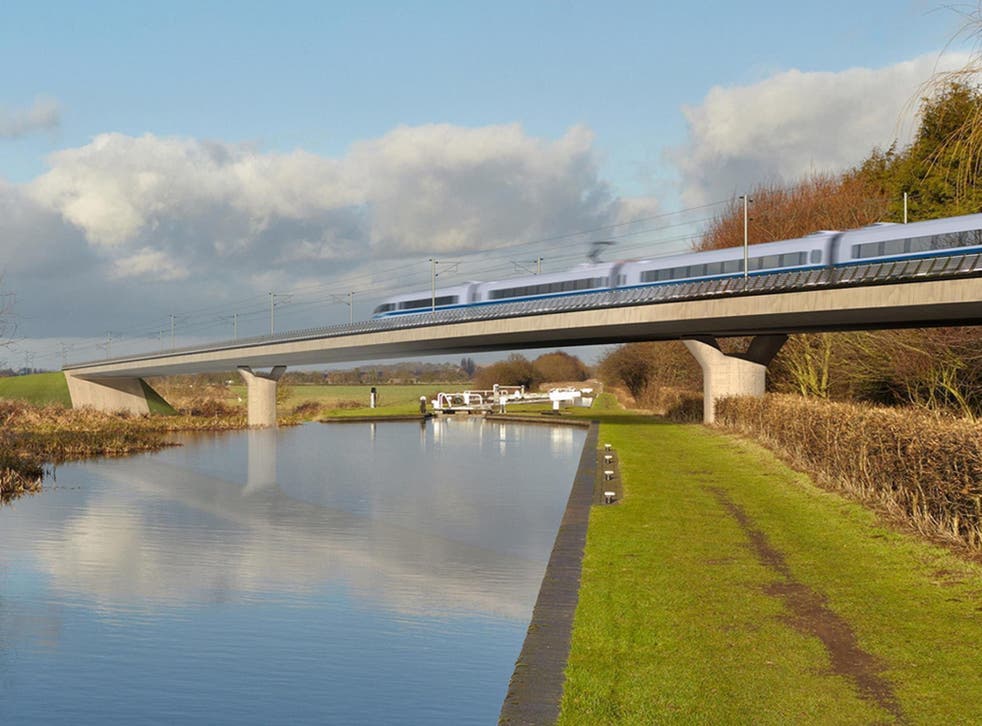 HS2 costs could swell to £106bn, warns review
Spending on rail project currently running at £100 per second
The high-speed rail link connecting London with Birmingham, Manchester and Leeds could now cost £106 billion, according to a leaked government report.
High Speed 2 (HS2) is intended to be a Y-shaped railway connecting London with Birmingham on a new line though the Chilterns (Phase 1), then branching into a western extension to Manchester (Phase 2a) and an eastern arm to Sheffield and Leeds (Phase 2b).
HS2 was originally allocated £56 billion, and current HS2 Ltd chairman Allan Cook, published just four months ago, set out an estimated cost range of between £81 billion and £88 billion.
But a government-commissioned review of HS2 calculates the actual cost could now rise considerably again – and casts doubt on the northern half of the project – equating to a cost of £1,600 for each person in Britain.
The draft report, seen by the Financial Times, recommends that the southern part of the line should go ahead. But it urges a six-month "pause" in developing Phase 2 to evaluate whether the use of existing conventional tracks could save billions of pounds compared with a new line.
A year ago, the then-transport secretary, Chris Grayling, insisted that HS2 would keep to its budget of £56bn.
UK news in pictures

Show all 51
As many as 48 trains per hour would run on the network at 220mph or more, according to HS2 Ltd – the public body that has been running the project since 2009.
Trains would continue on to Liverpool, Glasgow and Edinburgh on the existing West Coast main line, while York, Durham and Newcastle would be served via the northern part of the East Coast line.
In August 2019 the current transport secretary, Grant Shapps, asked a former chairman of the project, Doug Oakervee, to carry out an "independent and rigorous review" of HS2.
Shortly afterwards the current chairman of HS2, Allan Cook, warned of "an upward revision of the funding envelope" – with costs expected to be between £81bn and £88bn.
Now the Oakervee Review warns there is "considerable risk" that the cost of the project could be one-fifth higher – as much as £106bn. A significant factor is uncertainty about the ground conditions.
Around £8bn has already been spent by HS2, most of it in preparatory work for Phase 1. Spending is currently estimated at £250m per month, which is almost £100 per second
According to the leak, the review panel is unconvinced "that HS2 Ltd, especially the Phase 1 construction team, have the level of control and management of the construction normally associated with major projects".
It also reveals some astonishing shortcomings in the process – describing the design for the London hub, Euston, as "not satisfactory" and saying that contractors have not yet agreed "acceptable" prices.
Andy Burnham, the Labour mayor of Greater Manchester, told the BBC's Today programme: "To me that would be the same old story. London to Birmingham, money no object, and then all the penny pinching is done in the north of England."
"We shouldn't talk ourselves out of this. We should get on and make the investment."
HS2 Ltd, which is sponsored by the Department for Transport, maintains: "We will keep a tight grip on costs. We are determined to deliver HS2 on time and on budget. We will achieve new standards in infrastructure delivery, operational resilience and passenger experience."
The Conservative election manifesto said: "HS2 is a great ambition, but will now cost at least £81 billion and will not reach Leeds or Manchester until as late as 2040."
The transport secretary and the prime minister are expected to reach a decision on the project's future shortly.
Join our new commenting forum
Join thought-provoking conversations, follow other Independent readers and see their replies