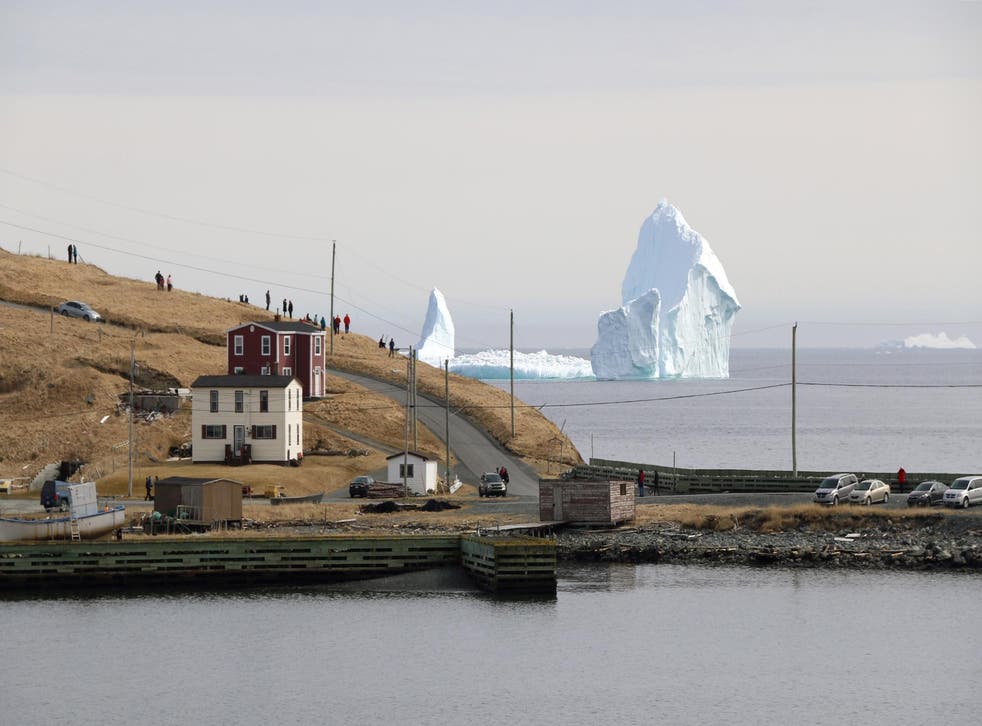 Iceberg Alley: How to visit the Ferryland iceberg
Two days ago, photos of an iceberg in residence off the coast of Newfoundland went around the world. Candice Walsh sees what the fuss is all about
Candice Walsh
in Ferryland
Friday 21 April 2017 15:17 Comments
Seven years ago, when I moved into my apartment on Goodview Street in downtown St John's, Canada, I awoke that first morning with a bedroom view of an enormous iceberg floating in the harbour entrance. "I guess that's why they call it Goodview," I mused, and then went about my day as if there wasn't a 10-storey ice cathedral nearby.
It took me many years of travel and living abroad to learn how to appreciate icebergs. Spring just seems so unexciting without them.
Every year, these 10,000-year-old icebergs make their way from the Canadian Arctic and Greenland down through Iceberg Alley – along Labrador's eastern coast, and then following the same eastern route along Newfoundland. Some years, there's not much to see. Other years promise bountiful bergs. There have been tell tale signs this year, though – on the Avalon Peninsula a few weeks back, pack ice moved in and jammed up the coastline and the St John's harbour. This hasn't happened in decades. It's typical of polar seas, after all.
So it's no surprise that a peculiarly shaped behemoth of a berg came drifting along in Ferryland last week. And it didn't take long to go viral.
I was visiting my parents on the south coast when I first heard about it. Someone had shared a photo of the iceberg eclipsing the homes around Ferryland. After a few frantic text messages to friends, I arranged an after-work trip to see it for myself once I got back to town. Icebergs move fast. There's no certainty of one sticking around for long.
That's why I'm in such a hurry to get out there. It's impossible to know how long the iceberg will stick around. It could collapse, or roll over, or ground itself on the ocean floor. Or it could just keep drifting along into the Atlantic oblivion, eventually being whittled down to chunks of ice floating on the current.
Newfoundland has notoriously awful winters that slog on for months without end. In March, we had hurricane-force winds that ripped through eastern Newfoundland. Sometimes it gets so cold, the entire electrical grid shuts down. The snow piles up with nowhere to put it.
But there's a weird sort of charm in our awful winters. It's every Newfoundlander's favourite conversation topic. During storms, I follow locals on Twitter to see people turning snow banks into beer coolers, and we share photographs of empty junk food aisles at the Sobey's supermarket. "Do you have your storm chips [crisps]?" is a popular question before another massive weather system hits.
Our reward at the end of it all is these unfathomably large pinnacles of ice, drifting down Iceberg Alley, pulling thousands of years of ancient history along in their wake.
By the time Tuesday rolls around, the Ferryland iceberg is still making headlines. Ferryland is about an hour from St John's; my friends and I decide, in the last few hours of daylight, to make a mini road trip. Trish has never seen an iceberg before. "It's shifted a few kilometres south of Ferryland," Hasan, who's driving, tells us. I worry about not getting that perfect Instagram shot.
To get to Ferryland, you have to drive the Irish Loop, aptly named for its Irish heritage and its Emerald Isle-esque coastline. Except now in April, when snow is melting and everything is thawing out, the landscape is forlorn. It's like a patchwork quilt of yellow grass, splotches of snow, and brown trees without foliage. Newfoundland is ugly in the spring.
It's an overcast day, but I'm grateful for it. The previous Sunday was a gloriously sunny day on the peninsula, and the traffic to Ferryland was packed bumper-to-bumper. If anything, now I'm guaranteed some private iceberg views. And I'm right.
I spot the berg as we're winding along the coastline, its white peaks popping in and out of view as we twist and turn. It's easily the biggest iceberg I've ever seen, even from this distance.
My friend, Sean Kavanagh from nearby Calvert, tells me he's never seen so much traffic on the Loop in his life. But the locals are happy about it. "My dad is 70 and he can't remember an iceberg that big ever being up our way," he says.
This one is a pinnacle iceberg, with two towers on either end, but it appears to change shape depending on where you're looking at it. As the photos that went viral suggest, its size really does eclipse the community around it – and it's even more stunning to realise that I'm only seeing 10 per cent of it. Typically, 90 per cent of an iceberg is below water.
There isn't much traffic around when we finally park on a steep hill with a handful of other vehicles. There's a group of teenagers taking selfies and a dedicated photographer hunkered down in the grass. But as soon as I open the car door, the icy wind nearly rips it from my hand. It's beyond bitterly cold, but that's normal for April. I'm numb within a minute.
We hurry across the grass, and despite being dressed in a heavy parka, the wind cuts like a knife. I can barely hold my camera to take photos, but I do have a mostly private view of the Ferryland iceberg.
There's always a quiet awe when you're around an iceberg. It commands respect. It's like you're looking at something prehistoric, but there's also a sense of loss, because you know this is the iceberg's final leg of the journey. Out here, every now and then someone's laughter carries across the wind, but mostly, there's silence.
There's an icy breeze coming off it, too – you can feel the temperature change when you're around an iceberg, even when you're quite a few miles away onshore. The ice is packed so dense that the air genuinely feels different – more crisp and clean.
And it's enormous – the size of it is difficult to take in. "It's hard to imagine there's any ice left in Greenland," Trish quips. I'm disappointed my photos can't accurately capture its scale or its majestic beauty. I've spent a fair amount of time iceberg hunting – I once even had a freezer filled with bergy bits to use in drinks – but nothing has ever come close to this one.
The previously ugly yellowed landscape makes everything more vibrant. The Atlantic blues are bold, and the iceberg is a blinding white. There's not much light this late in the evening, but usually sunlight dances off a berg's surface, highlighting its undulating blues and flowing rivers. Sometimes, when the light is just perfect, the iceberg's surface mirrors the sky and sea so perfectly it appears to simply disappear on the horizon.
We last a total of 10 minutes in the freezing cold before we hurry back to the car. Not even an ancient iceberg can compete with Newfoundland's weather.
Register for free to continue reading
Registration is a free and easy way to support our truly independent journalism
By registering, you will also enjoy limited access to Premium articles, exclusive newsletters, commenting, and virtual events with our leading journalists
Already have an account? sign in
Join our new commenting forum
Join thought-provoking conversations, follow other Independent readers and see their replies