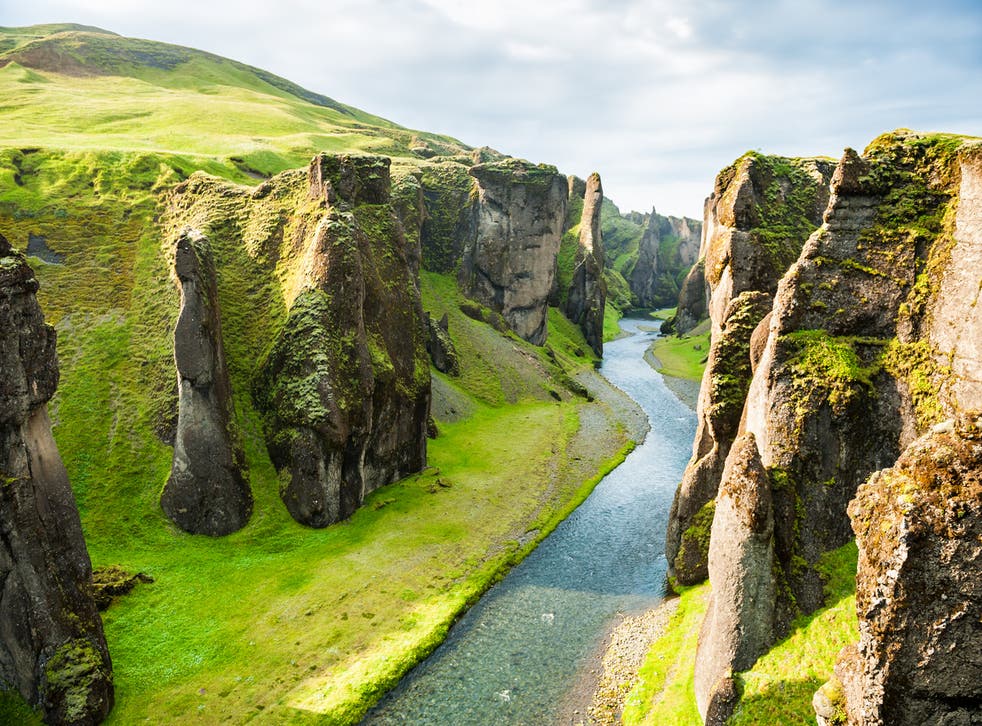 Icelanders hit out at 'reckless' tourists after death-defying climbing video surfaces
The unnamed hiker climbed over barriers to take a death-defying video
Ronan J. O'Shea
Saturday 21 October 2017 12:58 Comments
A tourist has been dubbed "reckless" by Icelandic authorities after posting a viral video showing them making a death-defying hike on a canyon ledge.
The footage, posted on YouTube, shows the unnamed hiker traversing a narrow ledge high up the Fjaorarglijufur canyon in southern Iceland - without any safety equipment. Though short, the 15-second clip shows the dangerous ascent as as the hiker makes their way across a narrow ledge before the camera pans up to reveal the location.
Shortly before reaching their destination, the hiker's camera shows them in a precarious position surrounded by sheer drops, the ledge barely wider than their feet.
The Fjaorargljufur canyon and the Fjaora river - where it was filmed - runs for 1.2 miles, with drops of 330 feet.
But while the footage may show Iceland's landscape in a good light, tourist organisations and guides in the country were quick to point out the dangers of the hiker's actions: to themself, other visitors and the surrounding nature.
A local tour guide, who wished to remain anonymous, told The Independent that the hiker's behaviour was "pretty reckless", and that they must have ignored ropes supposed to prevent tourists from walking there.
Before the ropes were put up, he said, it was a popular place to walk. Justin Bieber filmed his recent I'll Show You video there.
"The nature is getting torn up in that area because people don't respect boundaries," he said. "Now this person has made a video of their stupidity and posted it online, it will probably motivate more irresponsible tourists to do stupid things."
He added that hikers who cross safety ropes are damaging vulnerable ecosystems.
Iceland isn't the only place where tourists are damaging the landscape. Conservationists in Ireland have recently pointed to potential damage from increased tourism to the delicate ecosystem of the Skellig Islands, brought about following the release of Star Wars: The Force Awakens.
Promote Iceland, the country's main tourist board, told the Mail Online: "We strongly recommend that viewers explore our country using recognised footpaths, or those approved by a certified guide.
"Tourists can take our 'Icelandic Pledge', which gives a great overview of how to enjoy Iceland safely and how to be a responsible and considerate tourist. We encourage everyone who comes to Iceland to take it and share with their friends."
Simon Barnett, director of walking development at the Ramblers, told The Independent that even hiking legitimate paths can be dangerous. "If you're walking in mountainous regions, it's vital to be prepared for more challenging weather - especially in winter. It becomes even more important than ever to be properly equipped as conditions can vary dramatically from valley to mountaintop.
"Don't push yourself beyond your limits and be prepared to cut your walk short if you start to tire or the weather is worsening and you aren't completely confident of your skills or equipment. It's also sensible to leave a copy of your planned route with someone, and let them know when you get home safe.
"Heading to the hills can be one of the most amazing experiences, but it's important to be prepared, armed with all the skills you need and well equipped."
Register for free to continue reading
Registration is a free and easy way to support our truly independent journalism
By registering, you will also enjoy limited access to Premium articles, exclusive newsletters, commenting, and virtual events with our leading journalists
Already have an account? sign in
Join our new commenting forum
Join thought-provoking conversations, follow other Independent readers and see their replies