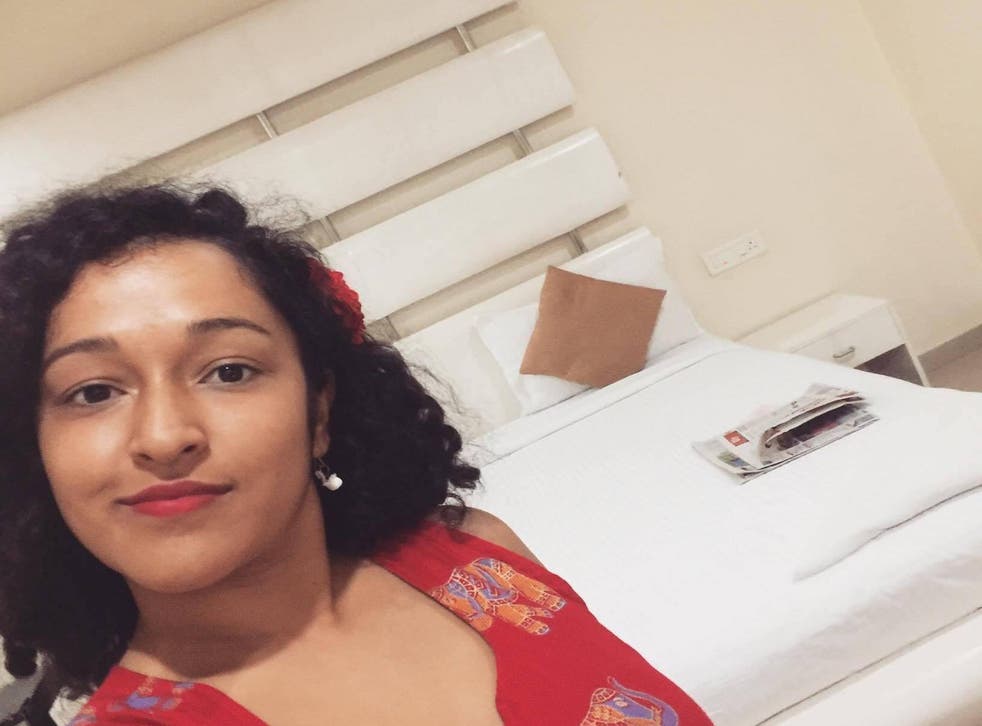 Indian hotel turns away woman because she was a 'single lady'
Nupur Saraswat was not allowed to check in, despite the hotel having confirmed her booking online
A woman has accused an Indian hotel of discrimination after she was turned away – despite having a reservation – because she was travelling alone.
Nupur Saraswat, an Indian spoken word artist, had booked a room at the Hotel Deccan Erragadda in Hyderabad. Yet despite having confirmed her booking online, hotel staff told her on arrival that she could not stay because she was a "single lady".
Saraswat, who lives in Singapore, had booked the hotel through India's largest online booking site, Goibibo. In its terms and conditions, along with check-in and check-out times, the hotel states that locals and unmarried couples are not welcome, and that "single lady not allowed" (sic).
She told The Independent: "My first reaction was confusion. I have never experienced anything like that before – it was bizarre. I didn't really react because I didn't understand why that policy could exist in the first place."
According to Saraswat, when she remonstrated with the hotel manager she was told, "Sorry Ma'am, this is hotel policy, you talk to Goibibo."
In a Facebook post that was shared over 1,500 times, she wrote: "Somehow they decided I was safer on the streets than in the hotel.
"I was extremely lucky to have arrived early in the morning… This could be you - another hotel, another city... Maybe you'll arrive on an 11pm flight and they will refuse to let you stay. So here's my sincere plea - share this post. Make a scene. Make Goibibo listen. Let them know that women travel solo now and we won't stay indoors 'for the sake of our own safety'."
In a subsequent post, Saraswat praised Goibibo for taking swift action. The company announced in a long blog post that her money had been refunded and she had been moved to an upgraded room in a higher-rated hotel free of charge, while the hotel had been struck off its database pending an investigation. The site is also working how to filter out properties with similar rules, since policies are added by the hotels themselves.
Goibibo's post included a screenshot of an email from the Deccan Erragadda, claiming that "we are not against a single woman staying in our hotel" but that "this is not right place (area) to staying single a woman in hotel" (sic). It added, "As per local police interaction we don't give rooms to single women and unmarried couples."
Goibibo says this is the first time they've come across this policy, and is investigating the hotel's response. In its statement, it said: "We do not support such policies unless backed with a rationale. We will leave no stone unturned to have a scaled solution."
Ashish Kashyap, Goibibo CEO, told The Independent that the incident has caused the company to think about creating a dedicated helpline for female travellers:
"Goibibo deeply cares for women. We already have a special hotline to ensure secure and safe fulfillment for our travellers. We plan on creating a separate helpline/chatline for women travellers too.
"As a platform we do not agree with this no single women 'policy' unless the regulator or local authorities ask us to comply. Therefore we have delisted the property in question till as such time, we hear from the authorities or there is a modification to the policy by the hotelier.
"Pricing and hotel policies are generated by the hotel. This includes aspects related to time of check-in, checkout, inclusions, pet friendliness, issues pertaining to unmarried couples and so on and so forth. This is like user-generated content which works on the principle of "reporting by the community". Similarly in this very case, since the issue got reported, we acted fast.
"In the very remote situation (such as this) when there is a denial, we firstly provide an upgraded alternate accommodation to the traveller thereby at the outset ensuring a secure and peaceful stay at a better and higher-rated accommodation. This is what we did in this case too at the very first instance.
But Saraswat told The Independent that, for her, it isn't over. "The hotel being delisted has become the conclusion of the story, and that's not what I wanted or intended," she said. "I didn't want to harm local business – I just wanted the website to consider that something like this can happen in our society.
"Goibibo deserve praise in that they did take action really quickly, but they only addressed the situation when the post went viral – before that, they were just giving me a full refund. Eventually, they took on the responsibility, and someone got in touch to reassure me that they will filter out these hotels. I appreciate their efforts, but obviously it's not over.
"For me, this doesn't end until Goibibo is able to filter out these hotels and travelling for women is made safer. I've been to a lot of cities by myself before and there are nuances in terms of how you navigate a hostel as a single woman – I've had probems in Sri Lanka, Indonesia, Thailand and other places – but it's never been so bad that they would not give me a room.
"This doesn't end with me or Goibibo – solo travel for women needs to be safer. Women are travelling way more now that they have access to education and money – especially Indian women. I'd love to make some kind of impact in making travelling safer, easier and normalised for women."
Join our new commenting forum
Join thought-provoking conversations, follow other Independent readers and see their replies