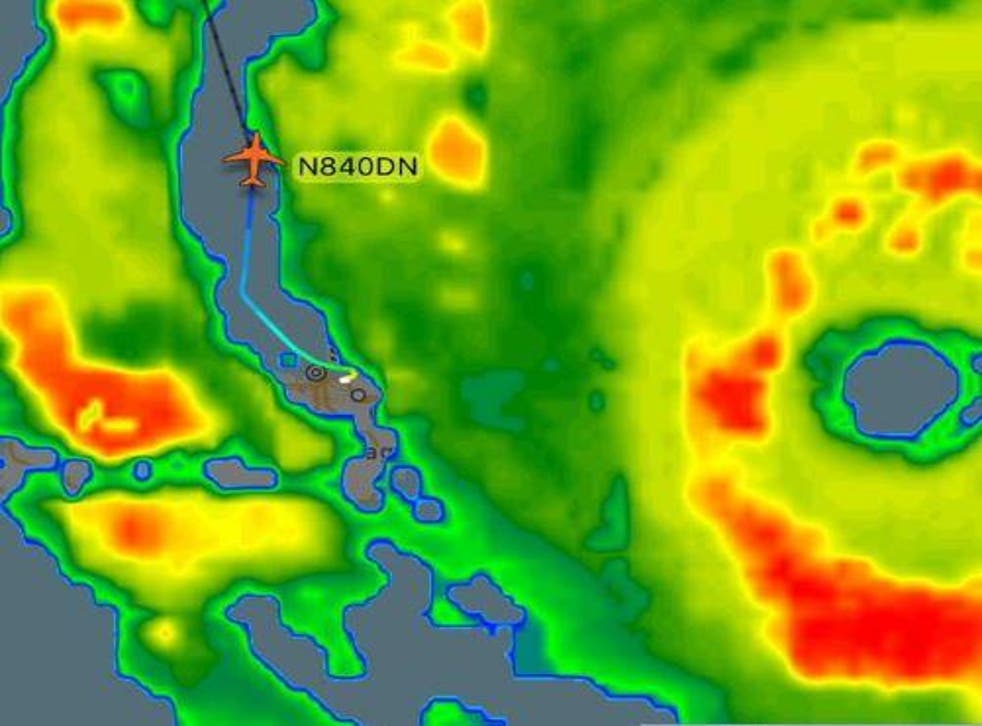 Irma: Delta flight beats hurricane to Puerto Rico and lands safely while three other planes forced to turn around
Flight data shows the plane avoiding the eye of the storm
A Delta jet beat the odds yesterday afternoon by dodging the eye of Hurricane Irma to safely land and take off again in Puerto Rico.
As the category five storm bore down on the Caribbean island, flight 431 from New York JFK managed to successfully land at Luis Muñoz Marín airport in San Juan.
The feat was even more impressive as three planes, two from JetBlue and one from American Airlines, had attempted to land, but were forced to turn around.
After a quick turnaround of 52 minutes, which included refuelling and taxi time, the plane took off again to make its way back to New York.
Social media users and aviation fans avidly tracked the brave pilot's journey as they avoided the danger.
Aviation journalist Jason Rabinowitz live-tweeted the action, with images of flight maps. They showed the plane's path between the outer band of Irma and the core of the storm.
Rabinowitz praised the airline's staff, including forecasters, ground and air crew and the air traffic control team for the successful flight.
The 737-900 cleared the storm and landed back at JFK at 4.33pm, 39 minutes ahead of schedule.
Erik Snell, vice president for Delta operations and customer centre, said the airline's meteorology team was the best in the business.
Speaking to the Washington Post, Snell said: "They took a hard look at the weather data and the track of the storm and worked with the flight crew and dispatcher to agree it was safe to operate the flight. And our flight and ground crews were incredible in their effort to turn the aircraft quickly and safely so the flight could depart well before the hurricane threat."
In Puerto Rico, visitors were trying hard to get away, while many residents attempted to get home before the storm hit. The Delta flight was the last to land and take off from the airport before it stopped operations yesterday.
Join our new commenting forum
Join thought-provoking conversations, follow other Independent readers and see their replies