The Independent's journalism is supported by our readers. When you purchase through links on our site, we may earn commission.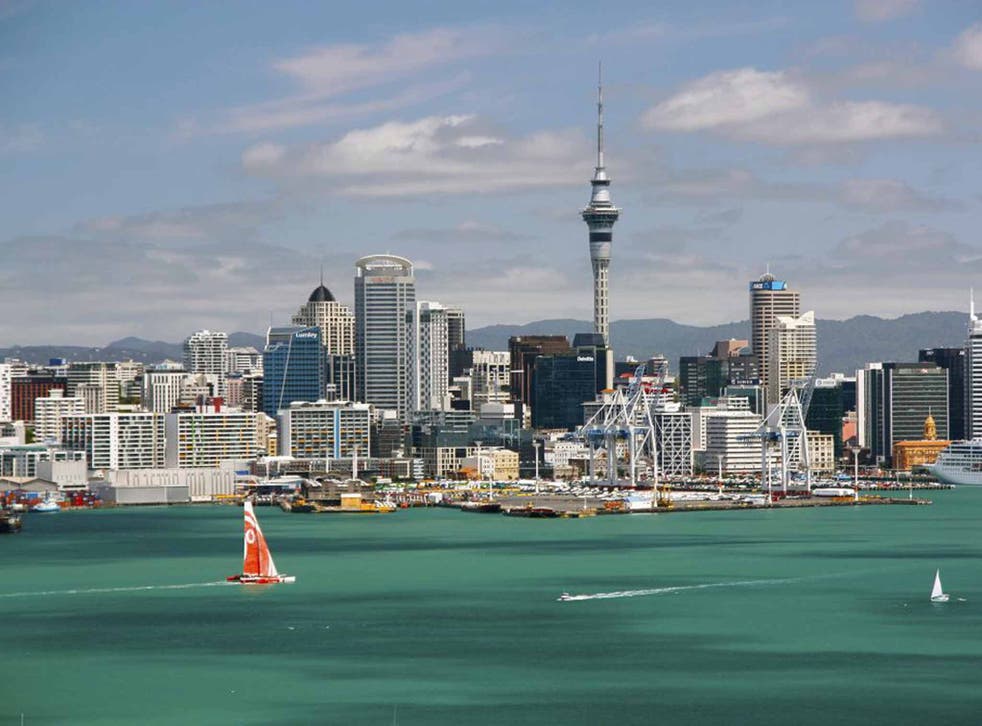 Is Emirates' new non-stop route from Dubai to Auckland the fastest?
Simon Calder gets out his stopwatch for the great New Zealand air race
From 1 March, the world's longest flight will connect Dubai with Auckland. Emirates Flight EK448 will offer a one-stop link to New Zealand for travellers from Birmingham, Newcastle and Glasgow airports – the first time they have had such an opportunity. It will also expand the options from Heathrow, Gatwick and Manchester, the three airports currently with one-stop options to Auckland.
The most direct track for the Boeing 777-200LR (for "Long Range") sees it fly over the southern tip of India, grazing the north of Sri Lanka, brushing past Sumatra and flying over empty desert in Australia, before crossing the shore of the Tasman Sea close to Sydney and touching down around two hours later.
The official distance is 8,817 miles, but allowing for detours from the "great circle" route, the plane is likely to cover more than 9,000 miles. The eastbound flight is timetabled for 15 hours, 55 minutes – leaving Dubai at 10.05am, arriving in Auckland at 11am the following day. Coming back, with headwinds the norm, the trip is scheduled for 17 hours, 15 minutes. It will be a very long night on board, with the journey starting at 9.30pm in New Zealand's biggest city and touching down at 5.45am in the UAE's busiest airport.
Yet research by The Independent Traveller has revealed that the new flight won't necessarily be the answer for passengers wanting to make the longest haul in the shortest time. We compared the new Emirates link with Air New Zealand's one-stop from Heathrow via Los Angeles, and other one-stop options such as Hong Kong, Singapore and Bangkok.
The very fastest outbound journey from the UK is unaffected: it involves flying from Heathrow to Singapore with Singapore Airlines, and making a quick change to Air New Zealand, bringing in a time of 23h50. British Airways and Air New Zealand via Hong Kong is only five minutes slower. And five minutes after that, at 24 hours exactly, is Emirates via Dubai.
A bunch of other possibilities take only fractionally longer: Virgin Atlantic and Cathay Pacific via Hong Kong is 24h15; and at 24h20, you can choose from Cathay Pacific and Air New Zealand via Hong Kong or Malaysia Airlines via Kuala Lumpur. Air New Zealand, the only direct (same plane) service via LA is fairly slow at 26h30.
From other UK gateways, Emirates is almost always the answer. The fastest alternative is also the furthest: from Glasgow via Dubai, the declared distance of 12,437 miles is covered in 25h05, an impressive average of 496mph even including the change of planes in the UAE. It is closely followed by Manchester (25h30), and Gatwick and Birmingham – both on 25h35.
Odd one out because of the outbound flight timing to Dubai is Newcastle. The only daily Emirates plane touches down around midnight, with a 10-hour wait before the onward connection, making it a 33-hour trip. The fastest option from Tyneside to North Island is 26h55, on BA via Heathrow to Singapore, then Singapore Airlines to Auckland (only 15 minutes more and you can take in Brussels and Tokyo instead).
Coming back, the results are very different. To keep time in the air to a minimum, you should go out via Asia, back via North America. Easily fastest is the Air New Zealand service to Heathrow via Los Angeles, at 24h45. The fastest westbound trips from Auckland to the UK don't serve Heathrow, but Manchester and Newcastle – tied on 26h50 with Emirates. Glasgow is 10 minutes behind. Both Birmingham and Heathrow come in at 27h05, also on Emirates. This is time when other players start to show up, with Singapore Airlines via its hub the fastest Far Eastern option to Heathrow at 27h05. Gatwick's Emirates effort takes 27h20, which is also the time via Hong Kong to Heathrow – fly from Auckland with Cathay, then onwards with BA or Virgin Atlantic. Perhaps the most remarkable performance is Air New Zealand and United via San Francisco and Washington DC; even with two stops, the trip takes 27h30.
The 10 world's worst airports 2015

Show all 10
Adding there-and-back times together, the fastest hub is Singapore at 50h55, 10 minutes ahead of Dubai, which itself is 10 minutes faster than Hong Kong and Los Angeles. But with any of these great cities en route, it would be a real shame merely to pause at the airport between flights.
Times obtained from searches at skyscanner.net; distances from OAG Pocket Flight Guide
Auckland Express: the winners
Outbound
1 Singapore Airlines and Air New Zealand via Singapore 23.50
2 British Airways and Air New Zealand via Hong Kong 23.55
3 Emirates via Dubai 24.00
Inbound
1 Air New Zealand via Los Angeles 24.45
2 = Air New Zealand and Singapore Airlines via Singapore 27.05
2 = Emirates via Dubai 27.05
Register for free to continue reading
Registration is a free and easy way to support our truly independent journalism
By registering, you will also enjoy limited access to Premium articles, exclusive newsletters, commenting, and virtual events with our leading journalists
Already have an account? sign in
Register for free to continue reading
Registration is a free and easy way to support our truly independent journalism
By registering, you will also enjoy limited access to Premium articles, exclusive newsletters, commenting, and virtual events with our leading journalists
Already have an account? sign in
Join our new commenting forum
Join thought-provoking conversations, follow other Independent readers and see their replies