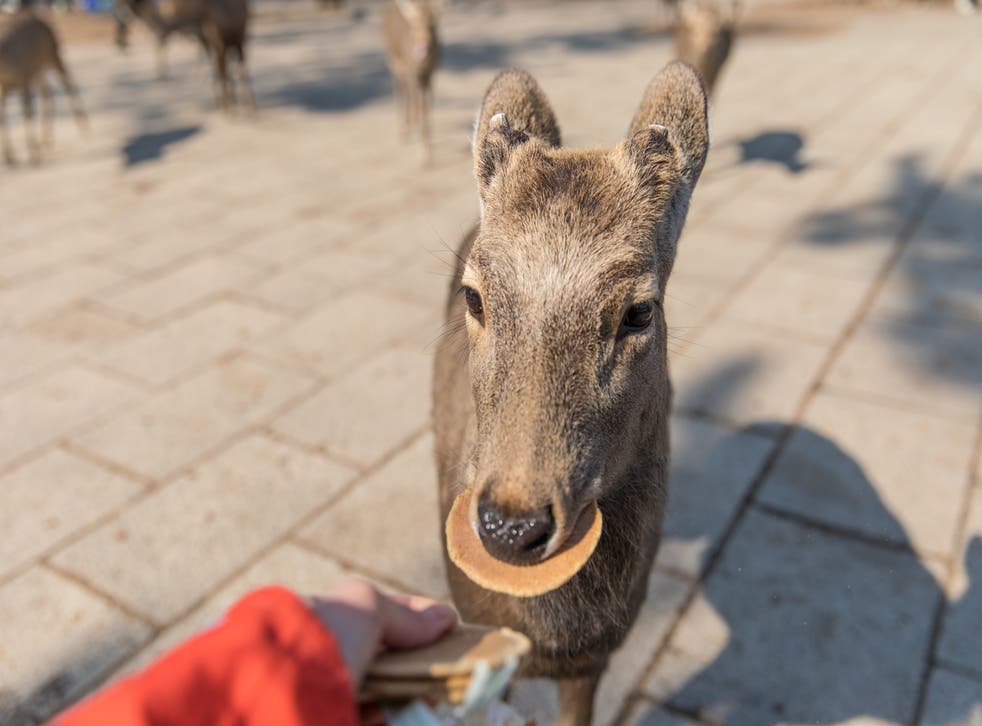 Japan's famous Nara deer killed by tourists' plastic waste
Six deer have died since March
Helen Coffey
Tuesday 18 June 2019 15:03 Comments
Japan's famous wild deer, which attracted more than two million visitors to Nara last year, are dying at the hands of tourists.
Six of the deer in Nara Park have been killed due to swallowing plastic left behind by tourists since March.
An autopsy showed that one deer had 4.3kg of plastic in its stomach, reports The Telegraph.
An additional 29 deer were killed in traffic accidents in 2018, as the animals often wander into the busy road to be fed by visitors.
The park, which spans 5,000sq m, is home to around 1,200 sika deer. They are considered sacred and have protected "national treasure" status.
Norway's radioactive reindeer

Show all 6
For tourists, the main attraction is seeing the deer bow, which they have learnt to do in exchange for food.
Stalls selling senbei snacks (Japanese rice crackers) to feed the animals use environmentally friendly packaging, developed by the Nara Deer Welfare Association.
However, many tourists will bring their own plastic waste and are not as careful as they should be when discarding of it. Plastic bags, ring pulls, cups and bottles have all been spotted in Nara Park.
Justin Francis, CEO of Responsible Travel, said: "The Nara deer have become the latest victims of deadly overtourism, from their run ins with traffic to the now rising problem of plastic pollution – their protected status is in question at the hands of irresponsible tourism.
"These sacred animals are being treated as a commodity, used by tourists to snap the perfect shot for Instagram, and not enough is being done to ensure their welfare. Japan is second only the US in plastic waste per capita, a shocking indictment of inaction gripping the developed world, while the excessive plastic pollution is a problem which goes beyond the confines of Nara park.
"As with any wildlife encounter, the animals should always be put first, not the tourist. It is clear this is not happening in Nara; those responsible should ask themselves, if these deer are dedicated as 'national treasures', isn't it time they were treated that way?"
"It is always advisable not to encourage deer to become reliant on humans for food, but in places such as Nara where it is permitted we recommend that only natural foods endorsed by the local authorities is given, and that processed food items and plastic packaging are avoided," Charles Smith-Jones, technical adviser at The British Deer Society, told The Independent.
"At other times it is always best to simply enjoy watching the deer from a distance. The British Deer Society urges everyone to dispose of their waste responsibly and in such a way that it cannot be a danger to wildlife."
He added that, closer to home, around five of the deer living in Richmond Park are thought to be killed each year from consuming litter. Energy gel sachets discarded by cyclists have been highlighted as being of particular concern.
Register for free to continue reading
Registration is a free and easy way to support our truly independent journalism
By registering, you will also enjoy limited access to Premium articles, exclusive newsletters, commenting, and virtual events with our leading journalists
Already have an account? sign in
Join our new commenting forum
Join thought-provoking conversations, follow other Independent readers and see their replies