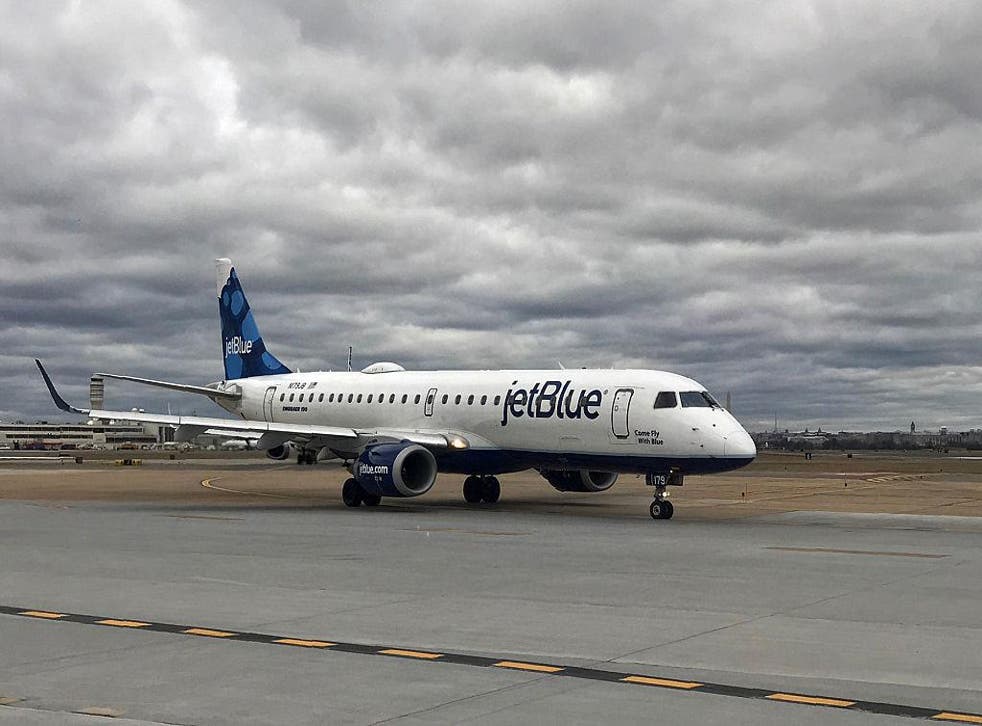 Family kicked off plane when their toddler 'kicked the seat in front'
The airline says that the parents were threatening another passenger
Julia Buckley
Thursday 20 July 2017 08:56 Comments
A family has accused US airline JetBlue of kicking them off a flight because of their toddler's behaviour.
Parents Tamir Raanan and Mandy Ifrah from Brooklyn were travelling from Fort Lauderdale to New York JFK with their three children on 21 June when they were kicked off the flight.
​Ifrah told the NY Post that her one-year-old kicked the seat in front of them leading to an altercation while the plane was preparing to take off.
Ifrah claims the passenger in front told her to "hold your baby's feet", and that she apologised.
The passenger then moved to another seat, but the pilot turned the plane back to the gate, where the family was asked to leave.
Ifrah recorded a video of a member of cabin crew asking them to disembark. She tells the man, "This is ridiculous."
But JetBlue told a different story, saying that the parents made "physical threats and profanities" to the other passenger before the decision was made to kick them off.
A spokesperson told the Post:
"The aircraft door was reopened and our airports team politely asked the customers to step off to discuss the situation.
"The customers refused repeated requests, and our crewmembers deplaned the entire aircraft. Law enforcement escorted [the family] out of the gate area, and we provided a refund."
The family say they were refunded $500 (£385) but spent $2,000 (£1540) on new tickets to fly the following day. Their luggage continued to New York while they were stranded in Florida overnight, and they say that by the time they reached New York, their bags had been sent back to Florida.
Raanan has been barred from flying JetBlue again.
They are now considering a lawsuit against the airline for "defamation of character and infliction of emotional distress, their lawyer told the Post.
In May, a family were thrown off a JetBlue flight when a row erupted over their stowage of a birthday cake in an overhead locker.
Register for free to continue reading
Registration is a free and easy way to support our truly independent journalism
By registering, you will also enjoy limited access to Premium articles, exclusive newsletters, commenting, and virtual events with our leading journalists
Already have an account? sign in
Join our new commenting forum
Join thought-provoking conversations, follow other Independent readers and see their replies