The Independent's journalism is supported by our readers. When you purchase through links on our site, we may earn commission.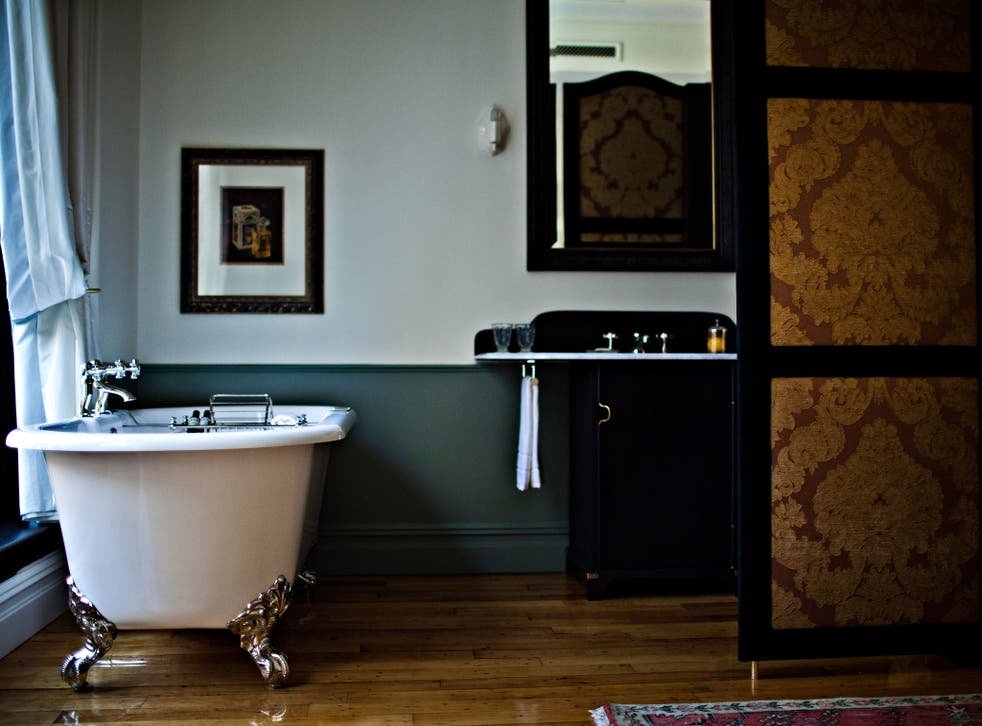 Juliet Kinsman: Ancient and modern make the perfect bedfellows
Imagine, if you will, César Ritz sitting at a bar in Paris cradling a large cognac. It's the late 1800s, and he has plans for a special new hotel. "I shall mix old with new," he thinks. "We'll preserve all the Louis XIV fabulousness and then slam it with à la mode fittings." By now he is shouting. "Mais oui! That is it! Old-fashioned grandeur, glorious antiques, telephones, en suite bathrooms ... electricity. This is going to blow people's minds!" And it did.
It might not have happened quite like that, but still, there has long been a fascination with marrying classical and contemporary, and there's a new crop of hotels carrying on this tradition with serious swagger. Mesdames et messieurs, please be upstanding for NoMad hotel in New York, which opened last year. Interior design don Jacques Garcia, fresh from his La Mamounia Moroccan refurb, took this Beaux-Arts building and lavished it with rich fabrics, sexy lighting and artworks such as pressed herbs from Parisian curiosity-peddlers Deyrolle. The result is something brand new yet classique, and also very, very cool.
History and a sense of place are making headlines across the hotel industry, and guests are demanding hosts tell stories rather than just stand there and look pretty. Macalister Mansion opened in Penang, Malaysia, last November, having taken its name from the first British governor of the island. There are only eight bedrooms in this royal-icing-white boutique hotel, with a handful of restaurants and bars, and all of the spaces are stuffed with bespoke furniture amid original cornices and Peranakan tiles.
The three House Hotels in Istanbul are similar exemplars of combining then with now. The Midas touch of designers Autoban revived an Ottoman mansion in Cukurcuma for the House Hotel Galatasaray, while the landmark 19th-century Simon Kalfa building that is House Hotel Bosphorus in Ortakoy sees centuries-past plasterwork and parquet floors edited with statement retro lighting and quirky marble bathrooms.
Palazzina G, a 16th-century palazzo in Venice, had its makeover at the hands of French designer Philippe Starck. This Grand Canal getaway is resplendent in Murano glass, mirrored walls and sleek all-white bedrooms. It's every inch the essence of La Serenissima, with a modern-day spirit.
Meanwhile, over in Croatia, three Roman palaces on a World Heritage waterfront site in Split were transformed into the Hotel Vestibul Palace. Those ancient Italians may have been sophisticated but I'm not sure their Emperor Diocletian's original bedroom was wired for cable television and the internet.
It doesn't need to be as old as the 4th century for the mash-up to be arresting, though: Barcelona's El Palauet is a 1906 Art Nouveau building with lofty ceilings, stained glass, flamboyant frescos – and PlayStations among the many amenities.
Thanks to this new generation of history-steeped hideaways that are as thrilling to architecture buffs as coolhunters, old is the new new.
Juliet Kinsman is the editor-in-chief of Mr & Mrs Smith (mrandmrssmith.com)
Register for free to continue reading
Registration is a free and easy way to support our truly independent journalism
By registering, you will also enjoy limited access to Premium articles, exclusive newsletters, commenting, and virtual events with our leading journalists
Already have an account? sign in
Register for free to continue reading
Registration is a free and easy way to support our truly independent journalism
By registering, you will also enjoy limited access to Premium articles, exclusive newsletters, commenting, and virtual events with our leading journalists
Already have an account? sign in
Join our new commenting forum
Join thought-provoking conversations, follow other Independent readers and see their replies