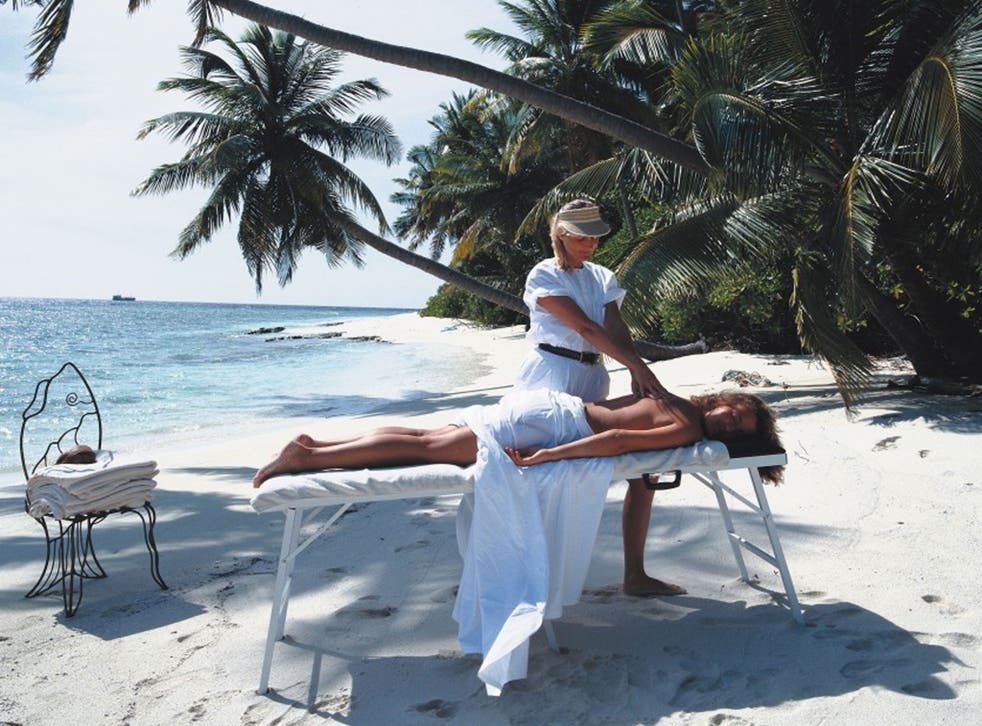 Juliet Kinsman: The key to a good massage? Put yourself in the right hands
Something to Declare
Juliet Kinsman
Saturday 04 January 2014 19:55 Comments
Are there many things less relaxing than a really bad massage – at least when paying good money to have something lift your spirits? Lying on a massage table as inexperienced hands pointlessly touch your skin with no seeming purpose or direction, easing you deeper and deeper into a state of fight or flight. I recall a practitioner in India actually breaking wind. Aromatherapy it wasn't. There have also been a few heavy-duty hammam experiences in Morocco; stripped naked, hosed down, and scrubbed so hard I lost some beauty spots. But I'd still rather that than anything wishy-washy.
Hotels have seriously raised their game in the past decade when it comes to man-(or woman) handling you, and the best bit is that you don't have to go to a dedicated health farm to know about it. Capri Palace's "leg school" gives your pins a good seeing to via whirlpool and medicated mud in the luxurious spa. Flop in an overwater bungalow at Bora Bora Pearl Beach Resort & Spa in French Polynesia and you can ask to have dancing feet on your back. For a seriously spiritual experience, Post Ranch Inn in California can serve up a side order of shamanism.
Como Shambala in Bali recently won Best Spa in our Smith Hotel Awards. Just stepping foot into those thatched pavilions set in the treetops is salubrious for body and soul, although the taksu massage isn't bad either. (Taksu is the passing of energy between two people.) And if golfing is your thing, perhaps the golf ball massage at Principe Forte dei Marmi in Versilia, Tuscany, will do it for you.
Then there's the dazzling-by-slathering effect. Black truffle, champagne and diamonds are in Temple Spa's box of tricks – the lifestyle branch is launching at Dormy House's spa in the Cotswolds imminently. Local, seasonal, garden-grown ingredients are as elemental to treatment menus as in restaurants. The Cowshed brand was born at Babington House in Somerset with these organic hallmarks; Bamford flaunts a similar philosophy at the Herb House in the New Forest's Lime Wood. Cacao massages at Boucan by Hotel Chocolat in Saint Lucia offer an especially sweet experience; while Casa Bonita in the Dominican Republic does a chocolatey exfoliating massage on a table in the middle of a river. The Mia Resort Nha Trang resort in Vietnam does a mean coffee bean scrub, too.
Then again, sometimes you don't even need the massage – a whirl in fancy spa facilities will do the trick. A dip in one of Chewton Glen's bubbling hydrotherapy pools, or a spell in the glamorous steam rooms at the Corinthia Hotel in London, should reach the parts lacklustre massages neglect.
Juliet Kinsman is editor-in-chief of Mr & Mrs Smith hotel guides (mrandmrssmith.com)
Register for free to continue reading
Registration is a free and easy way to support our truly independent journalism
By registering, you will also enjoy limited access to Premium articles, exclusive newsletters, commenting, and virtual events with our leading journalists
Already have an account? sign in
Join our new commenting forum
Join thought-provoking conversations, follow other Independent readers and see their replies