Kenji Ekuan: From bullet trains to soy sauce bottles, the man who made Japan
Designer Kenji Ekuan, who died on Monday, brought the philosophy of a monk to his vast range of iconic creations. Simon Usborne assesses the impact of his life's work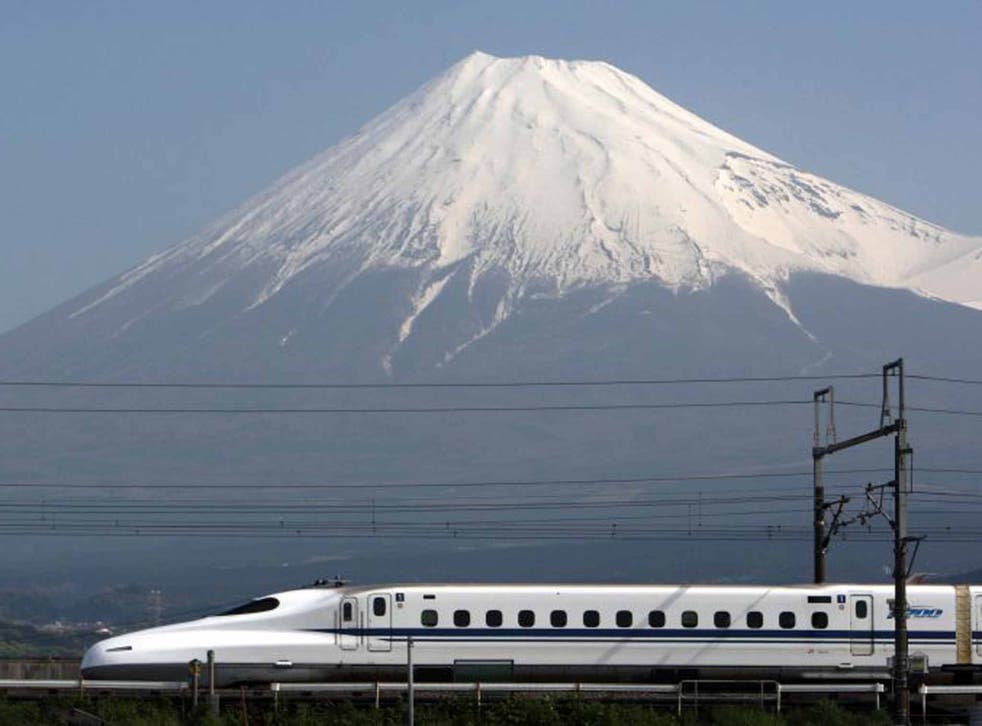 When he was 16, Kenji Ekuan took the train home from his college to Hiroshima shortly after it had been destroyed by an atomic bomb. His sister was dead and, a year later, his father, a Buddhist priest who had looked after a temple in the city, would follow her.
"Faced with that nothingness, I felt a great nostalgia for human culture," Ekuan later recalled. "I needed something to touch, to look at. Right then I decided to be a maker of things."
Seventy years later, Japan is mourning one of its most famous sons, who went on to make not only things, including the globally enduring Kikkoman soy sauce bottle, but also, to a great extent, the post-war identity of his country.
"He is the greatest designer in Japanese history," Kazuo Tanaka, the President of GK Industrial Design, says by phone from his Tokyo office. Ekuan helped found the company in 1957 and remained its chairman until heart problems forced him into hospital two weeks ago. He died early on Monday morning.
"He came into the office every day," Tanaka says. "He used a special green wheelchair that he had designed himself." He adds: "Ekuan was not a designer but also a philosopher. He always said, 'Everything has a soul'. He never married but often said that he was married to design."
The designs of Kenji Ekuan

Show all 4
Ekuan, who lived modestly in a small home near his office, grew up in Hawaii, returning after the war. Having considered the priesthood, inspired by his father, he set about translating faith into form. "I realised that, for me, the path to salvation lay in objects," he wrote in a memoir published in 2002. "Making an object means imbuing it with its own spirit."
While still in his early twenties, Ekuan won a commission to design a bottle for the now global Kikkoman Corporation, best known for its soy sauce. He had watched his mother decanting large cans into porcelain pots and, as Tanaka puts it, saw an opportunity to enact the "civilisation of a product".
After three years and more than 100 prototypes, Ekuan settled on a glass, teardrop-shape with red plastic cap containing a dripless spout inspired by a teapot. Its design, revealed in 1957, hasn't changed since, selling more than 300 million units in more than 70 countries.
"For me it represents not the new Japan, but the real Japan," he told The New York Times three years ago. "The shape is so gentle. Of course, during the war, we were forced into acting differently. But for a long time, some 1,000 years, the history of the Japanese people was very gentle."
Yet Ekuan, who also designed several "bullet" trains and a Yamaha motorbike, is also credited with helping to shape a new cultural identity, exporting it around the world. He had been fascinated by the "moving exhibition" of the American GIs who walked about Hiroshima's ruins, and the emerging American consumer culture. Before him, Japanese commentators have said, there was no concept of commercial packaging design, or the celebrity designer.
"The single most interesting thing about him is that he was the very first Japanese designer to emerge as an individual personality from the enforced anonymity of corporate life," says Stephen Bayley, the design critic, who met Ekuan several times in London. "I was aware that he had trained as a monk, and that serenity came across," he adds.
Bayley compares Ekuan to Raymond Loewy, "the man who shaped America" by means of streamlined trains, cars and the evolving Coke bottle, as well as the patriotic livery of Air Force One. "Design is a collective activity, like making movies, but it was necessary that in the growth of design awareness, the autonomous genius individual created these great works," he says. "It's a historical phenomenon I think we don't quite cleave to in the same way today. Ekuan perhaps, like Loewy, has no successor."
Register for free to continue reading
Registration is a free and easy way to support our truly independent journalism
By registering, you will also enjoy limited access to Premium articles, exclusive newsletters, commenting, and virtual events with our leading journalists
Already have an account? sign in
Register for free to continue reading
Registration is a free and easy way to support our truly independent journalism
By registering, you will also enjoy limited access to Premium articles, exclusive newsletters, commenting, and virtual events with our leading journalists
Already have an account? sign in
Join our new commenting forum
Join thought-provoking conversations, follow other Independent readers and see their replies