Late-night line-up at US immigration

Show all 2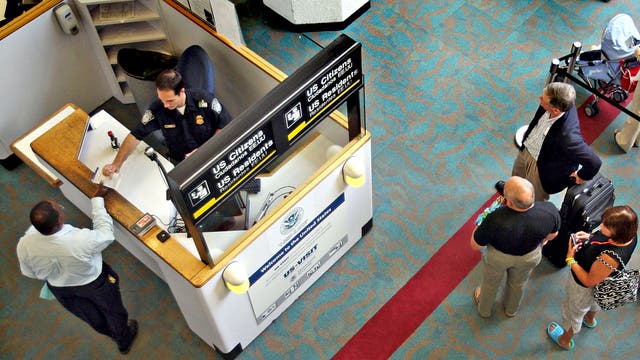 Late-night line-up at US immigration
Heading for Florida this summer? Prepare for long queues even before you hit the theme parks. Simon Calder advises on how to cut the wait
Since 9/11, visitors to the US have got accustomed to the idea that getting through the immigration check is hard work: you will have your mugshot and fingerprints taken, and may face tough questions about your travel plans. But this summer, just reaching the head of the queue could be an ordeal in itself. The Independent Traveller has crunched the latest data from Customs and Border Protection and discovered that new arrivals in Florida could stand in line for three hours for US Immigration.
The potential waits in other popular states are equally daunting, and could threaten onward connections: if you are still waiting for US Immigration at the final call for your onward flight, you will be left behind. But with a shrewd change of planes en route, you could save an hour of standing in line – and some cash.
Who's worst – and best?
Top of the "immigration hall of shame" is Miami. Last month, the average longest wait time for passport processing for arrivals between 8 and 9pm was 3 hours, 6 minutes. Flights from the UK are scheduled to arrive earlier in the day, when queues are shorter, though beware if your plane is delayed.
In second place, New York JFK – the leading point of arrival from the UK. Between 4 and 5pm, the official "average wait time" for JFK Terminal 4 hits 2 hours, 31 minutes. If you are booked on the 2pm Virgin Atlantic flight from Heathrow, which gets there at 4.40pm, make sure your Kindle is charged.
Many British travellers transfer at the third-tardiest airport, Dallas-Fort Worth. American Airlines sells international-to-domestic onward connections via its hub at "DFW" of less than 90 minutes, which is ambitious given that the highest average wait time is 142 minutes. Lines are also worse than average at Chicago O'Hare – though because the CBP cannot access its own data, the highest wait time is unknown and so the airport is omitted from our chart (right).
If you're going to San Francisco, be sure to wear some comfortable shoes: the worst wait is 110 minutes. And the thrill rides of Orlando could prove tantalisingly slow to reach if British Airways flight 2037 leaves Gatwick a little late, as it did last Sunday. On most days, the jet is scheduled to arrive at McCoy international airport serving the world's theme-park capital at 3.35pm. Waits reach an uncomfortable 104 minutes between 4 and 5pm, when the biggest bulge of fun-seekers arrives, including those on Virgin from Glasgow.
At the other end of the table, Honolulu picks up a garland for the shortest queues. But Hawaii's main airport has no flights from Britain. And even its performance, at 47 minutes, is worse than the UK Border Agency standard of 45 minutes. Last year, Heathrow was in the spotlight with pre-Olympic waits of three hours or more; this year, the queues at British airports have subsided, while those in America are set to get worse as budget cuts bite.
But my electronic papers are in order
Just as well, because otherwise you won't be allowed on a plane to the US. For a straightforward holiday or business trip, you need an Esta – the "Electronic System for Travel Authorization". Apply online at esta.cbp.dhs.gov. (Use no other site, because they may charge a big fee for no benefit.) You pay the equivalent of $14 (£9) for an electronic permit, normally granted within minutes, for as many American trips as you care to make within two years.
An Esta merely allows you to board a flight to the US. On arrival, you must line up to be questioned, photographed and fingerprinted.
How can I bust the queues?
On a route with a spread of flights across the day, choose carefully. Between Heathrow and New York JFK, BA has the most flights, with eight departures spread across the day to its own terminal at JFK. The longest wait is 98 minutes, between 1 and 2pm. Yet there is a distinct dip in waiting times between 5 and 6pm, when it temporarily slips to 36 minutes. Choose BA115, arriving at 5.10pm, rather than BA173 (shortly before 2pm) to save an hour's wait.
Next, consider a different airport. Midtown Manhattan is equally accessible from Newark Liberty as from JFK, yet the worst wait at Newark is barely half that at JFK. Similarly, Florida-bound tourists who fly by charter to Orlando's Sanford airport can save 40 minutes in waiting compared with the city's main McCoy airport.
Or save both time and money by building in a connecting flight at a less-congested US gateway. You clear immigration and customs before boarding the onward flight, which means you arrive at the final destination as a domestic passenger. For destinations in the west and south, consider the only two mainland airports with a wait under an hour: Detroit (52 minutes) and Minneapolis-St Paul (58). Both are Delta hubs.
Also bear in mind US Airways via Charlotte (62 minutes) or Philadelphia (74). As an example of the possible savings: on the first Saturday in August, the cheapest non-stop flight from London to Orlando for a week is about £1,300 return, but US Airways will sell you a ticket via Philadelphia for just over £900 – with a comfortable 2 hours 45 minutes to change planes in the City of Brotherly Love.
Delta's home, Atlanta, and Los Angeles (LAX) are the fastest "mega-hubs", each with an average maximum wait of 71 minutes.
Perhaps more radically: fly via Ireland. The Republic is one of the few countries that has US border staff stationed to allow travellers to "pre-clear". If you book a through ticket on Aer Lingus from your local airport via Dublin to Boston, Chicago, New York JFK or Orlando, you will clear all US formalities at the Irish capital before the transatlantic flight. On arrival, you are a domestic passenger, with no wait for anything except baggage. This courtesy also applies on flights via Canada, and on British Airways' flagship all-business-class service from London City to JFK. Passengers on the morning flight are processed during a refuelling stop in Shannon.
I travel to the US frequently – is there a "biometric" option?
In the 1990s, the US was ahead of the rest of the world with its successful INSpass system. You could enter the country literally by showing your hand: like fingerprints and iris, hand geometry is a unique identifier. INSpass did not survive under the post-9/11 regime. But at last a 21st-century enhancement is on the way in the shape of the Global Entry scheme. You fill in an online form (bit.ly/GlobalE) and, on your next visit to the US, go for an interview with Customs and Border Protection.
Once enrolled, you use a special channel to clear immigration in an estimated 40 seconds. There are some wrinkles: the application bafflingly demands "Information Requested by the Government of UK". But once it is working it could prove valuable to the frequent visitor – and also slim the queues for other new arrivals.
Queue and A: why are we waiting?
Each month, US Customs and Border Protection publishes "average wait times" for the busiest international airports across America at apps.cbp.gov/awt. The figures are published for each hour across the day. We trawled through the most recent figures, for April 2013, at the 20 main airports for UK travellers, and looked for the hour in the day that delivered the longest wait time.
The good news: most people will wait less than these maxima. The bad news: because these are averages, some unfortunate travellers will have waited longer than the figures shown.
Furthermore, the initial passport check – with associated fingerprinting and mug-shot – is merely the first hurdle in getting into the US.
Assuming that, like most travellers, you are cleared at the primary inspection, retrieving baggage and clearing customs will add time. If you are on a connecting flight, you will also need to clear security before being allowed on board. And if your documents or plans raise any suspicion, as mine usually do, you may be hauled off to "secondary" – a processing area where you could spend several more hours.
Register for free to continue reading
Registration is a free and easy way to support our truly independent journalism
By registering, you will also enjoy limited access to Premium articles, exclusive newsletters, commenting, and virtual events with our leading journalists
Already have an account? sign in
Register for free to continue reading
Registration is a free and easy way to support our truly independent journalism
By registering, you will also enjoy limited access to Premium articles, exclusive newsletters, commenting, and virtual events with our leading journalists
Already have an account? sign in
Join our new commenting forum
Join thought-provoking conversations, follow other Independent readers and see their replies