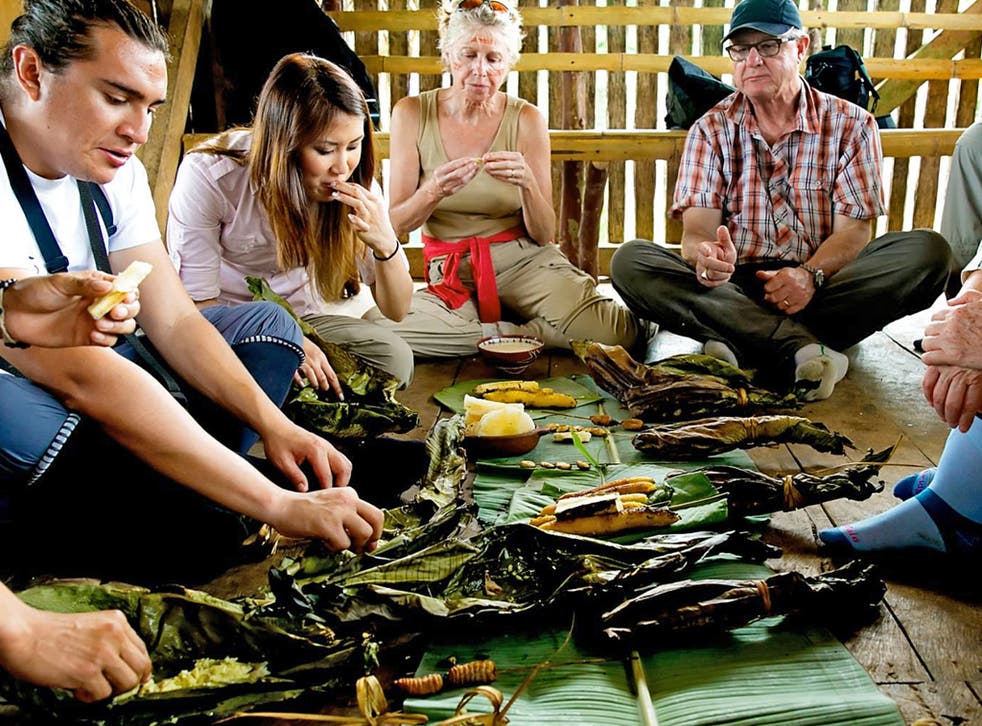 Learn a new language: Holidays with English off the menu
Immersing yourself in a foreign language is often the best way to learn or brush up on your skills. And you don't have to spend all your time in the classroom either, says Lucy Gillmore
Lucy Gillmore
Monday 22 July 2013 17:05 Comments
What's the attraction?
Parlez-vous français? ¿Habla español? Sprechen Sie Deutsch? If your heart sinks every time you have to ask for the menu in English – with pictures – it's time to do something about it... and it's never too late.
If you're worried about spending all your time in a classroom, don't be. There are plenty of companies offering language courses alongside more traditional holiday activities. GoLearnTo.com (0845 6250445; golearnto.com), for example, offers everything from Spanish and salsa classes in Ibiza to French and cookery lessons in Nice, which start at £956 for eight days with 10 language lessons, five cooking lessons, accommodation and full board, but not travel. The company also offers a seven-day Arabic and ceramics holiday in Tetouan, Morocco. The holiday costs from £133, including four 55-minute Arabic lessons per day and two pottery lessons, plus transfers from Tangiers; flights and accommodation extra.
Other companies offering similar trips include Languages Abroad (01273 201434; languagesabroad.com) and Insted (00 33 450530366; insted.com), which pairs French and Spanish courses with skiing and surfing: the skiing in Chamonix, the surfing in Biarritz, San Sebastian and Tenerife.
Closer to home
Learn to speak Welsh at Nant Gwrtheyrn (01758 750334; nantgwrtheyrn.org) on the Llyn Peninsula in North Wales. The old village was abandoned in the Seventies after the granite quarries were closed, but has now been given a new lease of life. The 19th-century houses have been restored and you can stay in one of the old quarry workers' cottages on a residential Welsh language course. Weekend courses from £240, full board.
Ceolas (01878 700 154; ceolas.co.uk) is a week-long summer school on South Uist in the Outer Hebrides where you can learn piping, fiddling, Scottish reels and take Gaelic language classes; £200 excluding accommodation and travel.
Oideas Gael (00 353 74 9730248; oideasgael.ie) offers Irish language, cultural and hill-walking holidays in south-west Donegal. Weekend courses cost £100, one-week courses £200. Accommodation starts at €110 per person per week, self-catering.
FEICIM stands for Fun Easy Irish Courses – Island Method. It is based on Inis Oirr, the smallest of the Aran islands, and offers five-day (€200) or two-week courses (€500). The price includes tuition but not accommodation (00 353 99 75097; feicim.com).
Insider information
"I did my first language course 10 years ago – Spanish lessons with Flamenco. By the end of the week, I'd learnt more than I had in three months of evening classes back home. Courses combined with another activity such as surfing, dancing, cooking, horseriding, yoga or photography are by far the fastest-growing trend in language learning and there's also a shift towards learning in your teacher's home." Vanessa Lenssen, CEO and founder of GoLearnTo.com
It's all Greek to me
For beautiful beaches, bustling tavernas – and four hours of Greek classes each day – head to the island of Syros. Omilo (00 30 210 6122896; omilo.com) organises one- or two-week intensive courses on this picturesque Cycladic island. The next course starts on 25 August and costs €630 (£545) excluding accommodation and travel, but includes 40 hours of tuition spread over 10 days, with two free days. Optional activities include Greek dancing lessons, museum visits and guided walks.
Little linguists
At Niyama in the Maldives, activities for children include learning to play traditional Maldivian games and Maldivian (Dhivehi) language classes. ITC Classics (01244 355 527; itcclassics.co.uk) is offering a week's half board at the resort from £5,799 per family of three, including flights from Heathrow and transfers .
Families Worldwide (0845 051 4567; familiesworldwide.co.uk) is offering an eight-day holiday to Catalonia in Spain: Learn the Lingo features two-and-a-half hours of Spanish tuition four mornings of the week. Other highlights include a guided walk in Montnegre Natural Park, a visit to a local market and cookery workshop, a day trip to Barcelona, sea kayaking and beach volley ball. The trip departs 26 July and costs £1,379 for over-14s and £1,399 per adult including flights, transfers, activities, seven nights' half board and the services of a tour leader.
Eastern promise
The intriguingly named "Fun Korea Lesson Trip" is a new holiday offered by the Korea Tourism Organisation ( gokorea.co.uk), combining a homestay and Korean language course at Kyung Hee University in Seoul, with afternoons free to explore the vibrant capital. The six-night trip costs 600,000KRW (£340) B&B, excluding flights, with four dates scheduled for July and August this year. For more information contact Family Tour Friend (00 82 2 2238 2895; familytourfriend.com).
Cactus Language (0845 130 4775; cactuslanguage.com) offers a one-week Mandarin course in Hong Kong, incorporating 15 hours of classes and afternoons free to sight-see, for £175 per person. Accommodation in a serviced apartment starts at £173 per week; flights not included. There are seven courses scheduled for the remainder of the year.
La Dolce Vita
On the outskirts of the Sicilian capital Palermo, and further east in Cefalù, Solemar Sicilia (00 39 0921 921029; solemar-sicilia.it) offers Italian lessons at its two language schools, either in a classroom in the heart of the village, or on the rooftops of its holiday apartments. Choose from "Survival Italian" (basic phrases with three 45-minute lessons each day for three days), intensive week-long courses, one-to-one, immersive lessons and business Italian, starting at €120 per person per week; accommodation from €150 per week.
At luxury hotel, Principe Forte dei Marmi (00 39 0584 783636; principefortedeimarmi.it) in Tuscany, you can not only sign up for Italian language classes but French, Italian, Russian, Japanese, Spanish and Portuguese as well. Classes can be tailored for beginner, intermediate or advanced levels and there's a choice of private lessons or group sessions for families. Italian lessons can also be combined with trips to local street markets. Prices start at €20 (£17) per person per hour for basic Italian lessons. Double rooms start at €300 including breakfast.
Jungle book
You can combine a Spanish course with a rainforest adventure in Ecuador, staying at the luxury La Selva Jungle Lodge and Spa, a three-hour canoe trip into the heart of the Amazon. Alongside Spanish lessons, activities include piranha-fishing, birdwatching, jungle hikes, a night canoe trip, visiting the monkeys on Chorongos Island and meeting with the indigenous Samona Yuturi community to learn about their local customs. Prices start at £600 per person for four nights, full board, including transport to La Selva from Coca, 14 hours of Spanish lessons, and guided trips; flights excluded (00 593 2 254 4558; simon-bolivar.com).
Register for free to continue reading
Registration is a free and easy way to support our truly independent journalism
By registering, you will also enjoy limited access to Premium articles, exclusive newsletters, commenting, and virtual events with our leading journalists
Already have an account? sign in
Join our new commenting forum
Join thought-provoking conversations, follow other Independent readers and see their replies