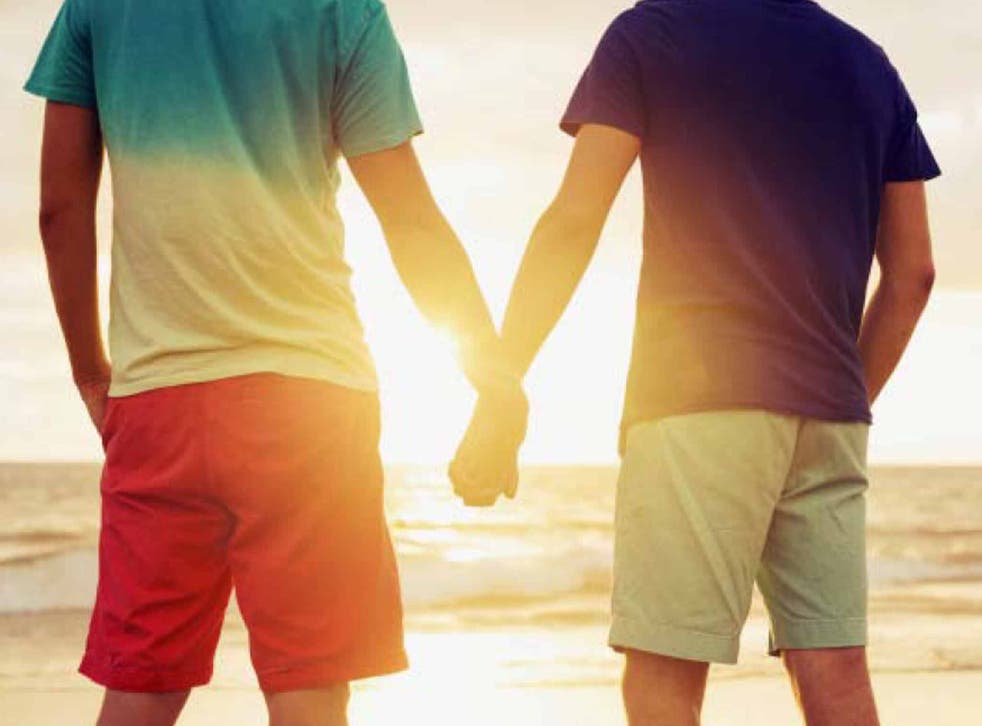 LGBT travel: Still a long way to go
A recent survey asked gay and lesbian travellers if they feel more able to be romantic in public since the introduction of same-sex marriage in England and Wales
Simon Forrester
Tuesday 31 March 2015 11:22 Comments
Expectations of a "romantic break" vary enormously. But whether you are in the first flush of romance, honeymooners, or looking to rekindle an old flame, everyone should feel free to show affection on holiday.
To mark the first anniversary of same-sex marriage in England and Wales this week, Further Afield, the gay-friendly accommodation website that I launched five years ago, carried out a snap survey of its gay and lesbian subscribers. We asked them whether they would now feel more able to be romantic in public on a honeymoon in the UK.
More than 90 per cent said they would not, with many respondents explaining they were still very cautious about kissing and cuddling in public. So, while the change in English and Welsh law is welcome, there's still a long way to go to shift social attitudes.
Further Afield launched during the furore prompted by gay couples being turned away from B&Bs. We have since selected about 300 places to stay, in 23 countries, not only for quality and style, but also for genuinely welcoming LGBT guests.
"Welcome" is a word that's greatly overused in the travel industry, but for gay couples, who might be anxious about how they will be received, it is a crucial aspect of any stay. That's why we turn away more properties than we take on.
Lonely Planet's top 10 gay-friendly travel destinations

Show all 10
While there is training out there to help hotels and their staff put gay guests at ease and avoid the wrong language and questions, it is really the ethos of the people who own, run and manage the hotel that is critical – not just box-ticking with an eye on the pink pound, but being genuinely mindful of their guests' possible concerns on arrival.
Neil and Zoe, who own and manage The Grove in Pembrokeshire, have been part of the Further Afield collection from the beginning. Their approach and attitude stands out.
Neil says: "We enjoy our gay and lesbian guests, who seem to return again and again. And we are proud that one of our gay guests has just decided to get married at The Grove. Our whole team embraces same-sex equality and we believe we provide a space where gay couples can feel comfortable."
While attitudes might be slow to shift in the UK, at least they are on the move. There are still 77 countries where being gay is illegal. Yet we get asked to find places to stay in some of them.
This raises lots of questions. On one hand, we feel that boycotting a destination is unhelpful for progress and the LGBT communities who live there. On the other, we have a responsibility to the LGBT traveller. So, we evaluate each country and each hotel on a case-by-case basis.
We would never encourage a gay traveller to holiday in Uganda or Russia. But we feel that a tried-and-tested hotel in Morocco, where we have travelled extensively without problems, would be acceptable to recommend, while recognising the issues. Being gay should never inhibit a love of travel.
Simon Forrester is co-founder of FurtherAfield.com
Register for free to continue reading
Registration is a free and easy way to support our truly independent journalism
By registering, you will also enjoy limited access to Premium articles, exclusive newsletters, commenting, and virtual events with our leading journalists
Already have an account? sign in
Join our new commenting forum
Join thought-provoking conversations, follow other Independent readers and see their replies