The Independent's journalism is supported by our readers. When you purchase through links on our site, we may earn commission.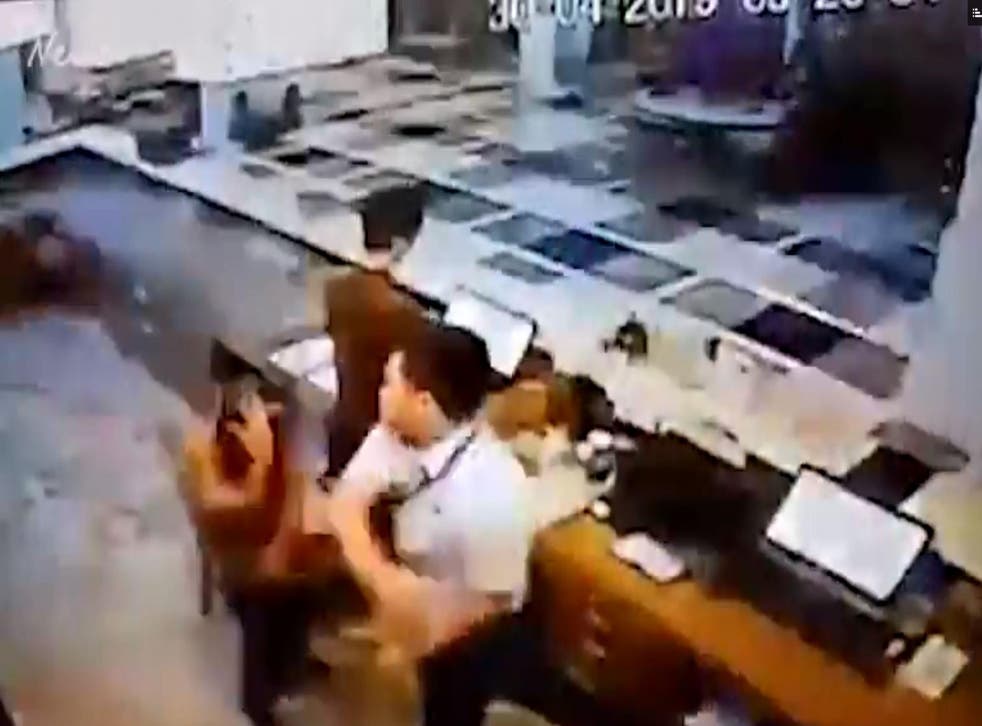 Lion Air grounds pilot who attacked hotel staff member over quality of ironed uniform
The attack was captured on CCTV and has been viewed more than one million times on social media
A pilot who attacked a hotel staff member because he was unhappy with how his uniform had been ironed has been grounded.
CCTV footage shared on social media shows a Lion Air pilot challenging the check-in agent, before walking around the reception desk to reprimand him further. He is then seen beating the man over the head several times.
The footage has been viewed on social media more than one million times.
The incident occurred on 30 April at a hotel in Surabaya, a city on the Indonesian island of Java.
Today, the budget airline published a statement on Facebook confirming that the pilot, whose initials are AG, was suspended.
Travel destinations: 52 places to go in 2019

Show all 52
"Lion Air has implemented company rules by not assigning AG according to its profession or not giving permission to fly (grounded) assignments," it read.
"Currently Lion Air is still carrying out the process of collecting data, information and other information needed for the purposes of further investigation or investigation (sic).
"If the intended pilot (AG) is found guilty after the investigation decision is complete, Lion Air will give strict sanctions by dismissing the company (sic).
"Lion Air is very obedient in implementing and prioritising disciplinary culture on all fronts, including employee behaviour or ethics. This policy is in order to prioritise the factors of flight safety and security (safety first)."
The Jakarta-based airline, the second largest low-cost airline in Southeast Asia after AirAsia, was involved in 2018's deadliest air accident.
In October 2018, a Lion Air Boeing 737 Max jet plunged into the sea off the coast of Indonesia, killing all 189 passengers.
Register for free to continue reading
Registration is a free and easy way to support our truly independent journalism
By registering, you will also enjoy limited access to Premium articles, exclusive newsletters, commenting, and virtual events with our leading journalists
Already have an account? sign in
Register for free to continue reading
Registration is a free and easy way to support our truly independent journalism
By registering, you will also enjoy limited access to Premium articles, exclusive newsletters, commenting, and virtual events with our leading journalists
Already have an account? sign in
Join our new commenting forum
Join thought-provoking conversations, follow other Independent readers and see their replies