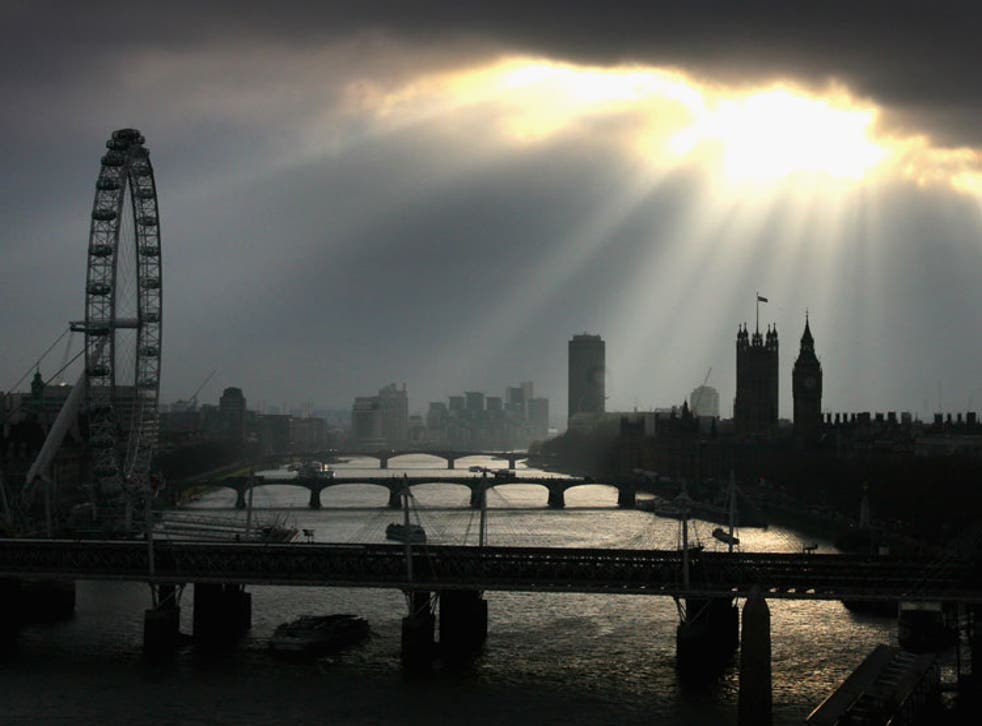 London, capital of the world
A new study has found that the British capital outstrips 60 global rivals as an economic and cultural powerhouse
Simon Calder
Saturday 22 December 2007 01:00 Comments
London has topped the most exhaustive comparison ever compiled of the world's great cities in a finding that sees Britain's capital outstrip global rivals as a centre of economic performance and cultural significance.
Following months of research of population figures, financial markets, tourism trends, transport facilities and data relating to sports and arts events and transport, the study comes to a dramatic conclusion: London is the world's capital city.
The survey was carried out by The Independent and, for the first time, allows a direct comparison of global cities.
Around the world, civic competition is reaching new heights as cities strive to provide the finest creative, culinary and tourist experiences. This is creating powerhouses such as Delhi and Beijing.
Closer to home, Dublin, Edinburgh, and Glasgow are proving themselves to be dynamic Celtic conurbations. Yet it is London that rises above all other cities.
The measurable and objective data, which can all be found on The Independent's website throws up some remarkable findings and reveals which urban rivals come out on top, which cities look set to climb rapidly up the rankings and which metropolises are seeing their grandeur and magnificence surpassed.
With one of the world's most ebullient stock exchanges, a bustling and economically attractive City, the highest number of Unesco World Heritage Sites in any city, and a truly international restaurant scene that typifies its cultural make-up with more ethnic restaurants than any other metropolis, London scores highly across the board.
Paris came third, winning the title of Continental Europe's capital thanks to its financial clout and busy international airports.
London achieved particularly strong ratings for its much-maligned underground Tube network (the world's first), its cultural credentials and for hosting the Olympic Games twice in a century (1908 and 1948).
The Mayor of London, Ken Livingstone, said the research showed London's strength lay in its multicultural makeup: "London is establishing itself as the world's number one financial centre and greatest city in the world. Londoners are proud of our 'unity in diversity' and regard the multiculturalism of our city as one of its greatest strengths. With over 300 languages spoken here, London is literally the most international city in the world. Its financial sector, its creative industries and its tourism industry all rely, in different ways, on their relations with the rest of the world and, with the achievements of winning the Olympic Games and hosting major sporting events like the Tour de France, we have proved the success of becoming the city that embraces globalisation."
Laurent Feniou, 36, a banker who moved with his family to England in 1995 and has since set up the annual "Francais of the Year" to honour members of London's 300,000-strong French expat community, was not surprised that London had been voted ahead of Paris. "You never really feel like a foreigner in central London," he said. "Whether it's food, clothes or people, the diversity is just amazing. I think it's a very safe city I drive to work with my scooter, something I would never do in Paris."
At the bottom of the table come Addis Ababa and Beirut. But there are surprises too. Among them is Mexico City at tenth place. At first glance Mexico's sprawling megacity might look like an unlikely contender. But with three Unesco World Heritage sites, an extensive underground rail network to rival most Western cities and one of the busiest airports in the region, Mexico's capital scores high enough in cultural and international significance to warrant being the city with the highest rank in the developing world.
Other cities that make the top 10 are those urban sprawls that regularly appear on the all-time desirable destinations lists. New York is narrowly pipped to the post by London by just two points, but the Big Apple does beat all its competitors in terms of flights, market capitalisation of its stock exchanges and as the location for the highest number of headquarters for global corporations. Paris, which lags a full 10 points behind London, is three places above Madrid (6th) and six ahead of Rome (9th). Despite being regarded as one of the cuisine capitals of the world, however, where the French capital fell down in particular was on diversity, boasting just 10 ethnic restaurants in the Paris Time Out City Guide.
Chicago, Washington, Los Angeles and San Francisco all made it into the top 15. Other cities to perform well in the survey included Tokyo, but Asian centres such as Beijing, Hong Kong and Shanghai are closing in. Delhi and Mumbai both came in way ahead of Russia's former capital St Petersburg, the laidback bliss of Melbourne and even the balmy Mediterranean delights of Israel's capital Tel Aviv. Dublin came in at 30, four places ahead of Edinburgh, while Glasgow was at 42.
As The Independent's award-winning economics expert Hamish McRae writes in today's Traveller Magazine, by measuring such a broad spectrum of criteria the survey shines an enlightening spotlight on to what is actually happening in this increasingly globalised world: "We now live in a more global economy than at any previous stage in the history of our species. So what The Independent Traveller has created here is not so much a league table as, by looking at cities, an exploration of globalisation itself."
What the people think: 'Every nationality lives here. People from all walks of life are welcomed with open arms'
Martha Lane Fox, Founder of lastminute.com
"I love London and I've always lived here. I love the diversity and the energy. There are so many things; from the parks and the diversity, to the incredibly vibrant arts scene, and the fact that almost every culture is represented."
Shazia Mirza, comedian
"London is special for the drunken Englishmen that you cannot find anywhere else. They have their own style and uniqueness. I think London needs more white people although it has an exceptional diversity of cultures."
Matthew d'Ancona, 'Spectator' editor
"London is almost like a country in a country. It has the ability to absorb newcomers like no other city. London's reputation of being the financial centre of the world certainly helps."
Sebastian Coe, olympics organiser
"London is seen as the cultural capital of the world, and is now becoming the sporting capital, having hosted two Olympic Games and another to come. This year we saw two million people on the streets of London watch the Tour de France."
Sue MacGregor, writer and broadcaster
"It is a fantastic city if you have money to spend but I wouldn't want to be poor in London. But it's second to none for theatre and music. There always seems to be serious music on you could go to something different every night of the week."
Register for free to continue reading
Registration is a free and easy way to support our truly independent journalism
By registering, you will also enjoy limited access to Premium articles, exclusive newsletters, commenting, and virtual events with our leading journalists
Already have an account? sign in
Join our new commenting forum
Join thought-provoking conversations, follow other Independent readers and see their replies