'We've got your lost property - but you'll have to travel 4,000 miles to retrieve it'
Exclusive: How a Merseyside man had to make an overnight trip covering 17 countries after the airline refused to fly back his lost documents for 'insurance reasons'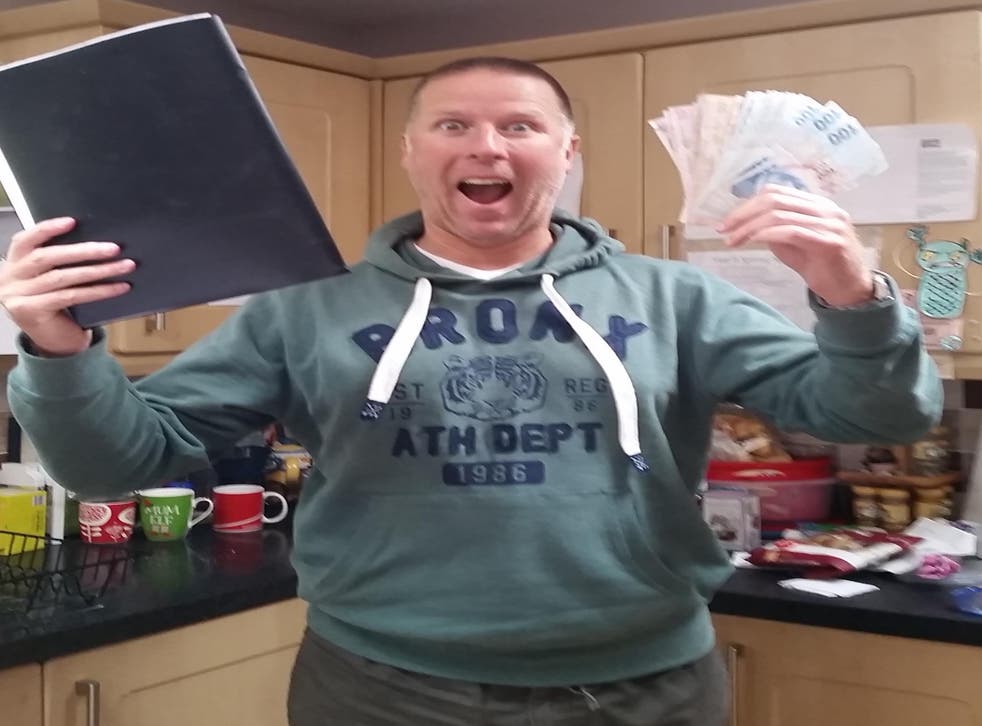 A Merseyside man who inadvertently left behind cash and documents at a Turkish airport security checkpoint has made a 4,000-mile round trip to pick up the valuables after the airline refused to bring them back for him.
Adrian Buchanan, a 48-year-old IT technician from the Wirral, was returning from Antalya airport to Manchester on Thomas Cook Airlines on 17 April after a family holiday. The new UK rules on electronic devices from Turkey meant a second security check was conducted at the gate, which Mr Buchanan described as "chaotic".
He told The Independent: "Two officers searched my bag. They took out my camera from its packaging the wrong way up and all the accessories start dropping out. While I collected them, the search continued."
In the same bag was a black A4 folder containing the family's holiday documents, health cards and 3,000 Turkish lira (£650). The folder was removed so the rest of the contents could be examined.
"Once I was given the all-clear, everything was replaced except the black folder which was accidentally left at the side of the security desk. In the confusion, I didn't notice the folder was not in the bag as my mind was on my son following me through.
"We boarded the plane none the wiser. It was only when back at Manchester airport we found the folder missing."
He immediately contacted Thomas Cook Airlines, but was told the firm could not transport the package "for insurance reasons".
The most scenic airports

Show all 10
Mr Buchanan also asked his travel agent, Travel Republic, for help, but the firm also declined to assist him.
"Eventually a lady named Gizem Ceylan from Celebi [the Turkish ground-handler] emailed me saying she had the folder and could I collect it?
"She thought I was still in Turkey, but I explained I was in the UK."
Mr Buchanan then approached a number of courier services to bring the documents home, but was told that money-laundering regulations precluded them transporting the cash.
"With all avenues exhausted, I set about buying a return flight to Antalya. I found an overnight trip from East Midlands on Thomas Cook, costing only £52 return – though I had to book each flight as a one-way because there had to be a minimum two-hour turnaround time at the airport.
"The plane was due to spend only an hour on the ground in Turkey. So I arranged with the ground handlers at the airport to have the parcel ready."
Mr Buchanan left work on Merseyside at 1.45pm on Friday 28 April to drive over 100 miles to East Midlands airport for the 6.45pm departure. Antalya airport is another 1,898 miles from East Midlands.
Once on the plane to Turkey, he explained the situation to cabin crew. "They said they couldn't understand why I was having to do my trip and why they couldn't bring the folder back for me on a flight."
Flight MT452 traversed France, Belgium, Germany, Austria, Slovenia, Croatia, Bosnia-Herzegovina, Serbia, Bulgaria and Greece en route to Turkey, where it touched down just after 1am local time.
"I was allowed to leave the plane first and the crew promised they would not leave without me."
A member of ground staff greeted Mr Buchanan from the plane and gave him the folder. "Crucially, they had pre-checked me in on the flight home," he said. "They gave me the boarding pass and then escorted me through through security. I took extra care of the folder – I didn't want to make another trip."
The homeward routing took in the airspace of five additional countries: Romania, Hungary, Slovakia, the Czech Republic and the Netherlands. After flying over a total of 17 nations during the course of the night, the aircraft landed on time back at East Midlands airport.
"I couldn't have wished it to go any better and can't thank the Thomas Cook cabin crew and Turkish ground staff enough," he said. "If I hadn't made it, I would have had to wait three days in Turkey and buy a new ticket for a flight to Birmingham."
But Mr Buchanan was still a long way from home.
"In all, I left work at 1.45pm on 28 April and returned after driving home from East Midlands airport at about 8.30am on 29 April after a non-stop 4,000-mile overnight adventure.
"It's been ridiculous that I had to do what I've done, and other passengers need to be aware in case it happens to them."
A spokesperson for Thomas Cook Airlines said: "We're extremely sorry we've not been in a position to help on this occasion, but local rules prevent us from collecting and carrying cash or documents for other people."
Mr Buchanan is now seeking to reclaim out-of-pocket expenses from his travel insurer.
A spokesperson for Travel Republic, the agent he had booked with, said: "We are happy to hear Mr Buchanan has been reunited with his items, and we are sorry we were unable to help, but customers are responsible for their lost property.
"Should a Travel Republic customer lose any items whilst on holiday, they can contact our customer support team for advice on how to retrieve their items, but we cannot facilitate or make arrangements for delivery, as this is not a service we offer."
Register for free to continue reading
Registration is a free and easy way to support our truly independent journalism
By registering, you will also enjoy limited access to Premium articles, exclusive newsletters, commenting, and virtual events with our leading journalists
Already have an account? sign in
Register for free to continue reading
Registration is a free and easy way to support our truly independent journalism
By registering, you will also enjoy limited access to Premium articles, exclusive newsletters, commenting, and virtual events with our leading journalists
Already have an account? sign in
Join our new commenting forum
Join thought-provoking conversations, follow other Independent readers and see their replies