Passenger's rainbow luggage tag defaced with the word 'sodomite'
She dubbed it 'bigotry, hate speech and destruction of personal property'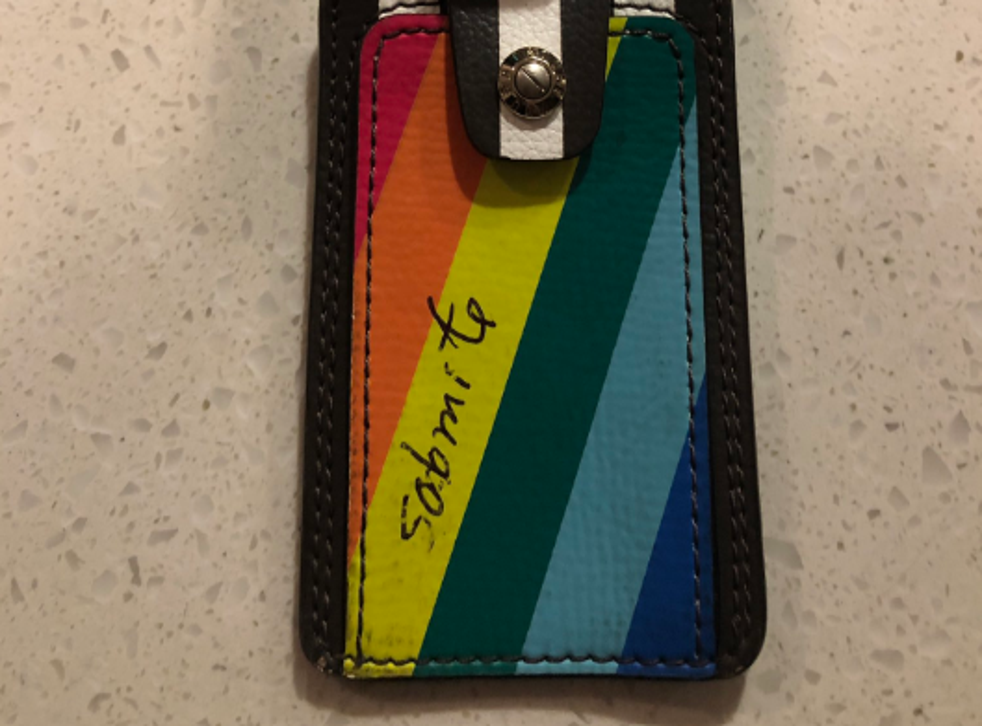 A passenger found her rainbow luggage tag defaced with the word "sodomite" after landing at Atlanta's Hartsfield-Jackson airport.
Renee Gerrish, who is heterosexual, was outraged when she discovered the slur after a Delta Air Lines flight.
She tweeted a picture of the tag, alongside the caption: "Someone at Delta Air Lines baggage handling took it upon themselves to write 'sodomite' on my luggage tag. Bigotry, hate speech and destruction of personal property while in Delta airline's care.
"I want this shared and on behalf of the LGBTQ+ community – I will not go quietly."
Ms Gerrish, originally from Chicago, told LGBTQ Nation: "I'm deeply hurt and offended that someone felt the entitlement to ruin and tamper with personal property with hate speech.
"I wear LGBTQ+ support clothing and accessories regularly. As a girl, I love rainbows, but as a symbol of love and support for the community that means everything to me.
"I don't care if someone thinks I'm gay because of choices in rainbow accessories."
Top 25 LGBT moments in pop culture since Stonewall

Show all 25
The Transportation Security Administration (TSA) said it would investigate, but replied to the original tweet: "The majority of checked bags are screened w/o physical inspection by automated bag screening systems. If we must open a bag for add'l screening, we're required to leave a notice of inspection."
"As a hetero woman, I can only know my hurt, anger, and disappointment… PALE in comparison to what the LGBTQ+ community experiences on a daily basis," Ms Gerrish wrote to the airline's customer service team.
Delta said it "does not condone discrimination of a person or group for any reason".
"As a global carrier with a diverse workforce, serving a diverse customer base, we are committed to treating all passengers equally," it added.
Ms Gerrish confirmed she is in talks with the airline.
Register for free to continue reading
Registration is a free and easy way to support our truly independent journalism
By registering, you will also enjoy limited access to Premium articles, exclusive newsletters, commenting, and virtual events with our leading journalists
Already have an account? sign in
Register for free to continue reading
Registration is a free and easy way to support our truly independent journalism
By registering, you will also enjoy limited access to Premium articles, exclusive newsletters, commenting, and virtual events with our leading journalists
Already have an account? sign in
Join our new commenting forum
Join thought-provoking conversations, follow other Independent readers and see their replies