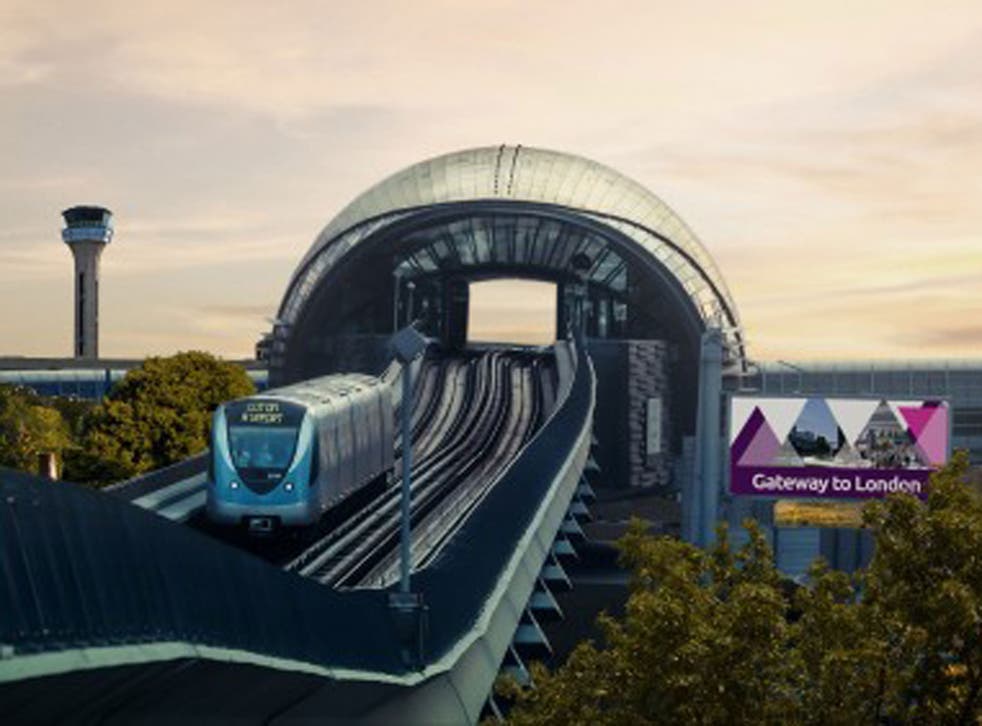 Luton airport makes the leap from laughing stock to global transit hub
With plans for improved rail links and a portfolio of carriers on using it as a base, the Bedfordshire airport is on the up
Simon Calder
Travel Correspondent
Saturday 16 April 2016 22:22 Comments
As the battle continues between Heathrow and Gatwick over the next runway, the airport that was a laughing stock in the Seventies is going global. Luton airport, mocked in a Cinzano commercial featuring Lorraine Chase, is now building its status as a gateway to the world.
Next month Luton will become the sole European airport to serve St Helena - the British possession in the South Atlantic. The island's new airport is due to be officially opened by Prince Edward on 21 May, and within 48 hours the first charter from Luton is scheduled to touch down.
A new start-up carrier called Atlantic Star Airlines will fly the route, which includes a refuelling stop at Banjul in Gambia. The airline's co-founder, Richard Brown, told The Independent: "We chose Luton because the team there were keen to support the service and add St Helena to their route portfolio."
The Bedfordshire airport, owned by Luton Borough Council, has had a chequered history. The former RAF fighter base grew rapidly in the 1960s and early 70s as package-holiday charter flights expanded. Monarch, launched from the airport 48 years ago this month, remains its most loyal carrier.
In the 1980s Luton was briefly the UK base for Britannia Airways charter flights to Australia, and the first British airport for a tiny Irish airline called Ryanair. But the airport was eclipsed when expensive new facilities opened at Gatwick and Stansted - both offering express trains from central London.
Luton airport appeared moribund until a Greek shipping magnate, Stelios Haji-Ioannou, chose it as the base for his new no-frills airline, easyJet. In November 1995 easyJet flights were launched to Glasgow and Edinburgh, followed by links to Aberdeen, Amsterdam and Nice.
In the wake of the 9/11 attacks, more slots became available at Gatwick; easyJet switched its main base to the Sussex airport, which it now dominates.
A business-class only airline, Silverjet, started flights from Luton to New York in 2006 and expanded to Dubai. It went bust in less than two years. Yet despite predictions that a similar fate awaited the French all-business airline, La Compagnie, it will celebrate its first anniversary on the transatlantic route a week this Sunday.
London is the world hub of aviation, with more than 150 million passengers flying in or out in a year. Luton remains a distant fourth behind Heathrow, Gatwick and Stansted, with 12.3 million passengers handled last year - just 8 per cent of the capital's total. But it is the fastest growing of the major airports, putting on 40 per cent more passengers in the past five years.
Luton's advantage over its bigger rivals is the relatively easy availability of slots. Even though it remains an important base for easyJet, Ryanair and the eastern European carrier, Wizz Air, there is room for expansion. Vueling, the low-cost sibling of British Airways, is moving in this summer, with services to Amsterdam, Barcelona and Zurich. The Spanish airline is even running a series of flights between Bedfordshire and Tuscany, with departures to Florence scheduled for May and June.
With the news that Thomas Cook Airlines has launched its first flights from Luton to Mallorca, Ibiza, Menorca and Corfu, the airport is set to become the location for some fierce fares wars. Already, competition between easyJet and Ryanair to Copenhagen has reduced fares to ridiculously low levels; a test booking later this month to the Danish capital reveals plenty of seats on the Irish airline at £10 return, including all taxes and fees.
The aviation analyst John Strickland told The Independent: "Luton is not trying to be some sort of upmarket airport but has played to its strengths by attracting airlines offering a growing range of destinations at affordable prices. Thanks to its large catchment area, this is proving to be a successful formula."
The airport's Achilles heel remains its poor surface connections compared with other London airports. While the Parkway rail station has improved access, it still requires a bus connection with added cost and time. This weekend Nick Barton, the airport's chief executive, announced plans to build a new 24-hour light-rail link between Luton Airport Parkway station and the airport terminal. He called the new service, due to open in 2020, "the first step towards creating a world-class air-rail service". But it remains to be seen if Luton airport can build the critical mass required for a major aviation hub in the 21st century.
Register for free to continue reading
Registration is a free and easy way to support our truly independent journalism
By registering, you will also enjoy limited access to Premium articles, exclusive newsletters, commenting, and virtual events with our leading journalists
Already have an account? sign in
Join our new commenting forum
Join thought-provoking conversations, follow other Independent readers and see their replies