Fake signs at Spanish beaches warn English-speaking tourists to stay away
The threat of rock falls, water contamination and jellyfish have been used to deter visitors from Mallorcan beaches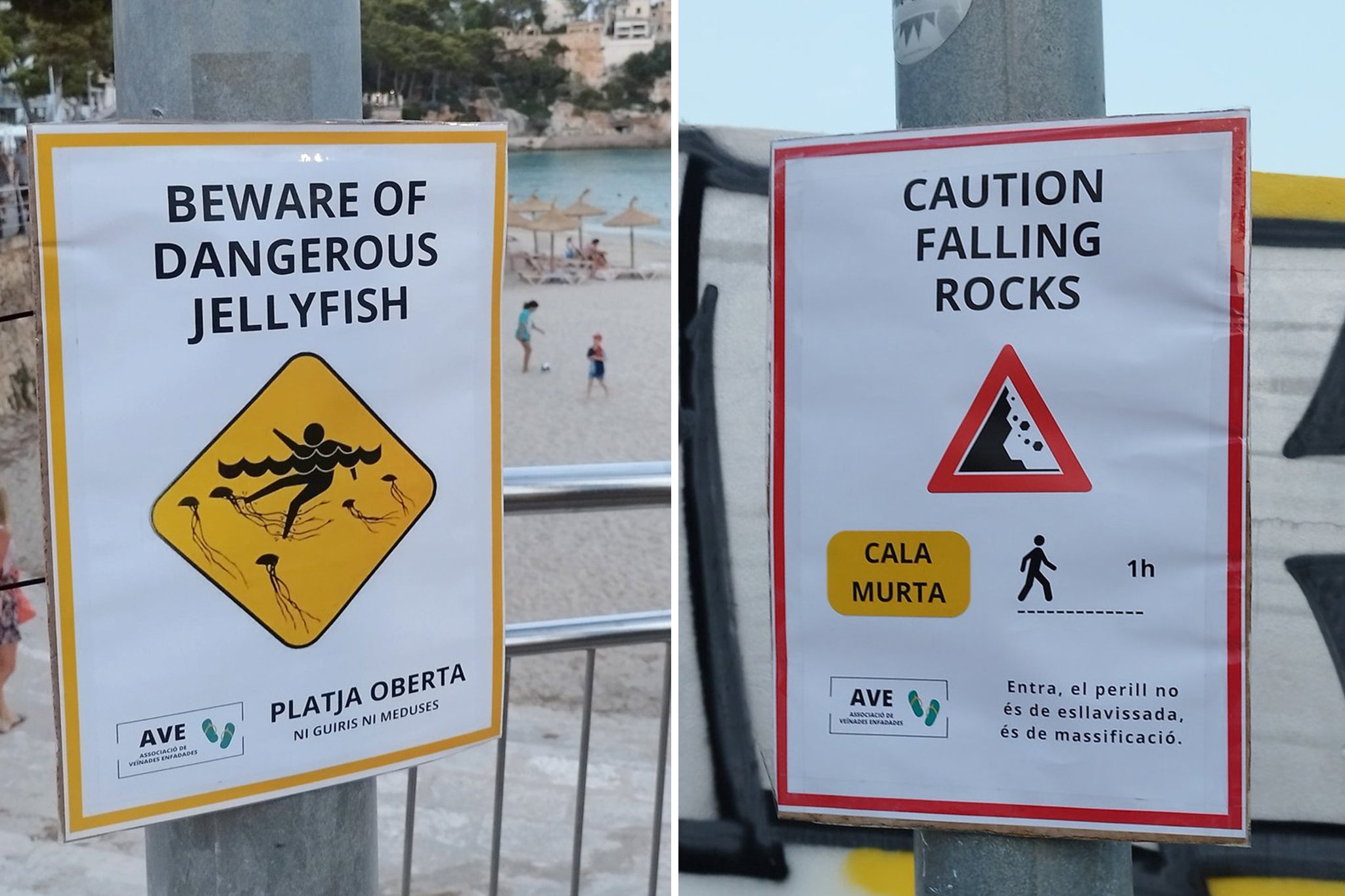 English-speaking tourists could be fooled into avoiding popular Spanish beaches after a series of fake warning signs were put up across the island of Mallorca.
Some posters claim that there have been jellyfish on the shore, cliff falls or sewage contamination in the water, while others state that the beach is closed or that it takes almost three hours to walk there – despite it only being around 90 metres away.
While the warnings are written in English, there is small text written in Catalan that gives a rather different picture.
Under an image of a swimmer surrounded by jellyfish, it reads: "Open beach. Not to jellyfish or foreigners."
Another, this one apparently related to a rockfall, points out that there is no landslide but that the danger is due to overcrowding.
The unofficial signs are the work of Manacor Caterva, a group which campaigns against overtourism, which said that the postering was done with a "bit of humour".
Sharing images of the signs on Twitter/X, the group wrote that they carried out the campaign against the "usurpation of the coves".
The Independent has contacted Manacor Caterva for a statement.
A press release from the group, shared with the Majorca Daily Bulletin, criticises "the tourist overcrowding that Mallorca suffers" and states that "the coves of the Balearic Islands have been expropriated by tourism".
"The usurpation of the coves is just one more expression of how capitalism uses an economic activity such as tourism, takes it to the extreme and freely dries up the land and extracts the maximum surplus value from the workers", the statement added.
One user on social media replied to Manacor Caterva by sharing a "beach closed" sign he'd mocked up for people to print and use, writing: "I think that Galicians need a break. Here I leave you a gift, if you want more you can do it yourself!".
Located in the western Mediterranean Sea, Mallorca is the largest of Spain's Balearic Islands and has a local population of about 876,000, about half of whom live in the capital, Palma de Mallorca.
Tourism accounts for some 75 per cent of the island's total economic output. In 2016 about 14 million people visited the island, with German and English tourists making up the bulk of the numbers at 23 per cent and 22 per cent, respectively.
Join our commenting forum
Join thought-provoking conversations, follow other Independent readers and see their replies