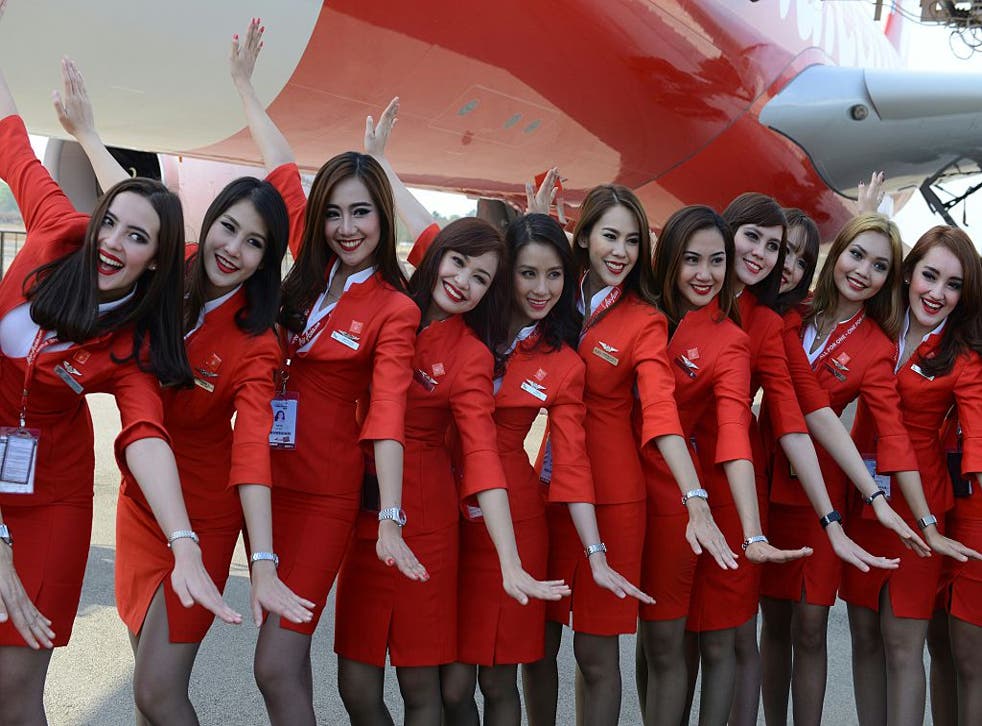 Malaysian airlines' flight attendant uniforms deemed 'too sexy' by politicians
Low-cost airlines AirAsia, Firefly and Malindo have been criticised
Helen Coffey
Tuesday 19 December 2017 12:32 Comments
Malaysia's budget airlines have come under fire for their "sexy" cabin crew uniforms.
Two politicians from the ruling party criticised AirAsia and Firefly for having crew outfits that are "too revealing", reports the New Straits Times.
Senator Abdullah Mat Yasim, a division chief of the Umno party, was reported as saying the female flight attendants' uniforms could "arouse passengers", and that they did not represent Malaysia's official status as a Muslim country.
"The Malaysian Aviation Commission must really look into this," said Senator Abdullah during a parliamentary debate on the MAVCOM (Amendment) Bill 2017 on 18 December.
Senator Megat Zulkarnain Omardin agreed with this viewpoint, suggesting the airlines consider redesigning the uniforms.
"My wife is worried whenever I fly alone on Malindo or AirAsia," he joked. "This is a real hassle for me."
Senator Abdullah said he believes Malindo Air uniforms are "acceptable" – as, despite being tight fitting, they cover the "sensitive areas" – but that Firefly and AirAsia's are not.
Dewan Negara (the upper house of the Parliament of Malaysia) deputy president Abdul Halim Abd Samad applauded Senator Abdullah for raising the issue, saying: "This is a good topic that many people can relate to as they always take flights."
It's not the first time airline uniforms have been brought up in Malaysia's parliament; last week Senator Hanafi Mamat was reported as arguing that cabin crew should wear uniforms that conform to Sharia Law as Malaysia is an Islamic country.
He said that tourists could be given the wrong impression about Malaysia by flight attendants dressed "sexily and disrespectfully".
The AirAsia uniforms for females are comprised of white shirts, fitted red jackets and mid-thigh length red skirts with a slit up the side. The Firefly uniform is a form-fitting orange dress that ends just above the knee with a slit up the side, while the Malindo outfit for women consists of a white cardigan and floor-length purple patterned skirt.
Register for free to continue reading
Registration is a free and easy way to support our truly independent journalism
By registering, you will also enjoy limited access to Premium articles, exclusive newsletters, commenting, and virtual events with our leading journalists
Already have an account? sign in
Join our new commenting forum
Join thought-provoking conversations, follow other Independent readers and see their replies