Maldives art installation demolished for being anti-Islamic
The underwater art gallery opened in July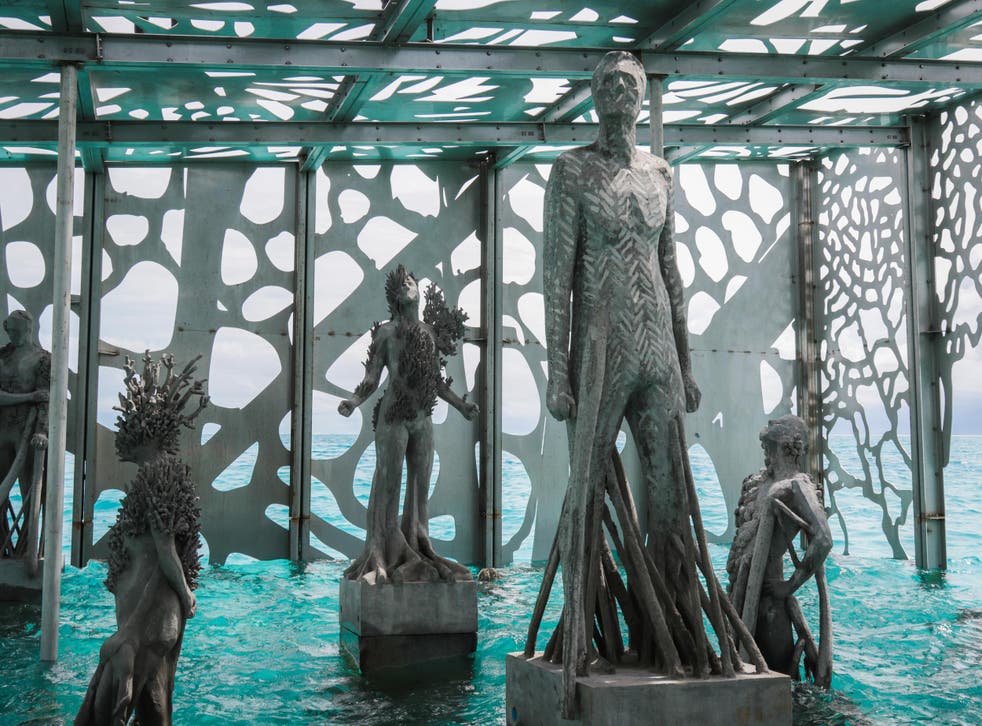 The Maldives is known for its outlandish attractions: turbo-luxe overwater villas, a restaurant sunk five metres underwater, an ice rink…and until recently, an underwater art installation.
But last week, a sculpture museum at a luxury island resort was destroyed after the government deemed it anti-Islamic.
The Coralarium, created by artist and environmentalist Jason deCaires Taylor, was a steel cube with 30 life-size sculptures within it. Some stood at tidal level, while others were beneath the ocean.
The police deemed the artwork "human form" sculptures, the depiction of which is discouraged under Islamic law.
The sculptures were commissioned by the luxury Fairmont Maldives Sirru Fen Fushi resort, owned by the Accor hotel group, and were unveiled in July this year. They formed part of the underwater art gallery, which was open to resort guests for tours.
According to the hotel, the Coralarium "illustrates the connectivity of man with nature, a hybrid organic form in harmony with its surroundings, a seamless link between the land and the ocean, combining two disparate wonders, one created by man and one designed by nature".
It was demolished last week using axes and an angle grinder, according to a Twitter post shared by the Maldives Police.
"I was extremely shocked and heartbroken to learn that my sculptures have been destroyed by the Maldivian Authorities at the Coralarium, despite continued consultations and dialogue," Jason deCaires Taylor said in a statement last week. "The Coralarium was conceived to connect humans to the environment and a nurturing space for marine life to thrive. Nothing else!
"The Maldives is still beautiful, with a warm and friendly population, but it was a sad day for art and sad day for the environment."
A statement from Fairmont Maldives Sirru Fen Fushi said that while the hotel was "surprised" by the sudden removal of the artwork, it respects the "the people, traditions and customs of the Maldives".
The resort adds: "The Coralarium gallery structure and the tree-lined underwater coral boulevard remains intact, ensuring the coral restoration program remains alive and well. We have initiated immediate plans for the next exhibit, creating a new attraction within the Coralarium gallery."
The removal of the artwork comes as the Maldivian president Yameen Abdul Gayoom conceded defeat in a general election, handing power to opposition leader Ibrahim Mohamed Solih​.
The Maldives is in the midst of a tourism boom. This year, up to 10 new properties will open on the almost 1,200 islands, while in the first six months of 2018, The Maldives welcomed 726,515 travellers – a 10.5 per cent jump year-on-year.
Register for free to continue reading
Registration is a free and easy way to support our truly independent journalism
By registering, you will also enjoy limited access to Premium articles, exclusive newsletters, commenting, and virtual events with our leading journalists
Already have an account? sign in
Register for free to continue reading
Registration is a free and easy way to support our truly independent journalism
By registering, you will also enjoy limited access to Premium articles, exclusive newsletters, commenting, and virtual events with our leading journalists
Already have an account? sign in
Join our new commenting forum
Join thought-provoking conversations, follow other Independent readers and see their replies