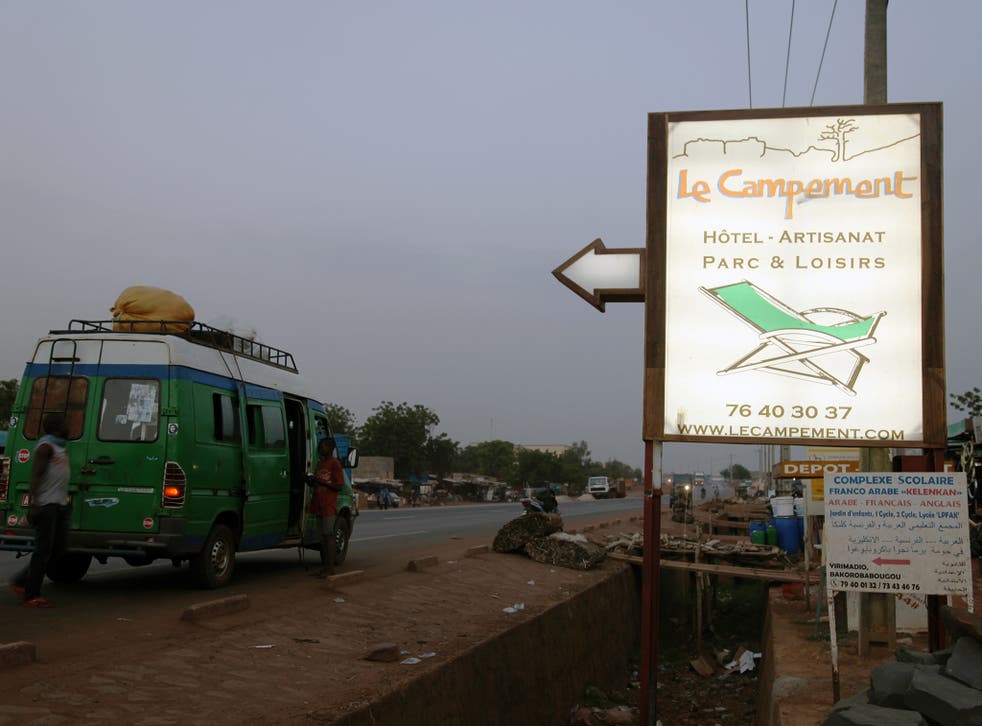 Mali attack: Westerners once again the target of Islamist terrorists
'The country with the Niger river at its heart has intense appeal to adventurous travellers'
Simon Calder
Travel Correspondent
Monday 19 June 2017 00:23 Comments
"The best place to wait for rides is at the police checkpoints a few kilometres out of the towns," recommends one of the rare travel guides to Mali. "Tell the police where you want to go, and they will sometimes stop vehicles on your behalf."
The Bradt guide to Mali was written after the Tuareg rebellion ended in 1995, and before the 2012 coup in the vast West African nation. Even though democracy was restored the following year after a Franco-African military intervention, an upsurge in Islamist terrorism since means the number of Westerners hitch-hiking through Mali has dwindled almost to nothing.
The country has intense appeal to adventurous travellers, with the Niger river at its heart. Slow boats connect the capital, Bamako, with the storied city of Timbuktu. The cliff villages of the Dogon people, clinging precariously to the Bandiagara escarpment, provide intrigue for hikers. And Mali has perhaps the richest culture in Africa; Timbuktu is twinned with Hay-on-Wye because of their strong literary traditions, while musically the nation is on the world stage — though the Festival in the Desert is currently suspended.
Also suspended indefinitely: Mali's attraction to Western tourists. The Foreign Office assigns the northern two-thirds of the country, including Timbuktu, with its highest warning level — advising against all travel. The lower one-third is covered by a slightly softer warning, urging against "all but essential travel". Visiting a region in either category invalidates standard travel insurance policies, making a visit highly risky for British travellers.
The targets of the Le Campement Resort attack, and the hostage-taking at the Radisson Blu in Bamako in 2015, were Westerners — but not ordinary holidaymakers. Le Campement appeals to expatriates, many working for NGOs and mining firms in Mali. They are given extra security, but even so the US Embassy in Bamako last week warned Americans to "Avoid vulnerable locations with poor security measures in place, including hotels, restaurants, and churches."
The Australian government adds, for the benefit of its citizens: "Given the prevailing security environment, avoid public transport. Road travel should only be considered if adequate security precautions are deployed. Driving at night is particularly dangerous as most roads are in poor condition."
Global Affairs Canada has the most comprehensive warning: "Northern Mali remains a safe haven for terrorist groups. Since 2015, the threat has spread to the rest of the country.
"Terrorist groups in the region are intent on increasing their attacks and kidnappings targeting Westerners.
"Terrorist targets could include government buildings, public areas such as bars, restaurants, tourist sites, large public gatherings and events (including music festivals), and Western interests."
The warning concludes: "Citizens of countries supporting the military intervention are at particular risk."
The claim by the nation's tourist office that "Mali is characterised by political stability, social peace and a liberal economic system" looks hollow.
The backpackers will return to Mali one day, blazing a trail for better-heeled holidaymakers, but for now the tourist industry looks a write-off.
Register for free to continue reading
Registration is a free and easy way to support our truly independent journalism
By registering, you will also enjoy limited access to Premium articles, exclusive newsletters, commenting, and virtual events with our leading journalists
Already have an account? sign in
Join our new commenting forum
Join thought-provoking conversations, follow other Independent readers and see their replies