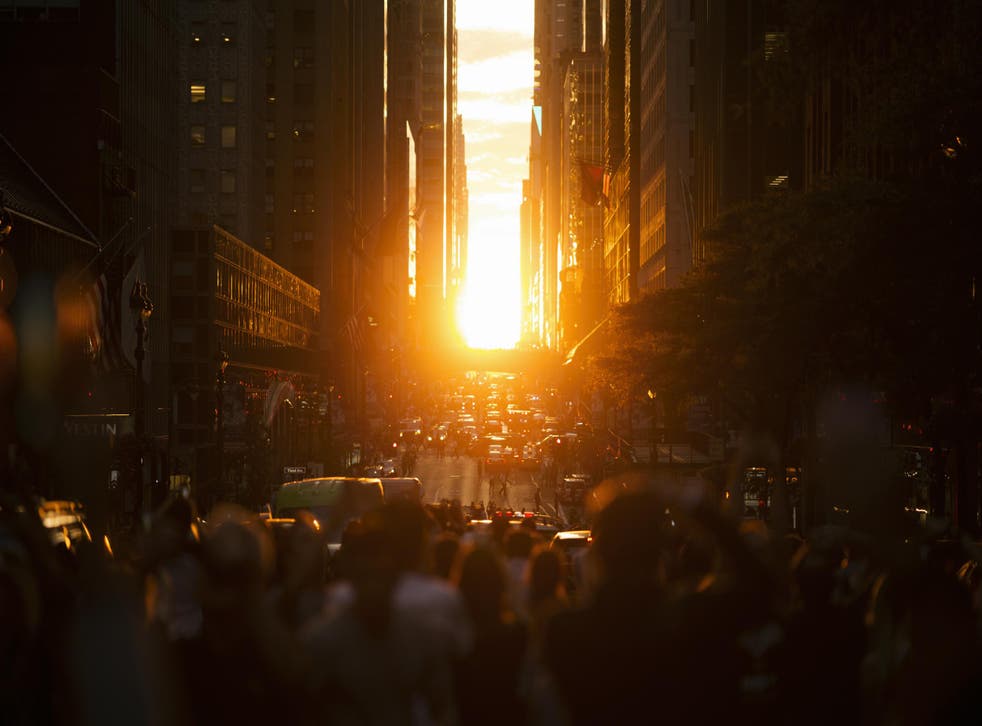 Manhattanhenge 2018: when and where to view New York City's most spectacular sunsets of the year
Get into position for the most enviable Instagram post ever
Travellers in New York are in for a treat this evening: Manhattanhenge.
Thanks to the Earth's and sun's rotation – and a happy accident of city planning – the sunset aligns perfectly with the New York City streets for two days every year. The effect resembles a golden blanket descending over the city that never sleeps.
Astrophysicist Neil deGrasse Tyson coined the term "Manhattanhenge" in tribute to the UK's Stonehenge monument, parts of which align perfectly with the sunrise during the summer solstice.
"Manhattanhenge may just be a unique urban phenomenon in the world, if not the universe," Tyson writes on his blog.
When is it happening?
The spectacular sunset can be seen on 31 May 2018 at 8.12pm EDT and will be a full sunset. The forecast for tonight is cloudy, but if you miss out, fear not – you can also see a full sunset on Thursday 12 July at 8.20pm EDT and a half sunset on Friday 13 July at 8.21pm EDT.
As the name suggests, a half sunset means you can only see the top half of the orb setting on the city grid. During a full sunset, you can see the sun in its entirety.
Experts suggest arriving at your lookout spot 30 minutes early to get the perfect Instagram angle. Thousands of people are expected to turn out for the phenomenon.
Where to see it
The best views can be seen on the city's widest streets on the eastern side. Try out 14th, 23rd and 57th streets for the best glimpse. Thirty-third and 42nd are also good spots, but often the busiest, as people head there for views of the Empire State and Chrysler buildings.
Elevated parks like the Chelsea High Line are also prime vantage points for the sunset. You can bag a great (and less crowded) view of the event across the river in Queens, too.
Where to stay
New York is notoriously expensive, but for those on a budget it's worth checking out the Pod Hotel, which has four branches in the city: Williamsburg, Times Square and two in Midtown Manhattan. The franchise features funky colours, iPads in the communal room and roof decks. Doubles from $219, room only
For something more luxurious, you can't beat The Whitby. Located just two blocks away from MoMA, this hotel is ideal for art lovers and includes specially commissioned artworks and sculptures throughout the building. Doubles from $525, room only
Wherever you choose to view Manhattanhenge, make sure you pack your sunglasses and your camera. This is a phenomenon not to be missed.
Register for free to continue reading
Registration is a free and easy way to support our truly independent journalism
By registering, you will also enjoy limited access to Premium articles, exclusive newsletters, commenting, and virtual events with our leading journalists
Already have an account? sign in
Register for free to continue reading
Registration is a free and easy way to support our truly independent journalism
By registering, you will also enjoy limited access to Premium articles, exclusive newsletters, commenting, and virtual events with our leading journalists
Already have an account? sign in
Join our new commenting forum
Join thought-provoking conversations, follow other Independent readers and see their replies