Map identifies the best and worst places for emergency healthcare in the world
The Health Risk Map helps ensure travellers are aware of the risks they could be exposed to in different countries
Wednesday 25 February 2015 12:31
Comments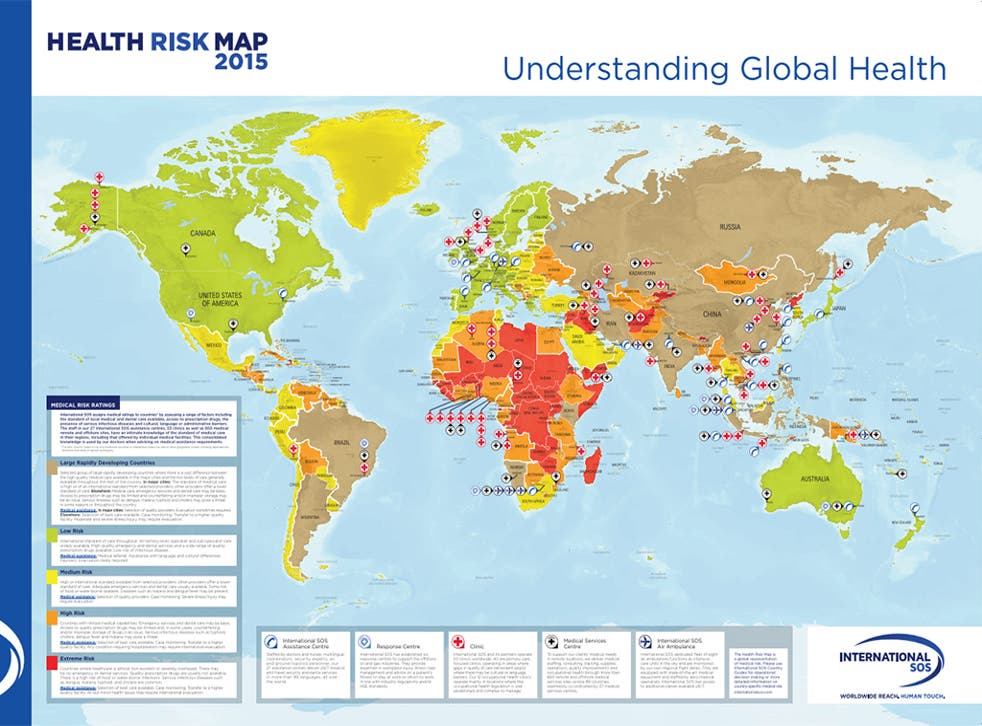 Planning your summer holiday? You might want to take a look at the latest stats released by health organisation International SOS, which show which countries have the worst emergency healthcare.
According to the company's annual International Health Risk Map - which ranks destinations as low risk, medium risk, high risk, and extreme risk - popular holiday destinations such as Mexico, Turkey, Morocco and Thailand have all been labelled medium risk, with their emergency medical facilities described as "average".
The UK, the US, Greece, Iceland, Japan, and Australia are some of the best countries in which to receive medical treatment, while countries like North Korea, Iraq, Afghanistan, and Syria were deemed to have the worst healthcare.
Countries are considered high risk if they have limited medical facilities combined with higher risks of serious infectious diseases such as cholera, typhoid or dengue fever. Tourists have been warned that if they fall ill in high-risk countries, such as Tanzania, Egypt, Laos, and Cambodia, they may need to be evacuated to a different country to receive higher quality healthcare.
Emergency healthcare has, however, improved in parts of Africa. Countries such as Ethiopia, Kenya, Malawi, and Rwanda have been moved into a lower risk category, a marked improvement on previous years. It's thought the progress comes as a result of foreign investment in private and state healthcare facilities.
Register for free to continue reading
Registration is a free and easy way to support our truly independent journalism
By registering, you will also enjoy limited access to Premium articles, exclusive newsletters, commenting, and virtual events with our leading journalists
Already have an account? sign in
Register for free to continue reading
Registration is a free and easy way to support our truly independent journalism
By registering, you will also enjoy limited access to Premium articles, exclusive newsletters, commenting, and virtual events with our leading journalists
Already have an account? sign in
Join our new commenting forum
Join thought-provoking conversations, follow other Independent readers and see their replies