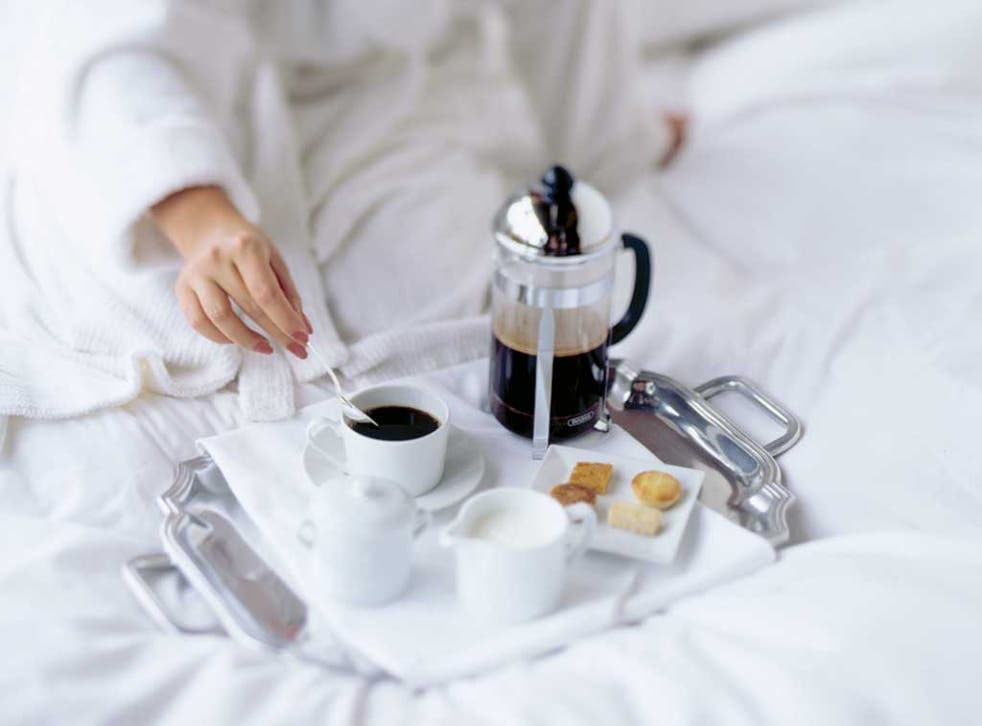 Mark Jones: This masculine business needs a feminine touch
In the course of this article I am going to change gender. It will be difficult, painful and perhaps not entirely successful. But I have to try.
But first, I'm a man – a man checking into a hotel room. I'll check the size of the place. Size matters to me. (I am, as I said, a man.) I'll see what the view is like. I'll wonder where I plug the laptop in. I'll sit on the bed and check the headlines on the TV, and although I am a man and supposedly good at these things, it will take me 15 minutes to work the controls out. I might poke my head in the bathroom door to check there is a bathroom. Then I'll probably head to the bar.
Now I'm going to re-enter as a woman. Mark becomes Marlene or Marilyn. First thought. It's not very clean, is it? That heavy patterned bedspread. Yuck. Sheets don't look that fresh. Horrible curtains – it's so dark in here. Wardrobe. Cheap coathangers. No space. Toy iron, scratched ironing board.
Bathroom: bad own-brand toiletries, tinny hairdryer. Bathrobe: cheap towelling and huge. Maybe they have a lot of basketball players staying here. Lighting: makes me look even more rubbish than I feel after a seven-hour flight.
Check the TV – urgh. The remote is filthy. So are half the channels, those that aren't news and sport. Maybe I'll go to the bar. Yes – I really fancy a bowl of overcooked pasta smothered in runny sauce while three IT contractors dare each other to chat me up.
Now I've been through that operation I can sympathise with the men who run the world's hotel companies. It's really not easy putting yourself in those high-heeled shoes. They know female business travellers are vital to their future – according to the Hyatt Corporation they account for 37 per cent of revenues in the US. What's more, anecdotal evidence – widely believed in the travel business – says that women drive the choice of hotel eight times out of 10.
Poor suited-and-booted men: all they've known throughout their careers have been conference facilities and rack rates, firm handshakes and hearty slaps on the back. Change the lighting in the bathroom? Imagine me trying to explain that one to Jim from Facilities Management. Perhaps it'll be easier to explain when Jim is actually Gemma.
"Hotel bedrooms," says John Wallis, "are designed by men for men." Wallis is a thoughtful Englishman who runs Hyatt's worldwide marketing and brand strategy from Chicago. He's on a mission to change the fundamentals of the hotel room as female business travellers – and especially those from India and China – become more frequent guests and less tolerant of grey rooms and services designed around jocks rather than frocks.
At their Paris hotel in the Madeleine they have an in-room package called Hyatt for Her. But this is about more than chic toiletries. It's about who answers the door when you're in your bathrobe and you call room service. It's about reprogramming the TVs and putting seals on things – not just the loo – to show the place has been cleaned properly.
Interestingly, these aren't expensive changes. But they may cost a traditionally masculine business an awful lot of painful self-examination.
Mark Jones is editorial director of British Airways 'High Life' and Best Western 'Do Not Disturb' magazines
Register for free to continue reading
Registration is a free and easy way to support our truly independent journalism
By registering, you will also enjoy limited access to Premium articles, exclusive newsletters, commenting, and virtual events with our leading journalists
Already have an account? sign in
Register for free to continue reading
Registration is a free and easy way to support our truly independent journalism
By registering, you will also enjoy limited access to Premium articles, exclusive newsletters, commenting, and virtual events with our leading journalists
Already have an account? sign in
Join our new commenting forum
Join thought-provoking conversations, follow other Independent readers and see their replies