The Beach: Iconic Maya Bay scene
Thailand's famous Maya Bay from film The Beach to close due to excessive tourism numbers
Up to 5,000 tourists visit the famous beach every day
Maya Bay, best known to movie goers as the shoot location of 2000's The Beach, is to be temporarily closed due to excessive tourist numbers.
The film, starring Leonardo DiCaprio, was a box office smash upon its release at the turn of the millennium, inspiring thousands of visitors to see the beach for themselves.
Found on the Thai island of Ko Phi Phi Leh, Maya Bay has now become so popular that local authorities have decided to close it down for three months in the low-season, between June and September.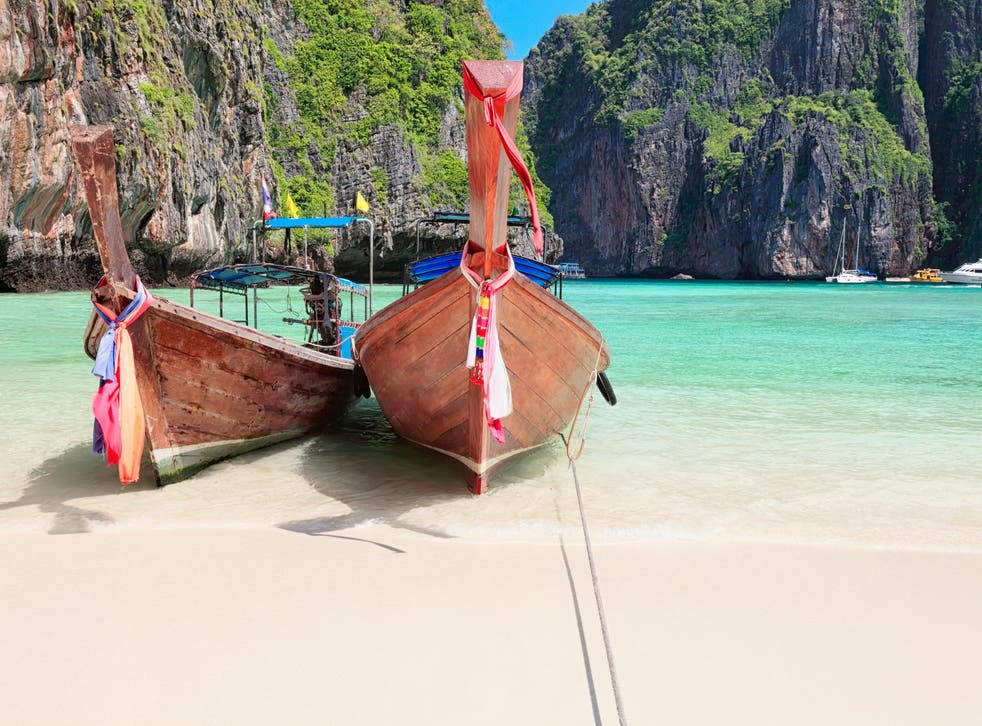 Up to 5,000 visitors travel to Maya Bay daily by boat, from places such as Krabit and Phuket, themselves swelling with tourists. Tourism to Thailand has grown almost year on year over the last decade and visitor numbers surpassed 35 million in 2017. It accounts for a huge percentage of the country's GDP and is expected to grow further in the coming years, placing greater pressure on delicate natural areas and ecosystems.
High numbers of tourists pose numerous threats to coral environments according to Jean-Luc Solandt, principal specialist of Marine Protected Areas. Speaking to The Independent, he gave some examples of the damage tourists can do.
"It has been proven that the products from [sun cream] can slough off your body and kill corals," he said.
He added that "tourists are both ignorant of the damage they can cause by touching corals, and grabbing them, and also tend to be more clumsy than experienced divers."
Some experts think a more permanent solution than a three-month closure is required.
"Temporary closures can help to a certain extent. But an ideal solution is a permanent closure, which is not possible due to our reliance on tourism revenue," Thon Thamrongnawasawat, a marine ecologist at Kasetsart University in Bangkok, told Traveller.com.
Maya Bay is one of many spots around the world to have faced challenges after being used as a filming location. Following the success of the Game of Thrones series, Dubrovnik has seen a surge in tourist numbers which has boosted the local economy, but also tested the limits of sustainability.
Sandra Milovčević, head of Dubrovnik Tourism's communication department, told The Independent: "Limiting the number of passengers from cruise ships to 4,000 visitors in the morning and 4,000 in the afternoon is aimed to protect and preserve the city's cultural and historical heritage to allow all tourists to experience Dubrovnik properly, all year round."
Join our new commenting forum
Join thought-provoking conversations, follow other Independent readers and see their replies