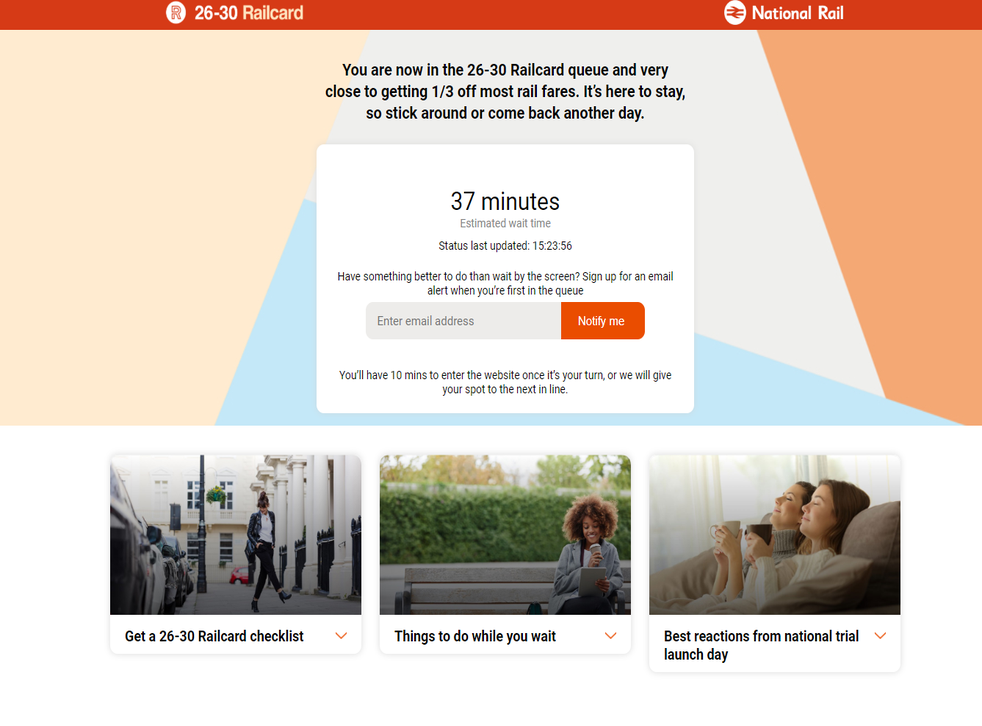 Millennial railcard: Customers wait hours to buy 26-30 train discount card
The discount card gives one third off most rail fares as well as off-peak pay-as-you-go Oyster journeys in London
Millennials who want to buy the new 26-30 Railcard have been waiting more than three hours to buy one, as it went on general sale at noon today.
The discount card offers one third off most rail fares for more than four million people across the UK. National Rail says that it can save cardholders an average of £152 each.
But millennials who logged onto the website after 12pm to buy one were met with a screen that said: "You are now in the 26-30 Railcard queue and very close to getting 1/3 off most rail fares. It's here to stay, so stick around or come back another day."
The page also gave users an estimated waiting time, before asking them to enter their email address to be notified of their "turn" in the virtual queue.
"We are experiencing high demand for the 26-30 Railcard which is resulting in higher wait times than usual. To ensure we give customers a great experience, we have put into place the same type of technology used by other businesses, such as Glastonbury, during high profile launches," a spokesperson from National Rail said.
"When customers access the 26-30 Railcard website they are automatically put into a live queue and are able to sign up to receive email alerts, so that they do not have to wait by their computer. There isn't a limited number of Railcards being made available, so anyone who isn't planning to travel today can come back another day to make their 26-30 Railcard purchase."
This isn't the first hiccup that the new railcard has experienced.
The 26-30 Railcard was first promised by the chancellor in his Budget in 2017.
A pilot programme of 10,000 in the Greater Anglia area in December 2017 sold out within two months. In March 2018, the railcard went on sale nationwide – but with only 10,000 more available. As many in the eligible age range tried to obtain one, the website crashed. Then in November 2018, the launch was delayed yet again.
Millennials took to Twitter to express their frustration, with one user saying he would be 31 and would not qualify for the discount card by the time he managed to get one.
Others were angry that they "millennial" railcard didn't cover all millennials, who are generally classed as being born after 1981.
The railcard was released nationwide on the day that rail fares across Britain were hiked 3.1 per cent. Jeremy Corbyn called for the railways to be publicly owned in the wake of the rise.
Join our new commenting forum
Join thought-provoking conversations, follow other Independent readers and see their replies