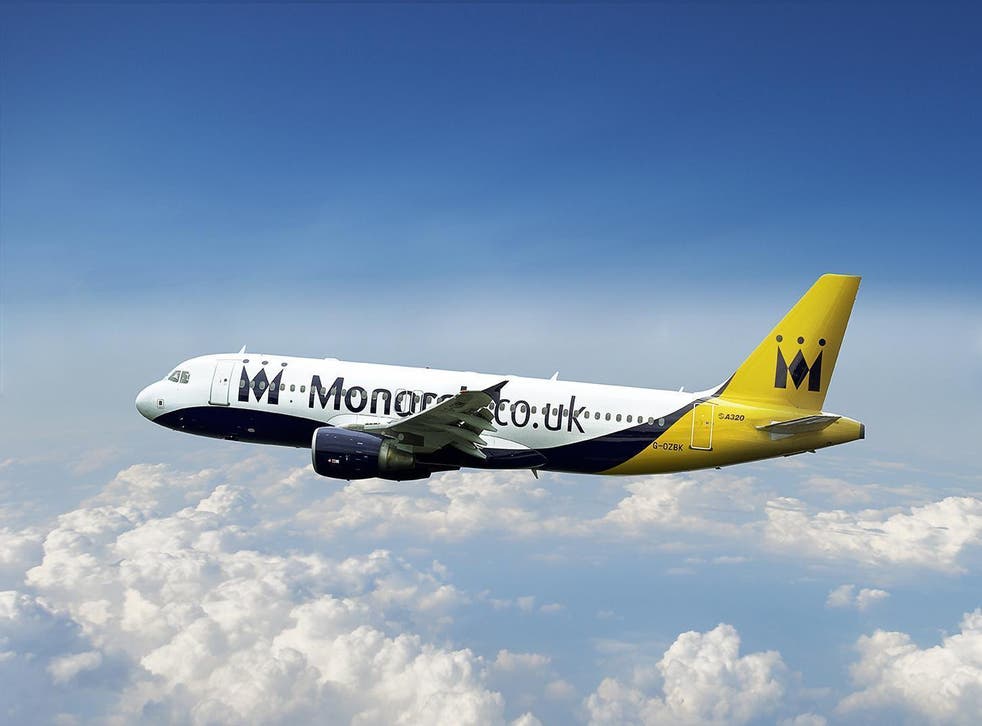 Monarch Airlines goes into administration: What went wrong?
Our travel correspondent explains the background to the woes of one of Britain's most recognised airlines
Simon Calder
Travel Correspondent
Wednesday 04 October 2017 11:33 Comments
How can a long-established airline suddenly collapse?
In its 50th year, Monarch has discovered it is tougher than ever to compete in the most ferocious air travel market in the world: short-haul flights between Britain and Europe.
"It's reached the last-chance saloon," says Paul Charles, former communications director for Virgin Atlantic and Eurostar. "It's remarkable Monarch has lasted so long."
When it was founded in 1968, Monarch was just what the nation needed: a low-cost airline that helped to power the rapid expansion of package holidays. Dozens of tour operators used its services, as well as the "in-house" Cosmos holiday firm.
Until the mid-1990s, Monarch thrived, thanks to good management, a high-quality product and expanding travel horizons. Just as easyJet was moving in down the road at Luton airport, Monarch launched a scheduled operation which served a range of Mediterranean destinations.
Yet in stark contrast to the easyJet no-frills model (rapidly mimicked by Ryanair), Monarch had an upmarket offering, with everything from free newspapers to four-course meals included in fares which were about twice as high as easyJet's.
In common with the package-holiday companies, Monarch failed to recognise the threat posed by the low-cost revolution in the skies. As the 21st-century aviation landscape was transformed, Monarch's key short-haul markets became extremely competitive – with "third-party charter" flying retrenching as easyJet, Ryanair and Jet2 expanded.
How did Monarch survive this long?
In 2014, the founders, the Mantegazza family, pumped in tens of millions to maintain Monarch as a going concern – then sold most of the airline to Greybull Capital, a private equity firm.
Because the Civil Aviation Authority (CAA) still regarded Monarch's finances as fragile, it insisted that all bookings – including seat-only sales – were covered by the Air Travel Organiser's Licence (ATOL). Unlike other airlines, Monarch had to charge seat-only passengers £2.50 and issue an ATOL certificate.
Under the chief executive, Andrew Swaffield, the focus switched from an "all things to all men" approach to a firm focus on short-haul leisure scheduled flying.
What went wrong for Monarch?
Monarch had a run of bad luck. The airline was heavily committed to Sharm el Sheikh in Egypt, which was a lucrative winter destination. But in November 2015, the Foreign Office banned UK airlines from flying to the resort because of security fears about the airport.
During the first half of 2016, as the security situation in Turkey deteriorated, Monarch and its rivals shifted capacity west to Spain and Portugal – depressing fares in a key market.
The pound's plunge in sterling after the EU referendum further dented the airline's prospects.
"We take nearly all of our revenue in pounds and a lot of our costs go out in dollars and euros," explained Mr Swaffield.
"We pay for aircraft leases and fuel in dollars and things like navigation and ground handling in euros. So we get no revenue benefit from a decline in the pound but we get a big cost increase."
As the date for Monarch's ATOL renewal in late September 2016, the CAA was so concerned about the airline's financial condition that it set up a shadow airline in case Monarch folded.
The CAA chartered planes and deployed them to Mediterranean airports to mimic Monarch's schedule, in case the airline stopped flying. It spent over £25m on an exercise that proved unnecessary. Because just before the deadline extension expired, the majority owner, Greybull Capital, came up with a £165m financial package to keep the airline flying.
Why has Monarch suddenly ceased flying?
Initially, the huge injection of cash revived the airline. By December 2016, the CAA dropped the requirement for seat-only sales to be ATOL-protected. Monarch said at the time: "No other UK scheduled airline ATOL-protects flight-only bookings. After two years of being the exception, Monarch is now the norm."
The carrier announced a switch to an all-Boeing fleet which would cut its costs and make it more competitive. Monarch's boss, Andrew Swaffield, told The Independent: "We've re-based ourselves now to a world where we see lower prices but with higher volumes."
The airline made much play of its customer service, saying: "We're not just here to fly you from A to B – our aim is to make your journey as smooth as possible, from the second your flight is booked to the moment you arrive home." And it ordered 45 brand-new Boeing 737 MAX aircraft, with a list price of £5bn.
Bookings for summer 2017 initially looked promising, but as the peak months of July and August approached, the spree of high-yielding sales did not materialise. With Ryanair cutting August fares between Leeds Bradford and Ibiza to just £40 return, the market was savage. And new routes such as Manchester to Stockholm failed to grip the public imagination, with planes reportedly half-full even with fares at £30 each way.
What about other airline partners?
There has been plenty of talk about suitors such as easyJet, Norwegian and Wizz Air taking over some or all of the short-haul scheduled business. But there is a long tradition in aviation of rivals waiting like vultures until an airline collapses, then devouring the more appetising parts – such as good staff and slots at constrained airports.
Are any other airlines in trouble?
No other UK airline seems as exposed as Monarch. Whenever an airline collapses, the health of other carriers improves: there is less competition and fewer seats on offer, which spells higher fares and greater sustainability.
Register for free to continue reading
Registration is a free and easy way to support our truly independent journalism
By registering, you will also enjoy limited access to Premium articles, exclusive newsletters, commenting, and virtual events with our leading journalists
Already have an account? sign in
Join our new commenting forum
Join thought-provoking conversations, follow other Independent readers and see their replies