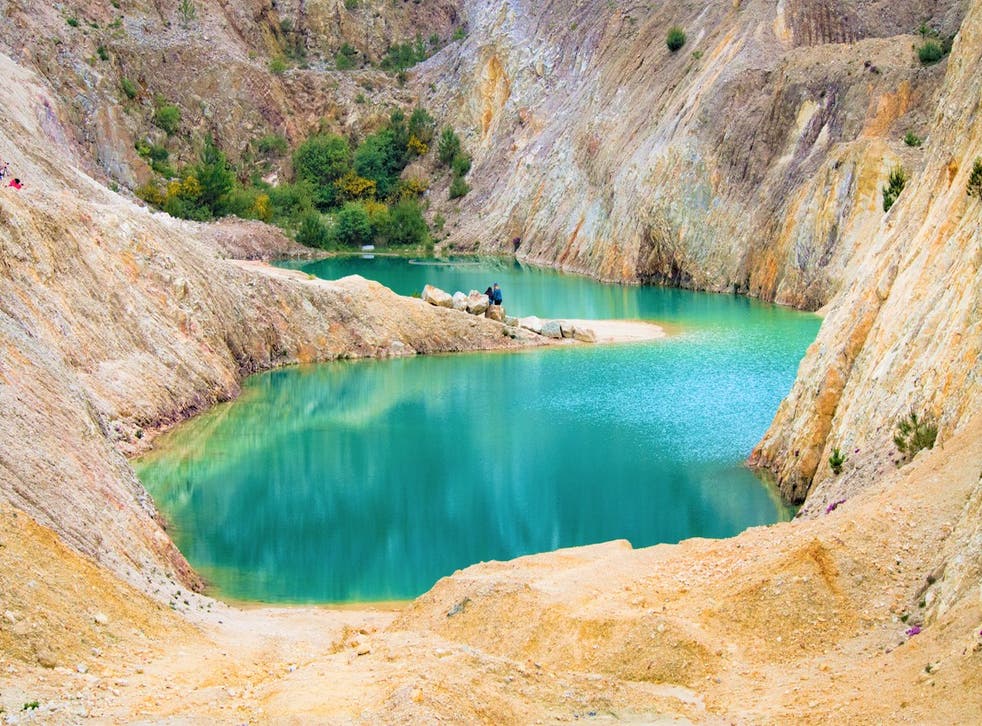 Instagrammers suffer vomiting and rashes after posing for photos at turquoise lake that turned out to be full of toxic chemicals
Beautiful turquoise water is contaminated with chemicals
Instagram users have ended up hospitalised after trying to get the perfect shot at an "idyllic" lake in northwest Spain that is full of toxic chemicals.
Monte Neme in the Galicia region has attracted droves of tourists in recent years thanks to its bright turquoise waters.
But the site is actually a water-filled disused quarry connected to what was once a Tungsten mine, and the distinctive blue colour of the water is due to chemical contamination.
While most selfie-takers are content with getting a snap next to the pool, some have taken the extra step of going for a dip to get the perfect shot – with dire consequences.
One Instagrammer told Spanish news outlet Publico that after coming into contact with the water, she had suffered vomiting and come out in a rash that lasted a fortnight.
The news site reported that more than one tourist has been hospitalised for "damage to the skin and digestive system" after visiting Monte Neme.
While brief exposure will most likely cause eye and skin irritation, spending more time in the contaminated water and ingesting the toxins could cause stomach problems, vomiting and diarrhoea, Manuel Ferreiro, a doctor at the University hospital in nearby A Coruña, told European news site The Local.
Airbnb's most liked properties on Instagram in 2018

Show all 10
But even this won't put off the most dedicated "influencers" – an Instagrammer called Uxía told Publico that "the picture was worth it" despite contracting a rash.
The mine was abandoned in the 1980s, but was formerly used to extract Tungsten, a key component in the manufacture of light bulbs and for hardening steel, during the Second World War under General Francisco Franco.
It's not the first time social media users have been lured to a toxic site by the promise of ethereal pictures.
A beautiful turquoise lake that is a popular selfie spot in Russia was recently revealed to be a toxic waste dump.
The man-made lake in the city of Novosibirsk has attracted hundreds of Instagram users thanks to its vibrant blue hue.
But, according to the Siberian Generating Company, which owns the lake, it's actually an ash dump from a local coal plant and contact with the water should be avoided at all costs.
Join our new commenting forum
Join thought-provoking conversations, follow other Independent readers and see their replies