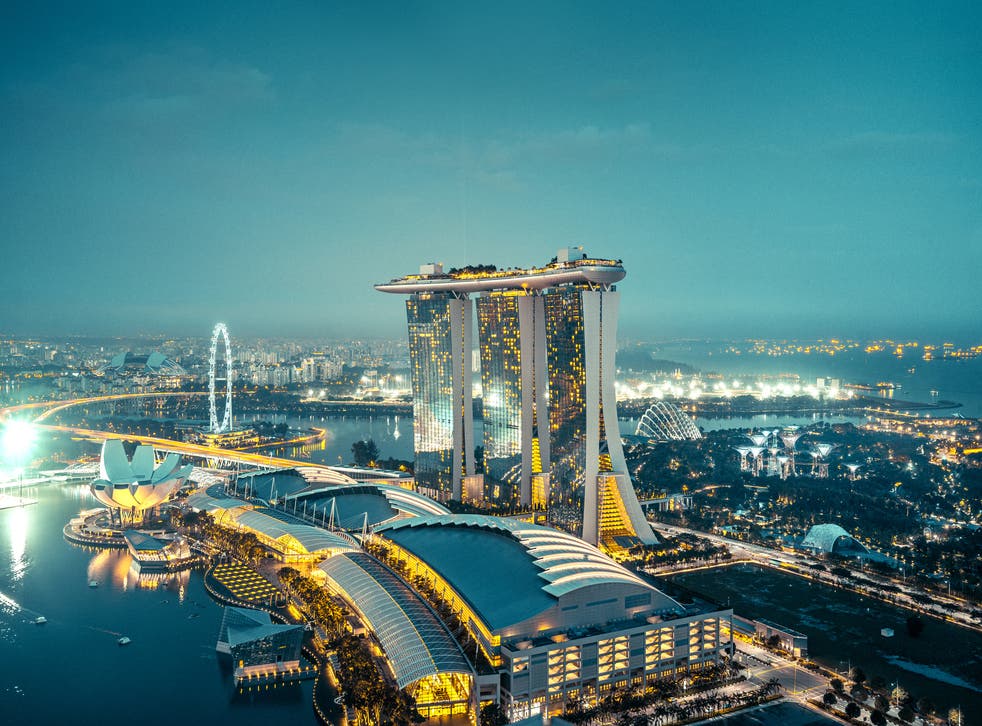 The most Instagrammed hotels in the world
Seven out of the top 10 are in Las Vegas
Long gone are the days when staying in a hotel was a private retreat from the world. Instagramming your stay has become as important as sleeping, eating and stocking up on bathroom toiletries when it comes to hotels, though some are a lot more popular on Instagram than others.
Today, Instagram has released the names of the most photographed hotels in the world, a whopping seven of which are in Las Vegas. Here they are.
Marina Bay Sands: Singapore
The largest hotel in Singapore is also the most Instagrammed in the world. Its unique triple towers, topped by a park-sized terrace and pool, are visible as you enter the city. Many posts are snapped at the Sands SkyPark observation deck, but the real picture to take is at the terrifying rooftop pool, cantilevered over the city below.
Bellagio: Las Vegas
Loosely inspired by Lake Como, MGM Resorts' Bellagio is known for its elegance, hence the frequent Instagram posts fired into the webosphere by impressed visitors. In addition to its famous poker room and little known art gallery, it is home to a number of photogenic fountains, often the subject of popular Instagram posts - and videos, since they 'dance' to the likes of Sinatra on the famous Las Vegas Strip.
The Venetian Las Vegas
It's obvious why this one makes the list, and it's not because the Venetian is a five-diamond luxury hotel and casino. It's one of the few themed resorts left in Vegas, with a mini St Mark's Square and Doge's Palace outside, and a canal-filled shopping mall inside. There are even gondola rides, given by people who purport to be real-deal Venetians.
Atlantis The Palm: Dubai
Interestingly the only Dubai entry on the list, Atlantis The Palm is an Instagram favourite due to its luxury restaurants, boutique shops, Dolphin Bay and The Lost Chambers Aquarium, where a variety of yoga classes take place. Its Royal Bridge Suite, meanwhile, is a photogenic marvel, with panoramic views and a Majestic Lounge with elegant furniture.
MGM Grand: Las Vegas
Las Vegas' MGM Grand is the fifth most Instagrammed hotel in the world, in part due to the iconic gold lion statue which sits proudly at its entrance. Located on the Las Vegas Strip, it is the largest single hotel in the US with 5,124 rooms, while it also has five outdoor pools, rivers and waterfalls, a number of shops, night clubs, restaurants and a huge casino. It used to have live lions, too - but happily they are no longer around.
The Cosmopolitan: Las Vegas
The Cosmo set itself up as Vegas' sexiest choice when it launched in 2010, with a slightly more boutique, upscale vibe and terraces for every room. It's since lost its boutique claim to fame since The Cromwell opened up, but still makes the Instagram grade for its attractive cocktails, pretty buffet and rooms with views of the Las Vegas Strip.
Wynn: Las Vegas
The $2.7bn Wynn Las Vegas luxury resort and casino is a popular spot for weddings and other events, while its Lake of Dreams and waterfall are popular with Instagrammers. A posher and more rarified space than most hotels on the Strip, the Wynn and its sibling hotel, Encore, are possibly punching above their weight on this list, since they tend to attract a slightly older crowd.
Caesars Palace: Las Vegas
The oddly grammared hotel built so that every guest could "feel like Caesar" was made famous by celebrity performers such as Frank Sinatra and Evil Knieval, and continues to attract Instagrammers with its A-list performers (Mariah Carey, Celide Dion) and fake Roman statues dotted around the casino and mall next door.
Fontainebleau: Miami Beach
Oceanfront hotel Fontainebleau Miami Beach is an Instagrammer's dream, with its palm tree-lined pools and sunset views, while film lovers will recognise it from such movies as Goldfinger and The Bodyguard. It is well known for its 'Staircase to Nowhere', which actually led to a small coat room. Guests can still check out the staircase to this day, which has been preserved and refurbished.
Paris: Las Vegas
Unfortunately for Paris itself, the final entry in the list is another Las Vegas hotel. Paris Las Vegas Hotel & Casino takes the 10TH spot, popular due to its replica Eiffel Tower, which gives the best view of the Bellagio fountains from its observation deck. Gordon Ramsay has a restaurant here, and Strip-side Mon Ami Gabi is a romantic French restaurant with perfect views of the fountains.
Join our new commenting forum
Join thought-provoking conversations, follow other Independent readers and see their replies