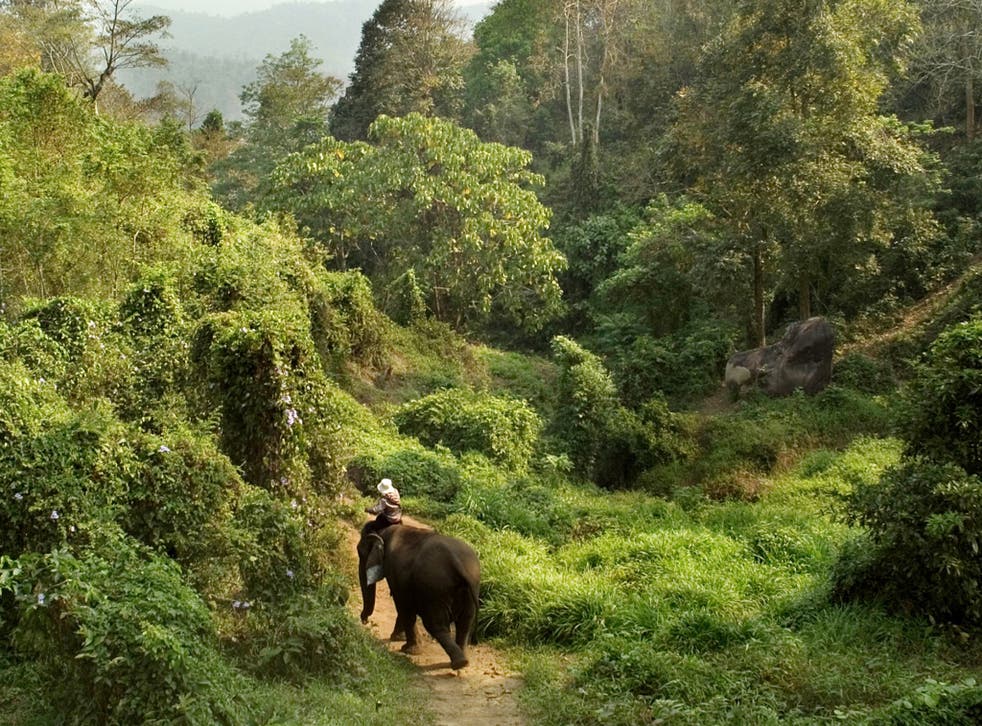 My life in travel: Annabel Croft
'In Thailand, we did an elephant safari and explored caves by canoe at night'
Presenter and former tennis professional, Annabel Croft, will provide analysis for British Eurosport HD's coverage of the French Open (26 May to 9 June)
First holiday memory?
Going on a hovercraft from Dover and then putting the car on a train, all the way down through France to the Costa Brava in Spain. I was only about three, but I have very strong memories of the excitement of that journey. In those days, people didn't really go on planes, so it was the only way to get places.
Favourite place in the British Isles?
The Lake District. I visited once when I presented Treasure Hunt. I remember thinking it didn't feel like it was part of Britain – it was so unbelievably, breathtakingly beautiful.
Best holiday?
Portugal is almost a second home for me. We've been going to the Algarve, near Vale de Lobo, for 25 years because my parents have been converting this former ruin into a house. We love it.
What have you learnt from your travels?
How much certain countries value meal times. It's taught me that in Britain we don't put enough emphasis on eating together as a family. I think my children have been brought up in a very Continental way because we value that time, with family and friends, sitting around a dinner table. So much comes from those conversations.
Ideal travelling companion?
My husband, Mel. We travelled a lot together when we were younger, before we had children, and now that they're grown up, we're suddenly finding that we've got time to go back to being like we were in our twenties. It's like a new chapter. I crave time to travel with him.
Greatest travel luxury?
My Globe-Trotter suitcase. I've had it since I was on the tour playing tennis. It's a beaten-up old thing, but I love that it's quite old-fashioned and has loads of stickers from everywhere I've been.
Holiday reading?
I read Fifty Shades of Grey in Portugal last year and Tyler Hamilton's The Secret Race in Australia, which taught me a lot about the world of cycling. I also tend to take recommendations from my girlfriends who are in book clubs.
Where has seduced you?
Thailand was a fantastic holiday destination, because there was so much to do as a family. We did an elephant safari and explored the hongs (caves) by canoe at night. We were based in Phuket but also visited some of the other islands. It was magnificent.
Best hotel?
Curtain Bluff in Antigua. It's a beautiful, family‑run hotel that's got a really intimate feel. I had one of the most idyllic holidays there. I did tennis in the mornings, followed by some lunch and time on the beach, and then yoga classes in the afternoon. It ticked all the boxes.
Favourite drive?
A road trip along the Californian coast. We started in San Diego, then went to Santa Barbara, Carmel and Big Sur. We played Hotel California by the Eagles most of the way. It's something everybody should do in their lifetime.
Best meal abroad?
In Portugal, a really good friend of mine bought fresh tuna from the market and cooked it for us with homemade chips, salsa and this amazing salad. He had just done a cooking course at Le Manoir aux Quat'Saisons [Raymond Blanc's hotel in Oxfordshire]. It was incredible.
Favourite city?
A toss-up between New York, Paris and Melbourne, because I visit them every year for the US, French and Australian Open tennis championships. They're all very different, but I like the atmosphere and the energy about them. It's really fun to keep going back, discovering new restaurants and exploring quirky shopping areas.
Where next?
Paris for the French Open, then Portugal this summer, followed by New York in August.
Register for free to continue reading
Registration is a free and easy way to support our truly independent journalism
By registering, you will also enjoy limited access to Premium articles, exclusive newsletters, commenting, and virtual events with our leading journalists
Already have an account? sign in
Register for free to continue reading
Registration is a free and easy way to support our truly independent journalism
By registering, you will also enjoy limited access to Premium articles, exclusive newsletters, commenting, and virtual events with our leading journalists
Already have an account? sign in
Join our new commenting forum
Join thought-provoking conversations, follow other Independent readers and see their replies