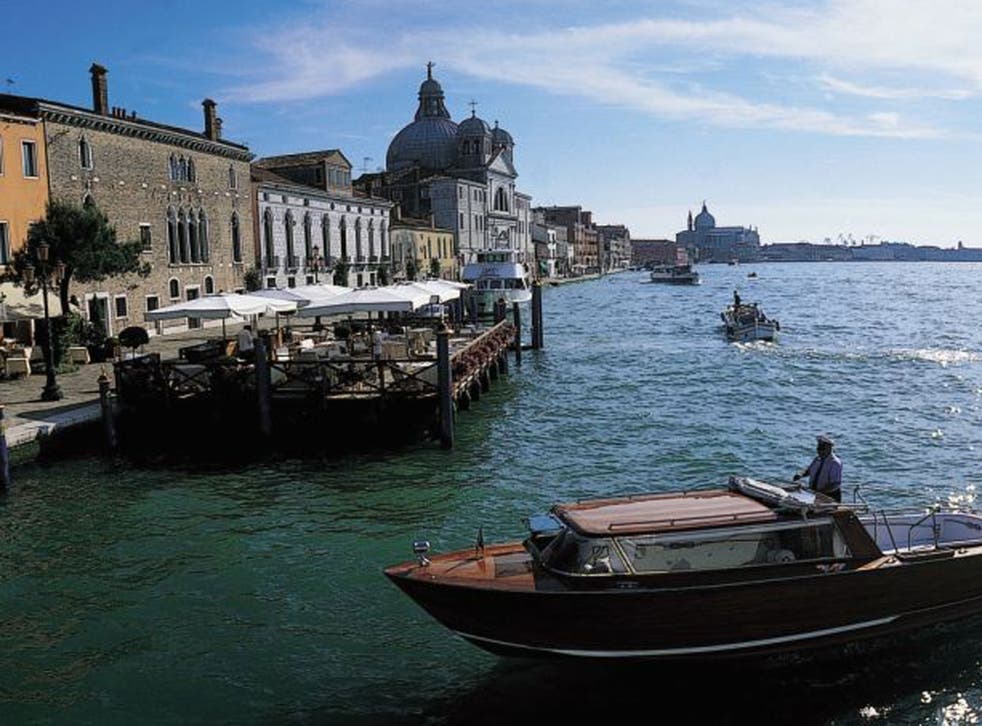 My life in travel: Jonathan Edwards
'The Cipriani in Venice was immaculate'
Former triple jumper, Jonathan Edwards, will present the BBC's coverage of the 2014 Winter Olympics from Sochi from 7 February.
First holiday memory?
Blackpool. We lived down in Devon, so we would pack the car up and all drive up. My grandad used to own a jokes and magic shop on the North Pier, so we would go to see the illuminations and the Pleasure Beach.
Favourite place in the British Isles?
The Lake District is magical. I love the dramatic scenery and the variation in weather. My two favourite bits are the drive down towards Buttermere past Crummock Water in the Lorton Valley, and the Langdale Valley.
Best holiday?
Because of athletics, I've never had massive summer holidays ... we've always been competing. But we did go on a big skiing holiday in Morzine one Christmas. It was a family-and-friends get together and we had a fabulous time. It was just what Christmas should be: lots of snow, pine trees, mountains and log chalets.
Beach bum, culture vulture or adrenalin junkie?
Villa bum. You can really escape if you have your own place and a pool. For me, it's the foundation of a good holiday. In an ideal world, there would be a tennis court nearby and we could go for a cycle. I'd take some box sets away and do some barbecuing. There's nothing nicer than the sun going down, cooking a lovely bit of fish and having a glass of red wine.
Where has seduced you?
I recently went to cover the Cycling World Championships in Florence for the BBC. I loved the food, the history and had some beautiful rides around the city. The other place that I loved, was Salamanca in Spain – it's a beautiful old university town, with an amazing square. Just stunning.
Worst travel experience?
A flight to Cuba from the Bahamas during an athletics competition in 1992. I was there with the British team and we flew in the most decrepit plane you'd ever seen. They actually had to weigh all of us, as well as our baggage, and then distribute the weight across the plane. It didn't feel safe.
Best hotel?
The Cipriani in Venice. The best bit was the motor launch from the airport to the hotel. Inside, it was very traditional, everything was immaculate and the food was beautiful.
Best meal abroad?
I went to the French Open tennis in Paris last summer, at Roland Garros, and we had a meal at the three-Michelin-starred Epicure restaurant inside the Hôtel Le Bristol. It was unbelievable.
Favourite city?
Delhi. I went for the Commonwealth Games in 2010, not expecting to like it. But although it's a really hard place to be, I loved riding around in the auto-rickshaws and eating great curries. It is such a colourful society with lovely people.
Where next?
I'm in Sochi for three weeks presenting the Winter Olympics. It's my first winter Games, so I'm incredibly excited.
Register for free to continue reading
Registration is a free and easy way to support our truly independent journalism
By registering, you will also enjoy limited access to Premium articles, exclusive newsletters, commenting, and virtual events with our leading journalists
Already have an account? sign in
Register for free to continue reading
Registration is a free and easy way to support our truly independent journalism
By registering, you will also enjoy limited access to Premium articles, exclusive newsletters, commenting, and virtual events with our leading journalists
Already have an account? sign in
Join our new commenting forum
Join thought-provoking conversations, follow other Independent readers and see their replies