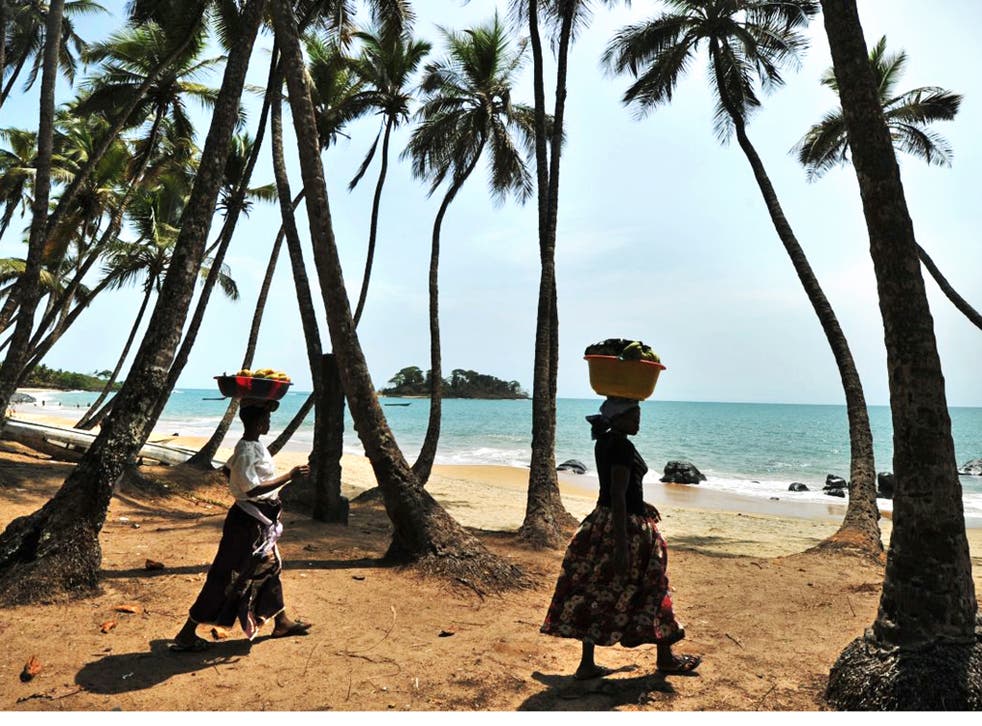 My life in travel: Sarah Alexander
'The coast of Sierra Leone was beautiful – it could have been the Caribbean'
Laura Holt
Friday 27 September 2013 15:16 Comments
British actress Sarah Alexander recently visited Sierra Leone to launch ActionAid's "Children in Conflict" campaign. For more information, visit actionaid.org.uk/child
First holiday memory?
Canford Cliffs in Dorset, where my grandmother used to live. The beaches were lovely, in that very typically British way. The sea was just about warm enough to swim in and we would always finish off with an Orange Maid lolly.
Best holiday?
Sierra Leone. I went with ActionAid to see the work it does out there. The first thing that struck me was the coast. It's utterly beautiful. It could have been in the Caribbean. There were palm trees along the beaches and beautiful clean sea.
But then, of course, you get in a cab and within five minutes you're in one of the worst slums you've ever seen. It could be a huge tourist destination. It just needs the right infrastructure.
What have you learnt from your travels?
Being aware of other people and listening. We're so immersed in ourselves at home, but when you're travelling it's important to be open.
Beach bum, culture vulture or adrenalin junkie?
Twenty years ago, I would have said adrenalin junkie. I used to do things like white-water rafting, trekking and horse-riding safaris. Recently though, I had the humiliation of having to turn away from a helter skelter. It's a very strange thing when you hit a certain age.
Holiday reading?
I love a psychological thriller, particularly ones that are written by women. I've just finished Gone Girl by Gillian Flynn, which was so creepy and never failed to surprise me, particularly the end.
Where has seduced you?
Beijing. It was the first place I'd been where I couldn't communicate with the people. It was terrifying, but exciting. The whole city was utterly exhilarating – vibrant, noisy and full of people. Then there's the Forbidden City and the Summer Palace – which is the most beautiful place I've ever seen.
Worst travel experience?
Being stranded at Corfu airport. I was dropped off, my flight was cancelled, I had no mobile and I was due to be filming a new television series the next day. I just sat down on my suitcase and bawled my eyes out. Suddenly, I saw this tall German striding towards me, who briskly told me that he had one seat left on a private plane – which was like a Mini with wings. I was clinging on to the pilot, digging my nails in, but we made it.
Best hotel?
The Hotel Patrizza, a swanky hotel on the Costa Smeralda of Sardinia. I took my mum there a few years ago and treated her to a holiday. It was a fantastic place to go and get pampered.
Favourite walk?
The Yorkshire Dales. I spent a lot of my childhood there and it was utterly gorgeous. I remember playing my recorder to the cows, they'd come over and then I'd whip out my old disc camera and take photos of them.
Favourite city?
New York. It reminds me of my husband because we used to go every New Year's Eve before we had children. We have gone back, and stayed a few months while I was working there, but the kids started using American words such as "sandbox" and "popsicle", so it was time to go home.
Where next?
I want to go to Denmark and Scandinavia. We've been inundated with their telly recently and I've never been to any of those countries. I really want to get to know the people. I quite fancy living there for a bit, if I could take a month off. They just seem like upfront, friendly folk.
Register for free to continue reading
Registration is a free and easy way to support our truly independent journalism
By registering, you will also enjoy limited access to Premium articles, exclusive newsletters, commenting, and virtual events with our leading journalists
Already have an account? sign in
Join our new commenting forum
Join thought-provoking conversations, follow other Independent readers and see their replies