My Life In Travel: Shappi Khorsandi, comedian

Show all 2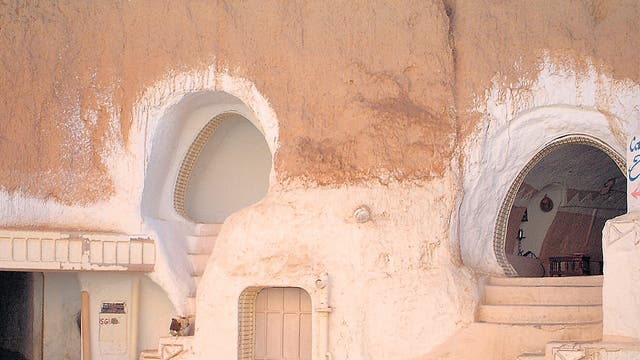 My Life In Travel: Shappi Khorsandi, comedian
First holiday memory?
Jersey. My brother and I had bunk beds in the hotel and it was very exciting because our parents spent the evenings in the bar, as people did back then with their children. I remember being very excited about them having umbrellas in their drinks.
Best holiday?
Tunisia. I went with my husband two months after we'd met. On Christmas Day, we were riding camels across the Sahara, which sounds far more romantic than the actual experience. It was freezing and the camels stank. We just giggled about it. We'd just met, were madly in love, and wanted to be in each other's company with no other distractions. We were both massive Star Wars fans, so we went to Luke Skywalker's house, which is now the Hotel Sidi Driss.
Favourite place in the British Isles?
Hebden Bridge in Yorkshire is the one place that absolutely captured my heart. I can't put my finger on it but it has that lovely brook running through it and it's near so many places that you can go for splendid walks. The minute you arrive you feel at home there. It's lovely.
What have you learnt from your travels?
People are the same everywhere, but it's your reaction to them that makes a difference. When you leave all your baggage at home, you can tap into elements of yourself that you sometimes forgot existed.
Ideal travelling companion?
My four-year-old son. I took him to Melbourne for the comedy festival recently and I gave him more jip on the long-haul flight, than he did me. He's at that age when he's really positive and sees everything with new eyes.
Beach bum, culture vulture or adrenalin junkie?
If there's something a little unexpected, a little bit ridiculous, I'm there. I once climbed up to Arthur's Seat in Edinburgh at four o'clock in the morning for a picnic, just in time to watch the sun come up.
Greatest travel luxury?
Tweezers. If I'm without them for five minutes, I end up with one eyebrow.
Holiday reading?
I read Caitlin Moran's How to be a Woman on the plane to Australia recently and also read Adrian Mole and the Weapons of Mass Destruction, by Sue Townsend, on another trip. The best autobiography of another comedian I've read was Arthur Smith's My Name is Daphne Fairfax, which was hilarious and a brilliant book to read on holiday.
What place has seduced you?
Paris. It's somewhere I'll always regret not having moved to in my twenties.
Better to travel or arrive?
Travel. Reading was the first thing to go when I had my son, so now I get very excited about long train journeys, where I can read books and listen to music.
Worst travel experience?
I went to Whitehaven once. It was like a film set with these bizarre characters. There was a man wandering around town with this giant parrot on his shoulder, but it wasn't done with any humour. He actually turned around to a little child and said, "What are you looking at?". There was just no joy to be found that day.
Worst hotel?
I took my family to Paris for my brother's 40th birthday and made a big song and dance about how it was my treat. I accidentally booked a place in the red-light district. That was pretty dark.
Best hotel?
The Almyra in Cyprus. It was child-friendly, yet still very grown up. My son slipped by the pool and cut his lip and the staff went way beyond the call of duty to look after him.
My favourite walk?
Richmond Park. It's 10 minutes from my house and it makes me feel like I live a little bit in the countryside. There's a massive hollow tree, where I've been inside with five friends, having cans of coke and a chat – it's the best hiding place.
Best meal abroad?
When I was 15, I went to Paris on my own. Some friends of my parents took me to this lovely café and let me have a glass of wine. I was tipsy after about half of it. They wanted me to have the complete French experience, so got me frogs' legs and snails and filet mignon. I put my knife into this meat and it melted like ice cream. I never forgot it.
Favourite city?
There's no city in the world that excites me more than London, whether it's skipping around pubs, going into town or mooching around markets in east London.
Where next?
Kilkenny, Ireland for the Cat Laughs Comedy Festival. It's a beautiful little town and an absolute joyous place to visit during the festival.
Shappi Khorsandi performs at The Apple Cart festival in Victoria Park, London (3 June; theapplecartfestival.com) and then nightly during the Edinburgh Festival Fringe at the Pleasance Forth (1 to 26 August; pleasance.co.uk).
Register for free to continue reading
Registration is a free and easy way to support our truly independent journalism
By registering, you will also enjoy limited access to Premium articles, exclusive newsletters, commenting, and virtual events with our leading journalists
Already have an account? sign in
Join our new commenting forum
Join thought-provoking conversations, follow other Independent readers and see their replies