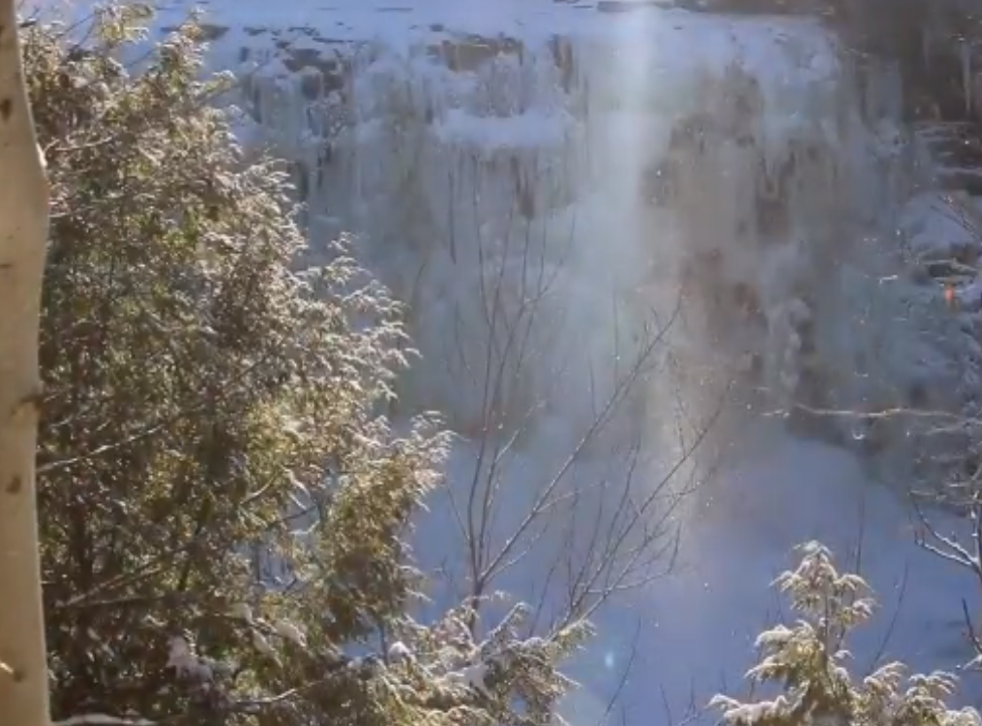 'Diamonds falling from the sky': New York waterfall freezes over in mesmerising video
Low temperatures create 'diamond dust' phenomenon
A New York waterfall has partially frozen over, creating a mesmerising "diamond dust" effect.
Salmon River Falls in Oswego County, New York state, reached new levels of winter wonderland magic after temperatures dropped to near zero.
Captured on video, the falls can be seen frozen solid, while sparkling white particles drift in the air around it.
"The Magic of Winter: Diamonds falling from the sky today at Salmon River Falls/Oswego County," tweeted TV anchor John Kucko alongside the footage. "Temp was near zero as 'diamond dust' emerged".
Diamond dust is a meteorological phenomenon comprised of a ground-level cloud made up of tiny ice crystals.
It generally forms only when skies are clear.
This weekend brought the first significant snowfall of 2020 to New York state.
Frozen in Niagara Falls

Show all 8
Temperatures in Oswego County have dropped to -4C today, but are expected to rise as the week goes on, hitting highs of 3 degrees on Thursday; more snow is forecast for Sunday.
It's not the first time John Kucko has captured a body of water freezing over to create an otherworldly effect this winter.
In December, Lake Ontario froze, forming ice plates along the shoreline after a cold snap saw temperatures plunge to -7C.
Kucko used a drone to video the lake in all its icy glory.
He shared pictures and footage of the transformation on Twitter, writing: "Welcome to Narnia: The 'ice plates' have returned along the shoreline of Lake Ontario today with bitter wind chill in WNY (Webster, NY)."
The videos showed undulating plates of ice on the surface of the water, alongside a snow and ice-covered pier and benches.
Register for free to continue reading
Registration is a free and easy way to support our truly independent journalism
By registering, you will also enjoy limited access to Premium articles, exclusive newsletters, commenting, and virtual events with our leading journalists
Already have an account? sign in
Register for free to continue reading
Registration is a free and easy way to support our truly independent journalism
By registering, you will also enjoy limited access to Premium articles, exclusive newsletters, commenting, and virtual events with our leading journalists
Already have an account? sign in
Join our new commenting forum
Join thought-provoking conversations, follow other Independent readers and see their replies