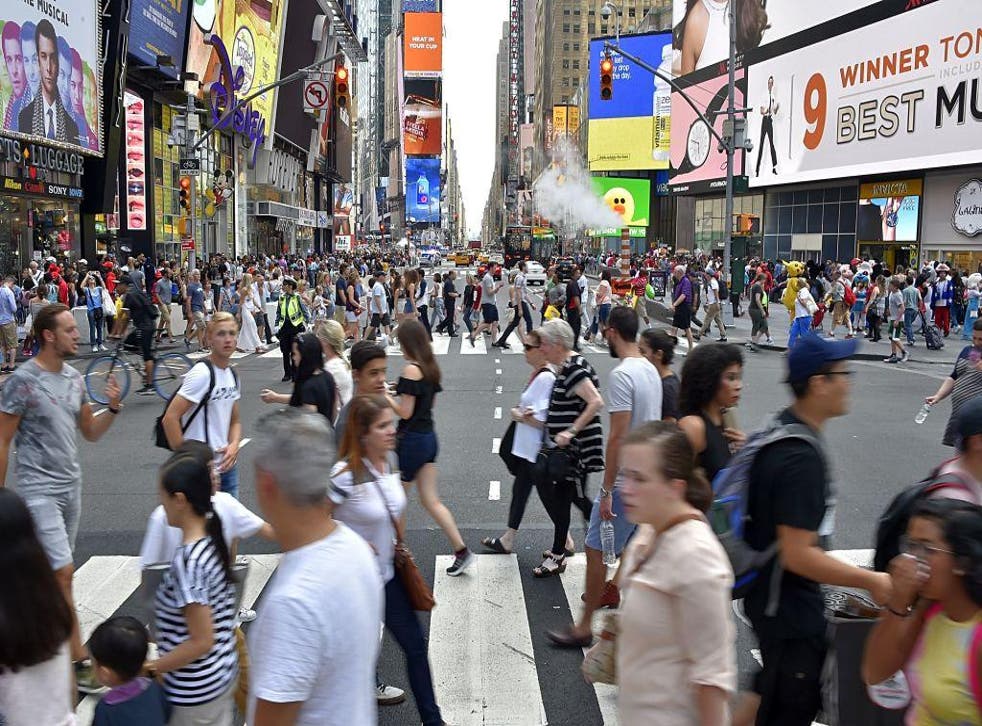 New York hotels charging guests $25 to sleep near Times Square
Staff say it is a fee reflecting the hotels' proximity to a 'tourist attraction'
Julia Buckley
Wednesday 29 November 2017 16:15 Comments
New York hotels are charging guests up to $25 (£19) per night for the privilege of sleeping near Times Square.
Chains including Hilton, Marriott and Starwood are adding the non-negotiable "destination charge" to guests' bills in some of their prime location digs.
It is effectively a way to increase room rates – while keeping the "official" rate, shown on booking sites, low.
Blogger Gary Leff, who noticed the "urban destination charge" at the Hilton New York, called it "deserving of derision" and "the dumbest hotel charge I have ever seen".
American hotels are notorious for applying a "resort fee" in popular holiday destinations such as Palm Springs, Las Vegas and Maui. The mandatory fees – which are added to the bill and paid at check-out – usually cover things like use of the pool, gym, internet – as well as the odd newspaper.
The practice is also widespread in chain and US-owned hotels across the Caribbean and Mexico. Last year, it was rumoured that the Federal Trade Commission, which looks at fair pricing, was planning to outlaw the fees, and force hotels to incorporate them into the official room rate.
So far, cities have remained exempt from the extra fees.
But this week, a guest booking a room at the Hilton New York was alerted as he finalised payment that a "Daily Mandatory Charge" of $25 would be added to the room rate, covering an "Urban Destination Charge", "premium" internet access, local and freephone calls, and a total of $25 credit for food and drink in the hotel.
The credit, it turned out, is a one-off figure – though the Urban Destination Charge is due every day of the stay.
Other hotels in Manhattan adding a fee include Marriott and Starwood's Times Square hotels, which charge $25 per day as a "destination fee". When The Independent called the reservations department to ask what that was, a member of staff said it was a fee reflecting the hotels' proximity to a "tourist attraction", that it was specific to Times Square, and that none of the other Manhattan hotels charged a fee.
However, Le Parker Meridien, also owned by Starwood (which, in turn, is now owned by Marriott), includes a $15 "facility fee" which is not itemised on the website – though it is not near Times Square. A member of staff told The Independent it was to access "select hotel services" including the pool, gym and internet. It is mandatory whether guests use those facilities or not.
Starwood's Niagara Falls hotels charge a similar destination fee of $19.95 per day.
A spokesperson for Marriott International, which owns Starwood, confirmed that seven hotels in New York are testing the fee for a "pilot" four-month period. They said:
"The Destination Fee was created as a way to lift the guest experience by providing added value to a hotel stay. Each hotel may offer a combination of hotel services (such as dry-cleaning, pressing or a food & beverage credit); local experience vouchers for free/discounted events and attractions (such as city tours), and/or access to fitness programs (such as yoga or cycling) in nearby studios.
"All participating hotels will include enhanced internet, as well as local, long distance and international phone calls.
"The implementation of the Destination Fee gives us the opportunity to test how a bundle of benefits that our research shows are valuable to guests might enhance the stay."
They added that according to their reckoning, around 40 Manhattan hotels charge similar fees.
A spokesperson for Hilton told The Independent that only two hotels currently have the "Urban Destination Fee" and said it was for "amenities and services that we believe enhance the guest experience".
Register for free to continue reading
Registration is a free and easy way to support our truly independent journalism
By registering, you will also enjoy limited access to Premium articles, exclusive newsletters, commenting, and virtual events with our leading journalists
Already have an account? sign in
Join our new commenting forum
Join thought-provoking conversations, follow other Independent readers and see their replies