Woman about to break world record for visiting every country in the world in fastest time shares her weirdest stories
Cassie DePecol is on track to visit 196 countries in less than two years. She tells us about the strangest things she's seen along the way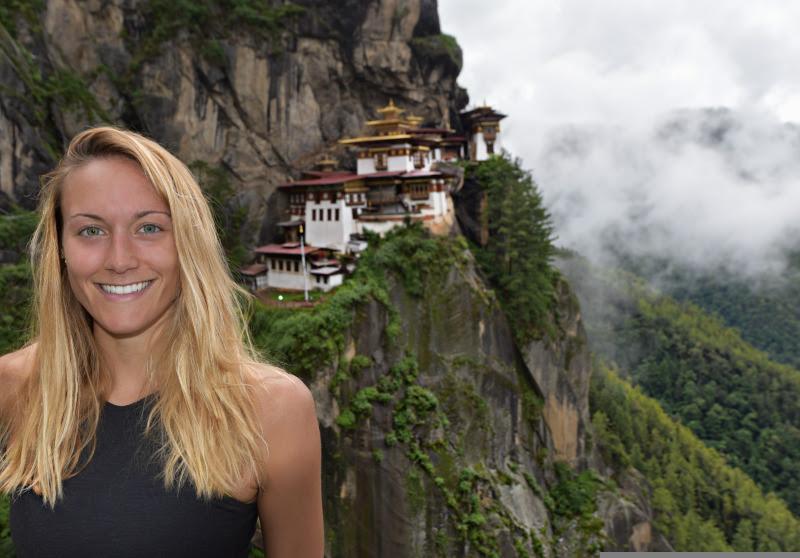 Cassie DePecol, a 27-year-old from Connecticut, is about to set a record – if all goes to plan, she will be the person who has visited every country in the world in the fastest ever time. Her trip began 16 months ago, in July of last year, and with just 20 countries to go (including Turkmenistan, Sudan and Syria) before she makes it to all 196, she'll easily beat the current record holder, Yili Liu, who took three years and three months. DePecol will also be the first woman to do it.
As part of her record-breaking trip, during which she's already filled up four passports with stamps, DePecol is filming a documentary and working as the ambassador for the International Institute of Peace Through Tourism. She also talks in universities around the world about responsible tourism and women's achievement.
But when you're interviewing someone who has seen almost every country in the world, we had one question burning brighter than all others: what's the weirdest stuff she's learned along the way?
North Korean soldiers give one hell of a 'handshake'
"I went to the border with South Korea. One of the North Korean guards took a liking to me because I was the only Westerner there and the only American. He asked me where I was from, and I went up to shake his hand. He squeezed my hand so tight I thought my bones were gonna go – it was the most intense handshake I've had in my life, it was so painful. It was the day they launched a missile, back in August, and it hit Japanese waters, so that was a huge success for them. And Kim-Jong-whatever was partying because of that. The soldier looked me right in the eye and was like we just launched a missile, we're ready to launch at you. He was not joking. They hate Americans. I found a propaganda postcard there, it's literally soldiers shooting at the Pentagon, and the Pentagon going down in flames and people dying."
Australians really love getting their drink on
"I gave a presentation at an all-girls prep school in Sydney, Australia. Afterwards, this marketing director of a big hotel said what we usually do now is go for a drink. I was like, it's 1pm, but okay I'll go with it. An hour later he was tap-dancing on the bar and singing. Everyone else was too. After a couple of hours everyone went back to work."
Melanesians welcome you by getting 'stoned'
"I was walking around a village in Vanuatu, an island in the South Pacific, with my camera. People just invited me into their homes and taught me how to make kava, the local drink. It's this plant root, it looks like mud water, they put it into a machine and they grind it through and it looks like poop, and they mix it with water and apparently it gives a calming effect. They say it's like marijuana. I had a couple of sips, it numbs your mouth and you feel a bit calmer. They didn't ask me for any money – no one wanted anything out of it – they were just being kind, and the kindness of the people there was really eye-opening for me."
You can get robbed any time in Lima
"One time in Lima, Peru, my taxi stopped at a red light. Three teenage boys came and banged on the window, broke in and stole the GPS, all the driver's stuff. I pretty much stuck my phone up my bum. Okay, I didn't do that, but I was really hiding it, like clenching because I didn't back up my phone and it had everything on it. They didn't get it, thankfully."
Some people think Hannah Montana is a real person
"My North Korean tour guide was a really sweet girl from there, 24, spoke good English, and she was like, 'Cassie, can I ask you something? I really love Hannah Montana. How is Hannah Montana right now? Because I haven't seen her in a while.' I was like ooh, I don't know if I should kill that dream."
Armoured vehicles are the best transport in Somalia
"In Somalia, I planned to walk the four minutes from the airport to my hotel, The Peace Hotel. But staff said, 'You cannot, it's very dangerous, we won't allow you. We have to pick you up in an armoured vehicle.' I'd never been in an armoured vehicle. I kept thinking, when is something going to happen. In front of us, they had five of these army guys hanging out of a pick-up truck to guard us. We weren't given special treatment, this was the protocol for all the guests and hotels.
"So once you're in the hotel compound, you have to go through all these security checkpoints, pat-downs, you put your stuff through the X-ray, that sort of thing. Inside the hotel they had this special room you go into in case you hear explosions. It was an interesting, weird experience. They took me out for like half an hour and we stepped out of the car and went to the fish market very quickly – there were five armed guards around me. We went to the beach, the same happened. It was really quick, in and out. It was fascinating but devastating at the same time."
You can still be surprised by the kindness of strangers
"I completely forgot to get cash before a trip to Cuba. As a US citizen they don't accept any credit or debit cards, PayPal, anything like that. I just forgot, I don't know how. I arrived at 9pm and got a taxi to my hotel, then found I couldn't pay him or the hotel. So I was on the street, bawling because I couldn't get over what a stupid mistake I'd made. And the taxi driver said, 'I have daughters, I understand. You can come and stay at my house with my family tonight.' I went to the house – they didn't have a lot of money. His wife made the bed for me – I didn't know it was her bed until the next morning and she was sleeping on this little foam thing on the kitchen floor with some sheets. She'd given up her bed so I could sleep in it – she didn't even know me."
DePecol plans to have all but one or two countries ticked off her list by Christmas this year; expedition196.com
Join our commenting forum
Join thought-provoking conversations, follow other Independent readers and see their replies