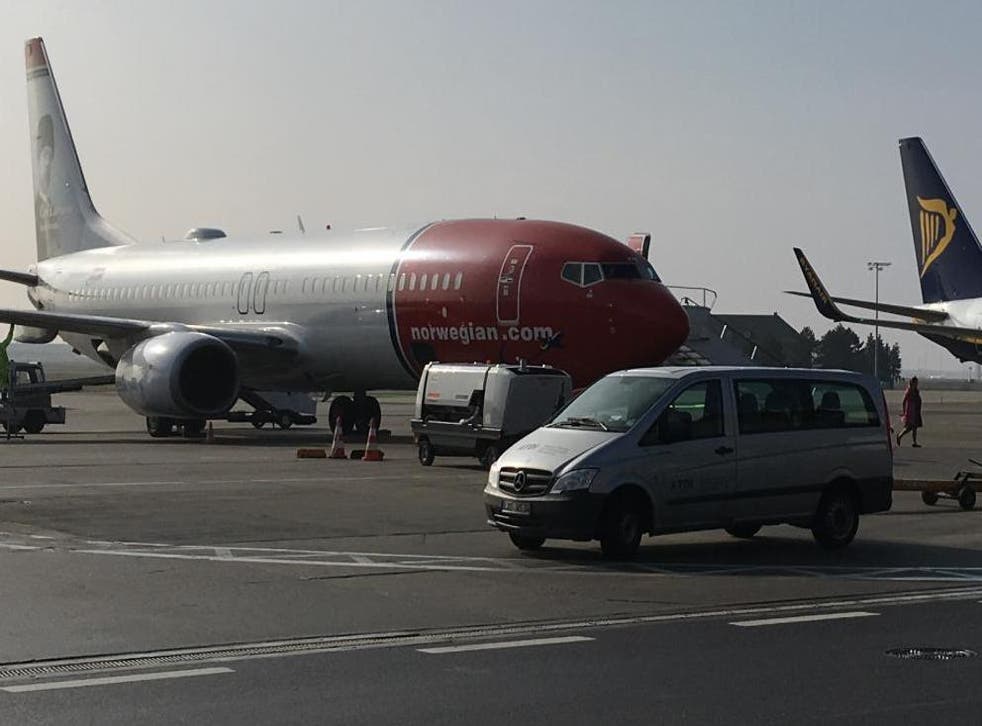 Norwegian reports loss as it struggles with Boeing 737 Max grounding
Airline hit by grounding of Boeing 737 Max after Lion Air and Ethiopian Airlines crashes
The budget airline Norwegian lost £16.40 for every passenger it flew in the first three months of 2019, partly as a result of the grounding of the Boeing 737 Max following two fatal accidents.
But the carrier's chief executive, Bjørn Kjos, said: "Booking figures, and overall demand for the coming months look promising."
Revenue rose from NOK7bn (£630m) to NOK8bn (£720m) compared with the first quarter of 2019. The net loss was NOK1.45bn (£130m), partly blamed on Easter falling in April 2019; in 2018 it was in March.
Passenger numbers increased from 7.48 million to 8.12 million, most strongly in the US and Argentina.
Kjos said: "I'm pleased with the positive developments this quarter, despite the 737 Max issues.
Boeing 737 MAX grounding: Ethiopia Airlines Flight 302 in pictures

Show all 9
"We have taken a series of initiatives to improve profitability by reducing costs and increasing revenue.
"We are optimising our base structure and route network to streamline the operation as well as divesting aircraft, postponing aircraft deliveries and not least implementing our internal cost reduction programme."
Norwegian is the European airline likely to be worst affected by a protracted prohibition on the plane, whose anti-stall system has been implicated in crashes involving Lion Air and Ethiopian Airlines that claimed a total of 346 lives. The company has 18 Boeing 737 Max 8 aircraft.
In the first two months of 2019, about 30 per cent of all 737 Max flights from European airports were operated by Norwegian.
"Plans are in place to uphold the scheduled production and minimise effects on passengers," the airline said.
On Wednesday, Norwegian announced that it had agreed with Boeing to postpone the delivery of 14 Boeing 737 Max aircraft originally due for delivery in 2020 and 2021.
In early trading in Oslo, Norwegian's share price was down 3 per cent.
Separately, in its overnight financial results, Boeing said it hoped the grounding of the 737 Max would end in July.
The planemaker's president and chief executive Dennis Muilenberg said: "Across the company, we are focused on safety, returning the 737 Max to service, and earning and re-earning the trust and confidence of customers, regulators and the flying public."
The firm added: "The previously issued 2019 financial guidance does not reflect 737 Max impacts.
"Due to the uncertainty of the timing and conditions surrounding return to service of the 737 Max fleet, new guidance will be issued at a future date."
Register for free to continue reading
Registration is a free and easy way to support our truly independent journalism
By registering, you will also enjoy limited access to Premium articles, exclusive newsletters, commenting, and virtual events with our leading journalists
Already have an account? sign in
Register for free to continue reading
Registration is a free and easy way to support our truly independent journalism
By registering, you will also enjoy limited access to Premium articles, exclusive newsletters, commenting, and virtual events with our leading journalists
Already have an account? sign in
Join our new commenting forum
Join thought-provoking conversations, follow other Independent readers and see their replies